From waitressing at one seafront to speaking at BrightonSEO on another…
During this blog series, we talk to accomplished digital marketing professionals from a variety of backgrounds about their career journeys with the aim of inspiring job seekers, aspiring freelancers and the trailblazing entrepreneurs amongst you!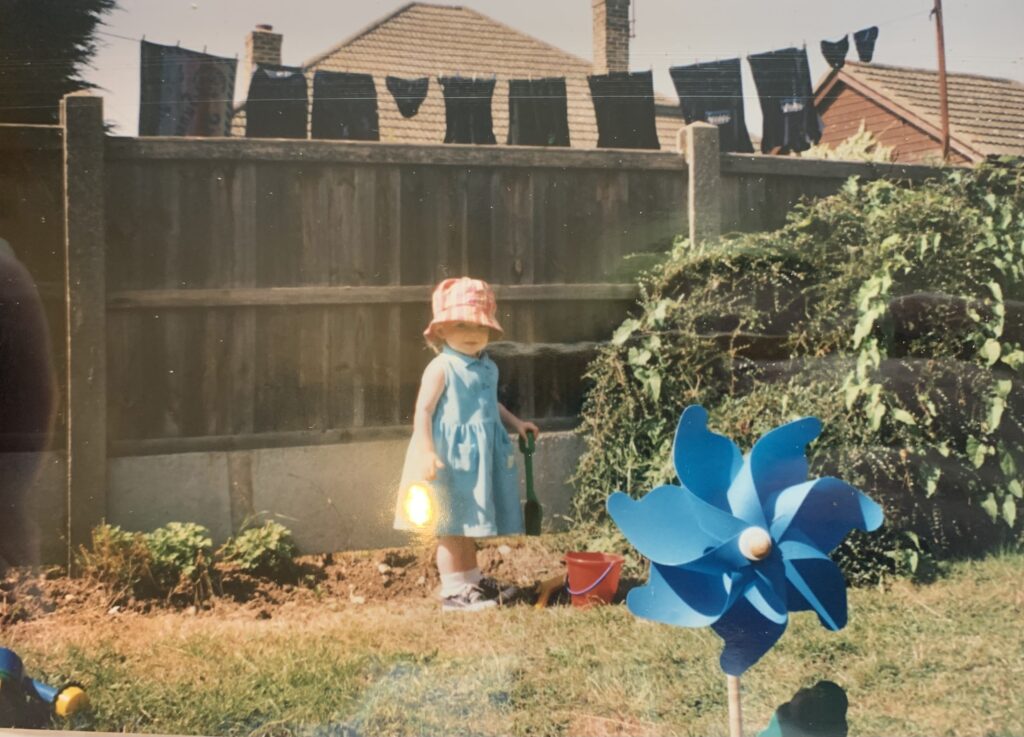 In this blog, we're celebrating the career of Chloe Smith, an SEO Manager at Blue Array! Chloe studied Creative Writing at university and used their degree to begin a career in digital marketing! Over to you Chloe…
What did you want to be when you grew up?
A writer! I always used to write stories and make books for my little sister out of folded bits of paper. That passion has stayed with me now, just with books a little bit longer than that (the last one clocked in at 107,000 words!).
What was your very first job?
The first thing I got actual money for was doing filing at my dad's office. He's an accountant, so I spent my time either in the back of their office slotting letters into client files or wandering around asking if everyone wanted a tea or coffee. In terms of a regular job, I was a waitress at a fish & chips restaurant on Southend seafront in the summer before I went to uni.
How did you first discover digital marketing / your specific industry sector?
I studied Creative Writing at university, and in our final year we had a module about how to apply what we've learned to careers. I always said that my ideal life would be writing full-time, and the "grown up" idea was to work in digital marketing or PR and then write on the side, which is what I'm doing now.
Share a mistake you made or an event you regret from your career:
One mistake that's fresh in my mind was forgetting the name of the moderator for the stage I spoke on at BrightonSEO almost immediately after meeting her, which happened on stage in front of everyone.
Jumping in a time machine, what advice would you give your 18-year-old self?
Be patient. It takes time, but things get better, and things will start to fall into place soon.
What industry skills do you wish you'd learned sooner and why?
Better Google Sheets/Excel skills. It sounds so simple, but even knowing how to do a vlookup makes life so much easier.
Who are you inspired by in the digital marketing industry?
There are too many to mention them all, but recently I got to meet Jamie Indigo (@Jammer_Volts) and Myriam Jessier (@myriamjessier) at BrightonSEO and am constantly astounded by the sheer talent the people in our industry have. I'm also lucky to be surrounded by other amazing SEOs at my workplace, so I'm always inspired and challenged to expand my knowledge by them, too.
If you were to publish an autobiography in 20 years' time, what would it be titled?
"Yes, I'm Still Talking About My Period"
What's the one thing you want to be remembered for from your career, and why?
That I was the one who spoke about periods at BrightonSEO and dyed their hair red for the occasion.
What subjects were you best at in school?
It's not surprising that I got A*s in English Literature and Language, and then straight Bs in everything else!
Chloe's Twitter account is a must to follow if you're passionate about diversity, inclusivity and of course, SEO!
Keep an eye out for more of the MOAM series as I regularly publish new editions from other inspiring digital experts.
Could your career story inspire others to further their digital marketing careers? Or, do you know someone whose story needs to be told? Feel free to fill out our new MOAM questionnaire or get in touch with me directly via sophie@clockworktalent.com. Alternatively, if you're looking to explore your career options in digital marketing, visit our job board or upload your CV.
Did you enjoy reading about Chloe's digital career? If so, you'll find these MOAMs interesting too!
💡 Orit Mutznik- The Making of A Marketer
💡 Dan Rawley- The Making of A Marketer