Passion + Curiosity = The Best SEO's
This is a really exciting edition of MOAM as we haven't had many SEO Freelancers take part… and no one quite like Hannah Rampton! She's an SEO tool building, GSuite loving, conference speaking, award-winning SEO Consultant.

Hannah kick-started her digital marketing career working inside a brand, before crossing over to agency life. Here she carved out a progressive career in SEO, cultivating her skills and experience at a number of niche agencies including StrategiQ and Builtvisible (known as SEOgadget at the time)! Now with nearly 15 years of experience behind her, Hannah uses her extensive SEO knowledge in her freelance work.
But what came before that? Over to you, Hannah…

What did you want to be when you grew up?
It wasn't until I was around 14 that I had a strong idea on what I wanted to do in life, Forensic Science. My focus over the next 5 years became moving towards this.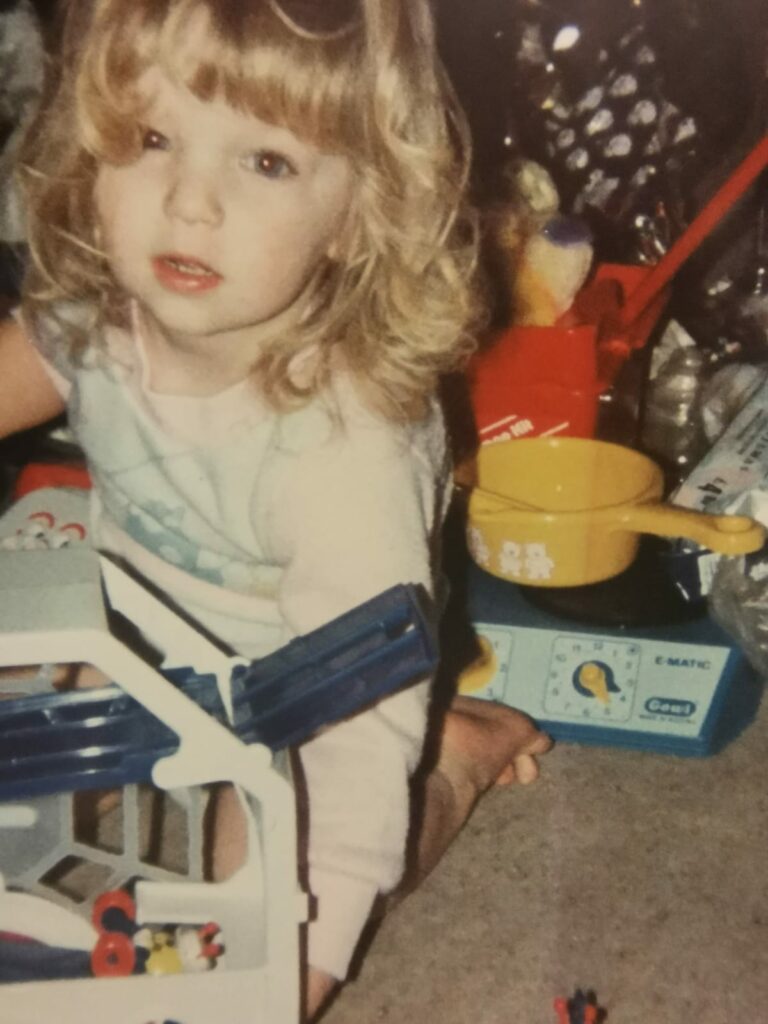 What and where was your very first job?
My very first job must have been newspaper canvassing which only lasted a few weeks but I was able to get my first Saturday job at a jewellery store on the high street when I was 13 and shortly after, onto a restaurant where I worked weekends and summers for the next 2+ years.
When did you first discover digital marketing?
I discovered SEO back in 2007 when I needed to find a way for us to reach more customers. With our customers being contractors and freelancers, this was a particularly digital space. Back then, there wasn't a huge amount of resources available so I self-taught what I could and after achieving top 3 positions for our main terms, I was hooked.
I was hesitant to leave my role to pursue SEO full time as I had worked at the company for over 3 years, the sole member of the marketing department and had some incredible experiences, including presenting to the judges at the National Business Awards and exposure to many high-end consultancy contracts. I researched digital marketing agencies in the area and came across Coast Digital. I was beyond impressed and it felt like it was where I was meant to be. From that moment on, I didn't look back and SEO became my life.
Share a mistake you made or an event you regret from your career:
I regret not embracing the Google Suite sooner. I used it for my domain email but it wasn't until I joined a Mac-centric agency in 2018 that I was forced to embrace the wider suite. As an Excel addict, this was hard for me.
At first, I was frustrated and no longer had SEO Tools for Excel and my other go tos but I quickly discovered the power of Google Sheets, Data Studio and eventually Tag Manager. When I look back at the work that I am most proud of and the things I have built, these were only possible because I embraced GSuite and I wish I had done so sooner.
On a far more personal note, my face goes red every time I think back to my acceptance speech for the Inspiration Award last year. Only on the last sentence did I realise I wasn't holding the mic to my mouth and as my last few words of thanks did get picked up and bellowed out, I jumped, gasped and laughed. I was so sure that I wouldn't win, I wasn't prepared, and my head was quite literally spinning.
Thankfully, I had a lot of support there. It is not so much about embarrassment, I can laugh at myself for that, I just wish I could have conveyed my thanks and the honour in a better way than I did as almost none of my speech was heard. My brutal mind could see how 'uninspiring' this must have been and I replayed it for days. I'm not one to dwell but I do revisit this one from time to time.
I doubt I'll ever have another moment quite like it in my life!
Jumping in a time machine, what pearls of wisdom would you give your 18-year-old self?
Embrace Yoga and Meditation. Breathe. Moisturise!

Change is the only constant so make more time for the present moment.

Don't wait to pursue the things you want to master. Life has a way of speeding up.

Never underestimate the impact YOU can make.

And please, please, take more photos!

What industry skill do you wish you'd learned sooner?
I wish I'd learned Google Apps Script sooner and there have been many instances that I wish I was fluent in JavaScript. This ties into embracing the GSuite sooner but I would love to be able to write Apps Script code and Connectors freely and not be limited by my ability to execute my ideas.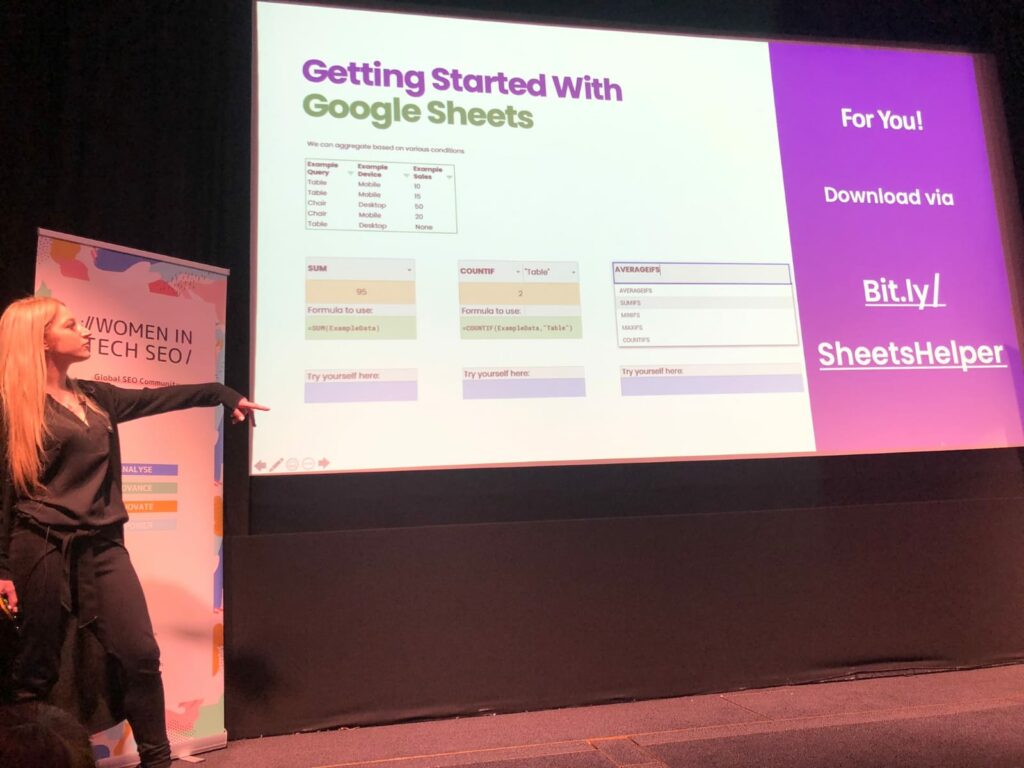 Who are you inspired by in the digital marketing industry?
Jen Hoffman is incredibly inspiring and someone I admire a lot. Her belief and encouragement has been empowering, especially with setting up my own company this year (2 weeks pre-COVID!).

Ruth Everett is certainly inspiring and one of the nicest and kindest people I know, we braved WTSfest hand-in-hand and she really helped me overcome my fears. In fact, she inspired me to get out of my own way in the first place! We had shared messages on Twitter years before as we live quite close and later have mutual friends, so it's been incredible to witness her journey! She deserves all the praise she is getting.

To be a better SEO (and human), Jamie Alberico. Feel lucky to have met her in person, she is brilliant!
Simon Thompson is mind-bogglingly smart and always inspires me. Whilst not technically a Digital Marketer, he is a brilliant Tech SEO by nature. Simon is the man behind the Google Trends Data Studio connector and 'Spark' for SEO on the Edge. Take note when he tweets, follow him here. Before MI5 hires him and he becomes a national secret.

Areej AbuAli for her incredible achievements! Areej also inspired me to believe in myself and contribute, asking me to speak at WTSfest before I had ever spoken before. As one of the best things I have ever done, I'll always be thankful she believed in me and gave me the opportunity. In testament to her contributions, witnessing hundreds of us come together at WTSfest to thank Areej for all she has done was one of the most united and moving moments I've experienced first-hand and hints at the impact of what she has built.

Aleyda Solis for how much she gives to this industry and helping others, she's so kind and finally someone with more energy than me! Her newsletter is also one of the best out there. We spoke together at SearchNorwich and she was so supportive, as daunting as it initially was, I feel fortunate that my first speaking appearance was with her!
Kristina Azarenko has a really inspiring story which she shared on Instagram, she gives so much and helps elevate others. She is also an amazing person and stole my heart the moment I met her! Kristina runs her own business and still finds the time to create, contribute and stay active. Much like Aleyda, I don't know how they both do it.
In my earlier career (2012), Richard Baxter was a notable influence and it's fair to say that Daniel Butler has been a constant source of inspiration for me. Admittedly now my husband, we've been together for 12 years and worked alongside each other at two different agencies and he built the first Google Sheet tool that I know of back in 2012 and this certainly inspired my future work! He also listens to all my mad ideas, tests every tool and entertains my 5 redesigns with full support.

If you were to publish your autobiography in 20 years time, what would it be titled?
Me, Myself and Robots. V1.0 (inside joke on never being satisfied – IT'S JUST V1!)

What is the one thing you want to be remembered for from your career?
This is a hard one. Rather than being about contribution, I would rather be remembered for qualities so my passion and enthusiasm. It was something I used to try and contain and hide, getting embarrassed by how people would say I would come alive and my 'eyes would sparkle' with excitement when I got going. Over the years I learnt to embrace 'me' and now it's a source of compliments.
After my recent talk at WTSfest, the main theme in the feedback was my passion for the subject and rather than feeling shy like so many years ago, I glow. So, interestingly something I'd hidden out of lack of self-acceptance has become the very thing I would be proud to become my legacy.
---
Thank you, Hannah, for sharing the story of your SEO journey with us, not to mention creating and sharing all of your own incredible SEO tools and resources with the SEO community. I witnessed your undeniable passion during your talk at WTSFest, you should definitely embrace it!
Keep an eye out for more of the MOAM series as I regularly publish new editions from other inspiring digital experts.

Could your career story encourage others to further their digital marketing careers? Or, do you know someone whose story needs to be told? Feel free to fill out our new MOAM questionnaire or get in touch with me directly via emma@clockworktalent.com. Alternatively, if you're looking to explore your options in digital marketing, visit our job board or upload your CV.