When everything falls into place…

When I saw an email from eCommerce Consultant, Luke Carthy introducing me to one of his own clients, I knew it was going to be a great recruitment project.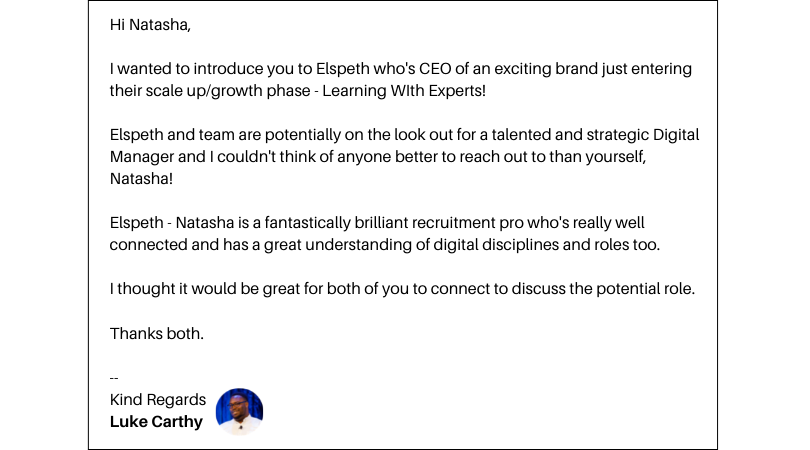 With Luke already consulting for them, Learning With Experts was clearly going to be an employer who understands the value of digital marketing. Luke was guiding the company through a number of challenging digital marketing projects but it was evident they'd need some extra support in recruiting an in-house Head of Growth Marketing, which is where we came in! Here's what Luke had to say about clockworkTalent:

"Natasha just gets it! Well experienced in the digital space when it comes to recruitment and has worn the digital t-shirt too; having worked in the digital marketing space. Natasha's a real gem and is my go-to for all things digital recruitment."

This Oxford-based startup is all about providing a global online community where you can learn a skill or hobby from expert and celebrity tutors. There we were, one year into a pandemic, where people had time to develop their skills while being furloughed or shielding. So many people were looking to upskill, learn new crafts and generally keep themselves occupied learning and developing themselves. I'm someone who loves just about anything creative or crafty from calligraphy, pottery to upcycling furniture or gardening, you name it, their courses are literally made for someone like me!

Learning with Experts CEO, Elspeth is inspiring and CTO Dan clearly knows his stuff. It's clear they themselves bring an abundance of passion and experience to their business, but I also found out they're really nice people and building a close-knit, collaborative team is important to them. They had very high expectations of what skills and experience this person would bring with them (don't forget they had Luke onboard, showing them what an expert can really do!). This meant our Head of Digital Marketing was going to have to be a bit of a unicorn. Covering all digital marketing channels, being able to create and deliver a growth marketing strategy, driving the trading performance, managing agencies, building an in-house team and so much more!

Fortunately, because Elspeth, Dan and Luke gave such a great brief, a targeted headhunt ensued. My experience running clockworkTalent has shown me quality digital marketing talent don't typically apply through generic job boards. This is why I use our deep-reaching network of contacts in the digital marketing community to target the right people.

However, on this occasion, something amazing happened! Alex Nott had been a former client of clockworkTalent, some 8 years previously. Purely by chance, Alex called me. She'd been with her company (a start-up when she joined 11 years ago but it had recently been acquired) and she was thinking about her options. She wanted to know what the job market looked like and what options could be out there in digital marketing.

After some very excited 'this was meant to be!' phone calls and a whirlwind recruitment process, Alex was successfully appointed Head of Growth Marketing at Learning with Experts.

Here's what Alex had to say about us: "I've worked with Natasha both to recruit new marketing team members and now as a candidate. She really takes the time to get to know you, the requirements of the role and to make sure you fit the culture of the role, as well as the skills. Plus I thoroughly recommend her CV review!

She's great at staying in touch throughout the process and makes sure that you feel comfortable at every stage. I actually contacted Natasha just to have a chat about the market generally and before I knew it I was offered a role that perfectly fits my values, skills and company culture at Learning with Experts. Natasha and clockworkTalent really are a breath of fresh air in marketing recruitment, whether you're recruiting or looking for a new role I recommend speaking to Natasha!"

I promise I didn't make Alex write that! For me, there's nothing better than to have someone who's experienced both sides of our recruitment service and be happy with it all. She'd been in the same company for over a decade, so it was definitely time to brush off her CV and make it presentable, showcasing all the achievements she'd made in her last roles. Which definitely paid off!

When we asked CEO, Elspeth, what she thought about working with clockworkTalent, bearing in mind she hadn't known us until her SEO expert pointed her in our direction. She said:

"Natasha and clockworkTalent have been outstanding at really understanding what we're looking for, and tenacious in delivering on our objectives. I can't rate them highly enough and will work with them again" she also said the thing which made us different was that we gave "lots of personal attention and delivering what we asked for, with attention to detail to the very end!"

I'm very proud of this project and I'm looking forward to seeing great things with Learning with Experts get up to in the future!

---
Read about some of our other recruitment projects:
⭐ Ocean Independence
⭐ In Marketing We Trust
⭐ David Yarrow Photography
⭐ Erudite
If you're looking to hire experienced digital marketing talent into your team, don't hesitate to get in touch. You can reach me directly by emailing me at natasha@clockworktalent.com. Or, if you work in digital marketing and want an awesome career move like this, clockworkTalent is always hiring new digital marketing jobs on our job board. If you don't see one for you, it's worth registering your CV so we can keep you in mind for other jobs as they come in.