Let's talk money…

We carried out this salary survey to help advise digital marketing job seekers on their salary expectations and to ensure we provide our employers with accurate salary benchmarks for jobs they're hiring. We're hoping this data will improve transparency, help digital marketers better understand their value and give them confidence in future pay negotiations. It might also highlight some issues within the digital industry that businesses can keep in mind when they are next hiring.
We ran the survey through July 2020, in the midst of the coronavirus pandemic. As a result, the data really is a snapshot of this unique period of time. Since we closed the survey, the UK and global economies have plunged into recession and many company budgets have been affected. It will be interesting to see how this data might differ when we follow up with another survey in a year's time.
Who are we?
If you don't know us, clockworkTalent is a specialist digital marketing recruitment agency based in Sussex, UK. We make a lot of noise in the digital marketing industry and are extremely proud of our 'not just another high street recruiter' reputation.

Who and how?
This was a self-reporting anonymous survey conducted online. Our recruitment primarily takes place in the UK, but we do host projects internationally. Because of this, we opened up the survey to digital marketers globally. In total, we received responses from 315 digital marketers in 32 countries across a range of industry disciplines. The majority of responses (197) came from the UK. We're hoping to turn this into an annual survey and increase the number of respondents in the future.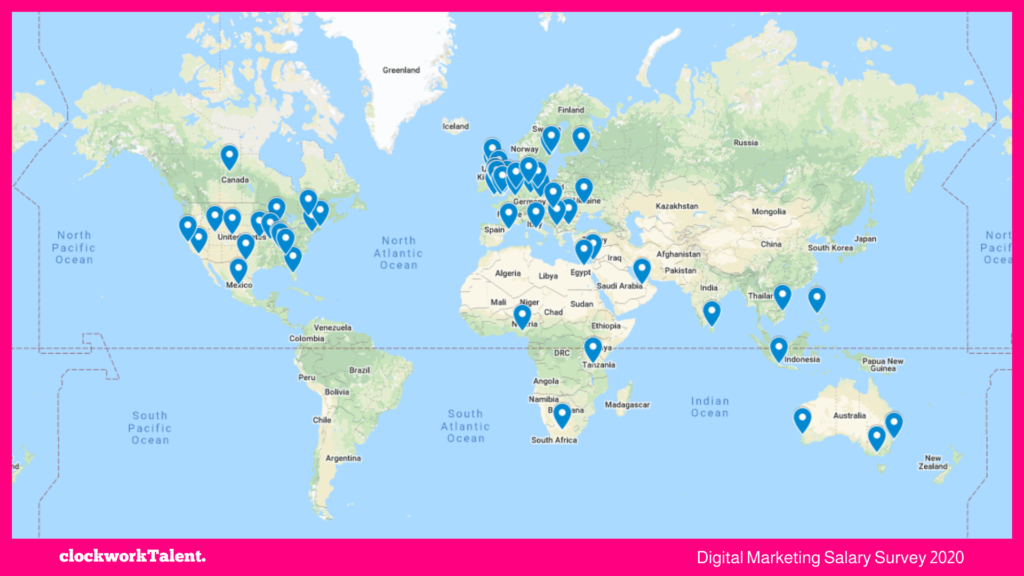 We'd anticipated more male respondents to reflect the industry's gender split where men outnumber women 2-1, but this wasn't the case. Of our total responses, 110 identify as male, 200 as female and five preferred not to say.

Limitations and important notes:
We acknowledge the female-heavy ratio could be because we're vocal about being a female-led recruitment agency, with strong connections to female-centric communities including Women in Tech SEO and Brighton Digital Women. Also, the notion that women are paid less than men means the topic of a salary survey could have been of more interest for the female-identifying respondents.
We will mention 'majority bubbles' when describing some of the graphs in this report, these represent where the majority of respondents featured in the data. The bigger the bubble, the more people giving the same answer
Some respondents ticked multiple skillsets when asked for their 'area of expertise', these have been added to the 'digital marketing generalist' category
When we use the terms 'men/male' and 'women/female', this includes all female-identifying or male-identifying respondents
The five respondents that marked 'prefer not to say' when asked how they identify are excluded from our graphs comparing only male and female data
Salary vs. Area of Expertise
In the results of our survey, we had a large mix of expertise within digital marketing. The majority of our respondents work in SEO or are generalist digital marketers. You can see in the graph below that the majority of digital marketing generalists are paid between £30k and 40k, whereas SEO salaries range from <£20 up to £70k+.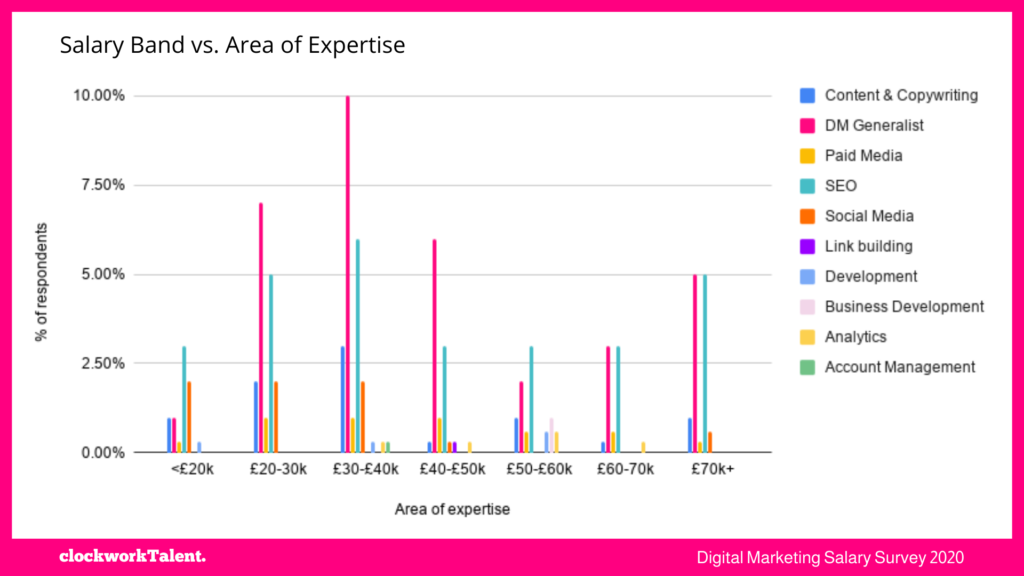 Let's break this down
Looking at the five most selected areas of expertise: SEO, Social Media, Paid Media, Content & Digital Marketing Generalists: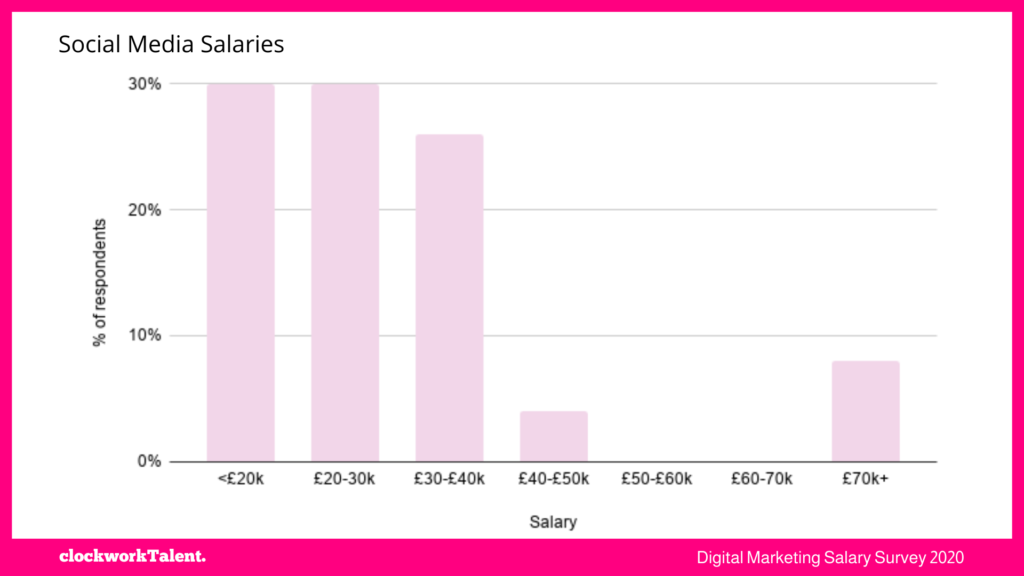 Social media is a highly sought after and relatively new career path. When one of our clients gives us a social media job to hire, we usually fill it before it even gets added to our job board! From our survey, we found that generally, social media salaries barely breach the £40k mark.

This might be because, after a certain amount of experience, social media experts evolve into general digital marketers? They might work for themselves? Or, social media still isn't being seen as a job that 'deserves' a higher salary level. Interestingly, the respondents with expertise in social media that are getting paid £70k+ were all based in America.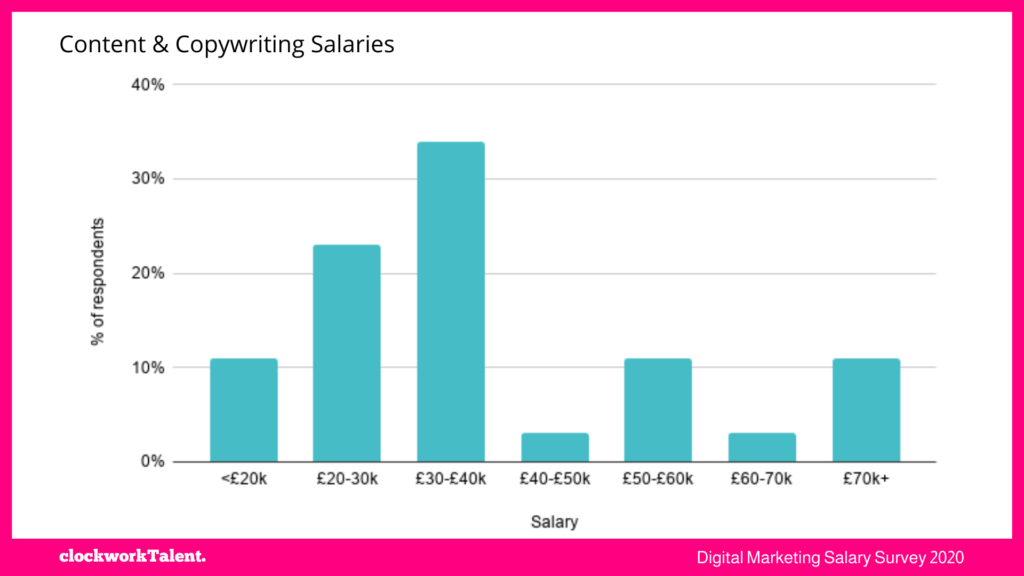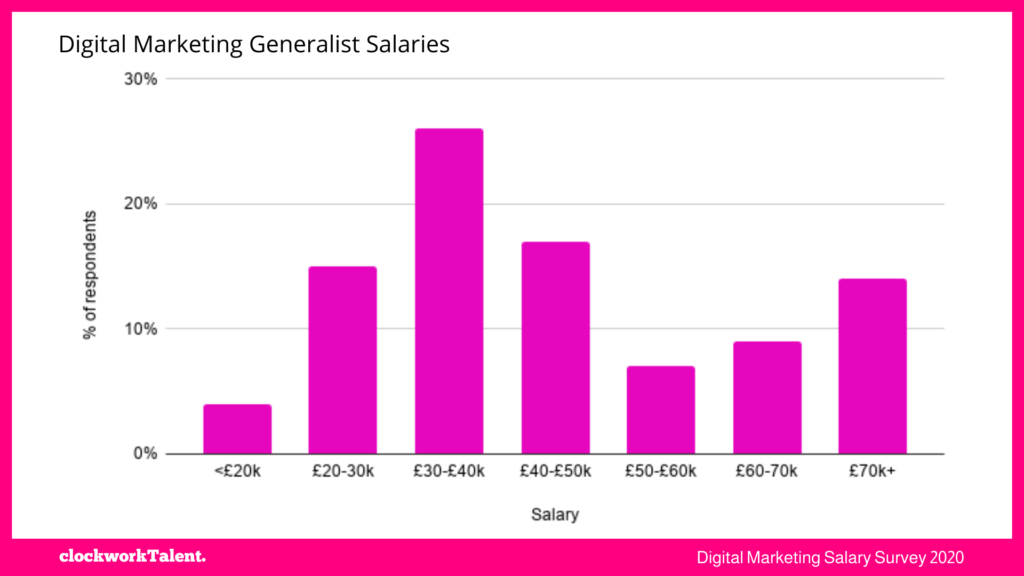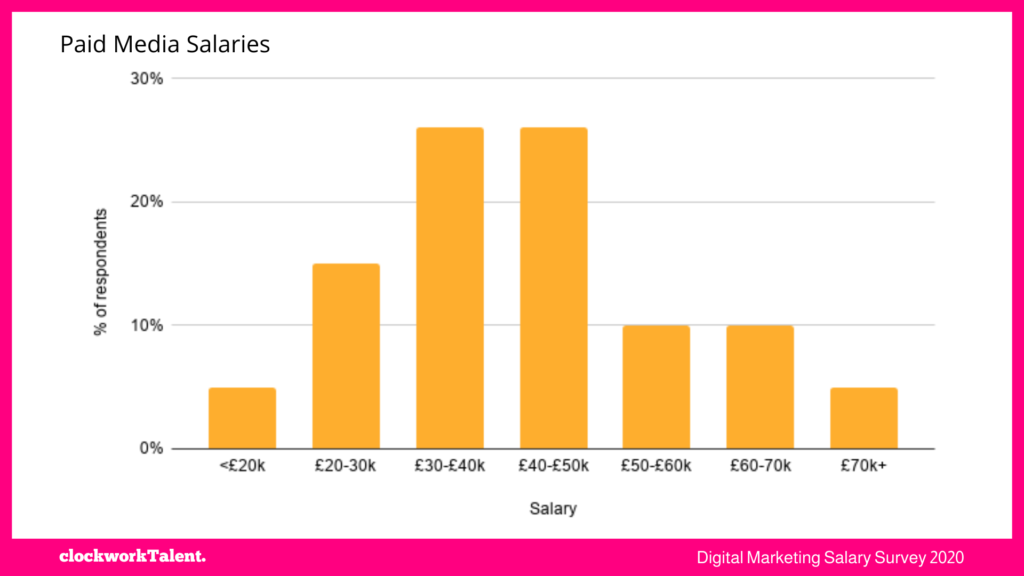 If you'd like to read deeper into PPC salaries specifically, Duane Brown released the 2020 version of his annual PPC salary survey, which a wider sample of specifically PPC professionals took part in.

Inhouse vs. Agency Salaries
When comparing agency and inhouse careers, we found once you have more than three years of experience in both inhouse and agency environments, earnings can exceed £70k. But, with career progression, inhouse jobs continue to offer a lower salary threshold from <£20k, whilst agencies see their minimum salary increase to £20-£30k+ once you've achieved at least three years experience.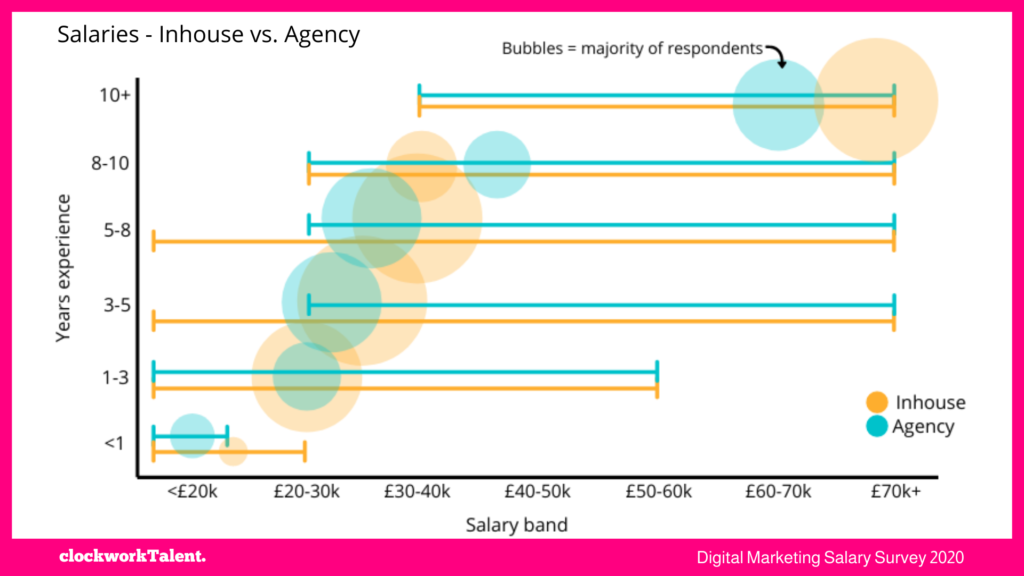 Male vs. Female Salaries
The gender pay gap is a very well documented issue in digital marketing. Even with this in mind, we hoped our data would show a smaller gap/similar salaries across genders. But alas, our wishful thinking was not reflected in the survey results.

Initially looking at these graphs, the Salary Band vs. Years Experience for each gender are similar. But, looking closer at the 'majority bubbles' it's evident that while both female and male respondents with over 10 years experience can be paid £70k+, the majority of women haven't reached that number and are instead hovering at £60k.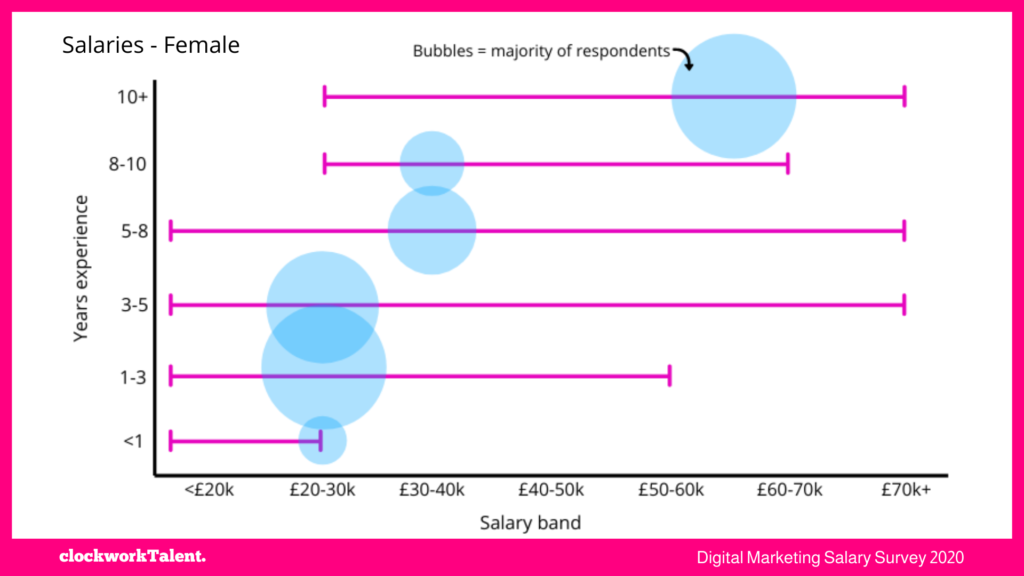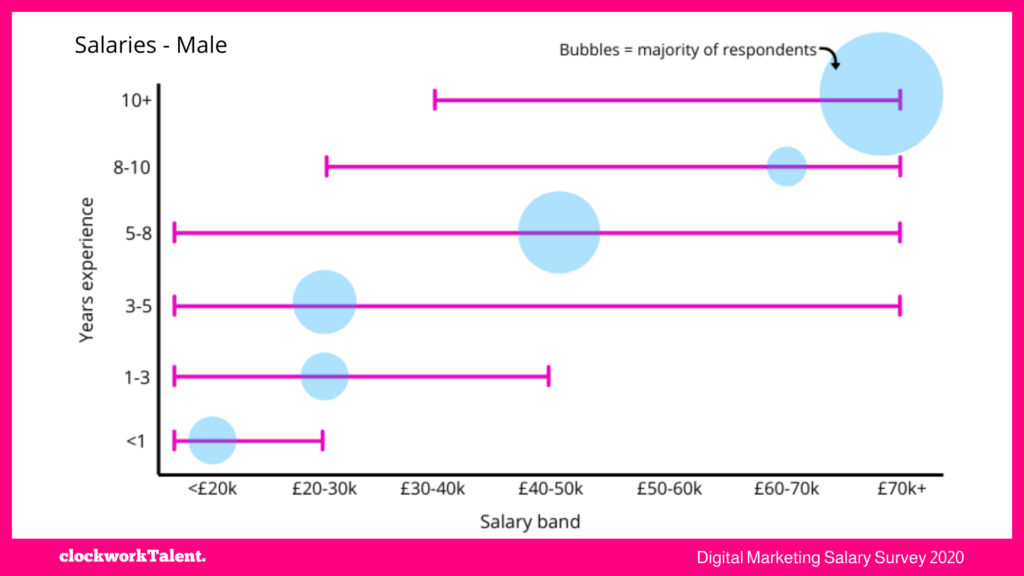 It's also a point of note that the female majority bubbles are bigger, and clustered together at £20-40k, compared to the male majorities, which are much more evenly spread across the salary ranges.
This suggests women are paid the same, if not slightly better, than men when they first start out in the industry, but something happens when their years of experience increase. Is this the result of historical discrimination that will gradually phase out through improved people management policies? Are women not as confident in asking for more money? Are employers not paying women as much as men after they return from maternity leave?
Are 'creative roles' keeping female salaries down?
An observation was raised when putting this report together of whether the female salaries are 'lower' because of job types, so I looked into it and the short answer is no.

Of the women that completed our survey, many of them are Directors, 'Heads of' and in other senior roles across the digital marketing landscape. These women aren't just in 'creative' roles that have historically seen lower salaries. They work across SEO, Paid Media, Development and Business Development.

I believe this backs up my earlier point that no matter their job title, expertise or amount of experience, women are being paid less than men.
If you're a business owner or hiring manager, you could make a real difference to this industry-wide gender pay gap simply by making a conscious effort to avoid discrimination of any kind when hiring for your team.

Do you think you're overpaid?
We've found that more men are happy with their salaries than women and a whopping 49% of women think they're underpaid compared to 39% of men.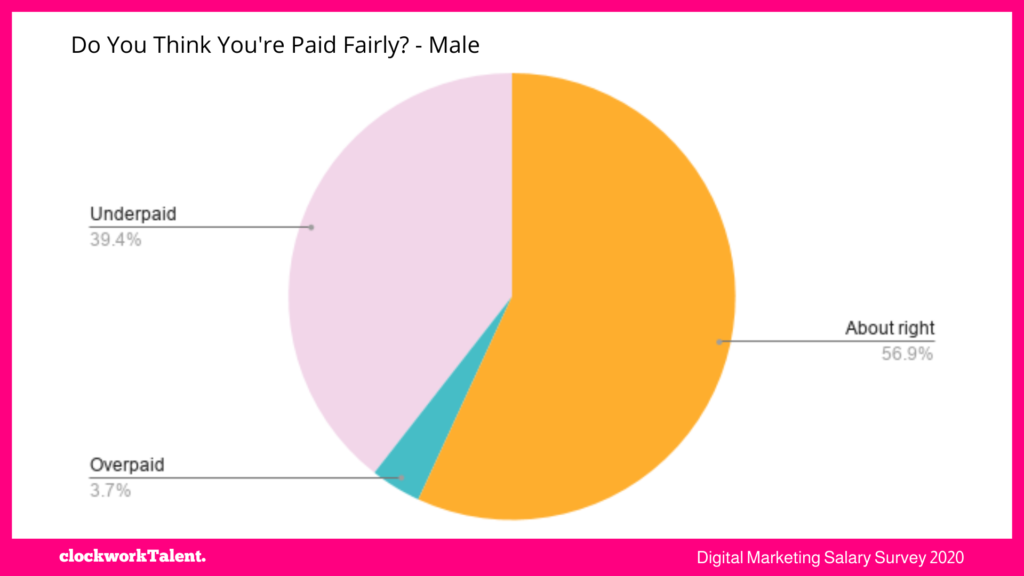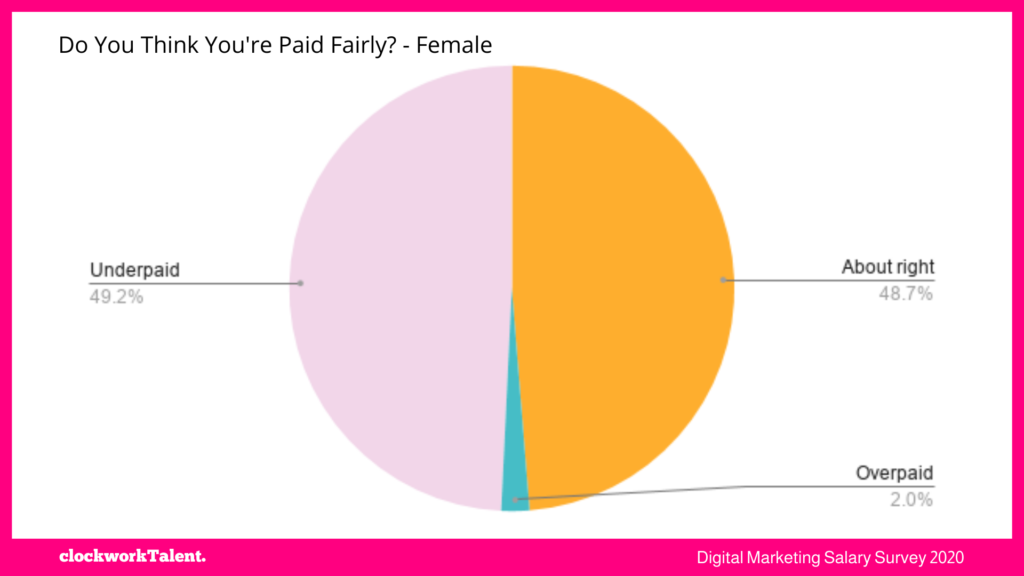 Have you ever asked for a pay rise?
So, if all these people think they're underpaid, have they ever asked for more money? Of all our responses, 55% said they had previously asked for a pay raise and over half of those people actually got one. Of our total responses, 35% hadn't thought of asking for one and sadly 10% said they wouldn't dare to ask.
As you can see from the graph below (looking at male and female data individually), of those that did ask for a pay rise, nearly double the number of women had their request declined compared to their male counterparts.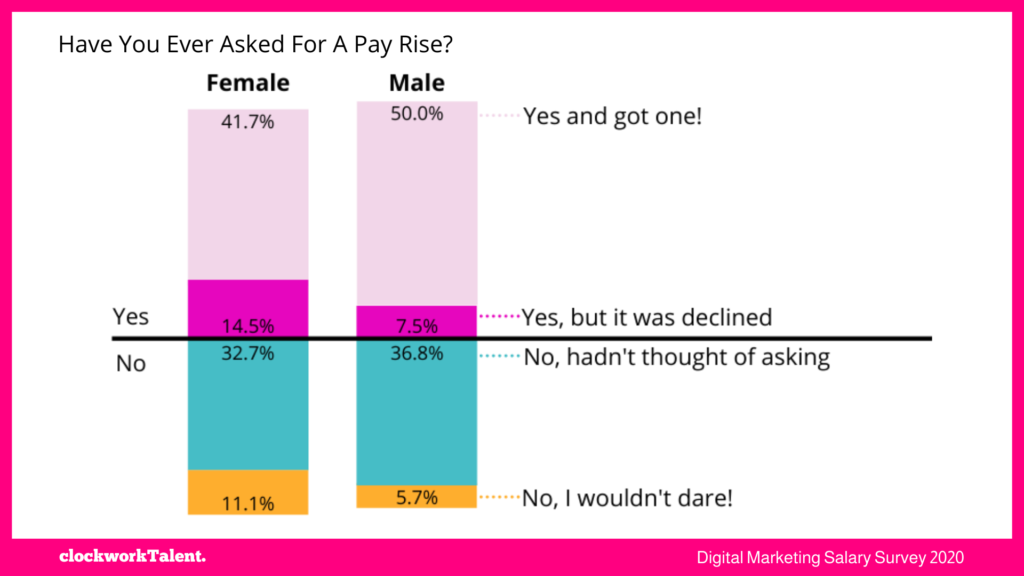 Why aren't people asking for pay rises?
The fact that 14% of our female and 7% of our male respondents had a pay rise request declined might put others off asking, but there are many other factors to consider for everyone looking for more money right now.
One response stood out: '[It] takes a lot of guts from me to ask for more. At previous jobs, I was given terrible pay increases and was seen as greedy even when my request was valid and backed up by my work.' Unfortunately, this was a recurring response to our survey question. Talking about money doesn't come naturally to all of us, it feels awkward and taboo. This is a common experience for many digital marketers, especially the Brits! Discussing money, specifically salaries, has been considered crass to discuss openly, but times are changing.
Coronavirus has also taken its toll on people asking for pay rises, as we're all a bit more conscious of our employer's financial situations. 12 of our responses mentioned it, including this one: 'With COVID and hiring freezes, it [pay rise request] was not approved at the time but with a promise to renegotiate when the company is in a better place.'
Where else are you making money?
Of the people we asked, nearly 50% said they had a side project alongside their full-time work and 25% of them make money from that side hustle. Interestingly, when we compared salary bands to whether or not they were making extra cash with a side project, there is an even split in mid-range salaries.

When looking at the £70k+ salary band, more people were making extra money with a side project. Does this show that experience gained with a side project can improve your knowledge, boosting you up the career ladder? We would say yes! We recently shared an article in which we asked hiring managers the best way to start out in digital marketing and get noticed by employers, they all said side projects!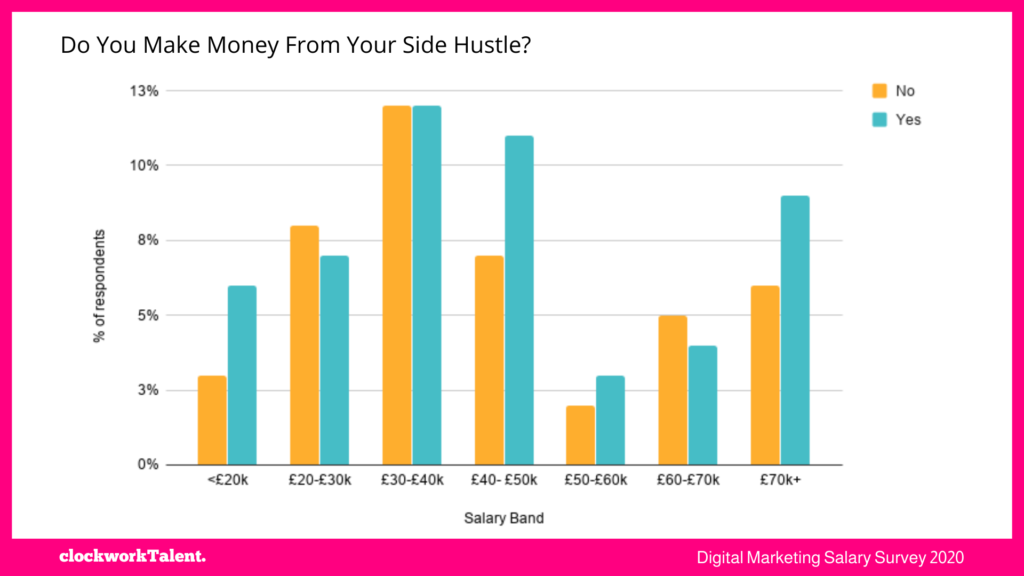 Is remote working as popular as we think?
Remote working has been on the rise for a few years and in response to the coronavirus lockdown this year, more companies are noticing the positives of remote working. When it came to our survey, it looks like there's a real trend of optional remote working. 55% of our responses 'sometimes' work remotely and 26% are fully remote all the time.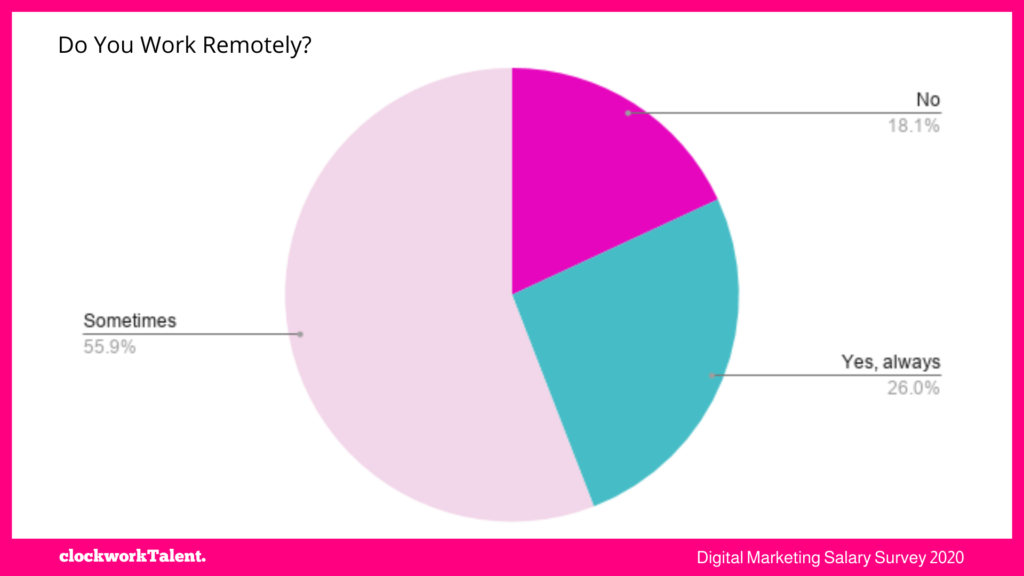 But, if you can't work remotely, does your boss offer any flexibility? From the people we asked, 74% said yes, they have the option of flexible working hours.

---
Thank you to everyone that took part in this survey, shared it on social media and allowed us to get as many responses as we did. We hope you found these results compelling and can use them to benchmark your hiring budget or in your next salary negotiation!

I'd like to give a shout out to Dave Child from Readable.com for his impeccable proofreading and *fair* critique of countless drafts of this report!

We're turning this into an annual survey and aim to increase the number of respondents in the future, so do look out for it again in 2021. If you have any questions, observations or compliments about this report, I'd be happy to hear them, you can email me on emma@clockworktalent.com.
Finally, I'd like to point you in the direction of this video!…