What does your maternity/paternity policy entitle you to?
On international women's day 2021 Lousie Parker pointed out in a tweet that many workplaces fail to publicise maternity policies in their lists of benefits when they are very vocal about other perks. We realised out of the hundreds of employers and thousands of employees we've worked with, very few have even mentioned maternity/paternity leave.

But it's an extremely important subject. People's careers and personal lives can be drastically impacted by the quality of the benefits they're offered. So we decided to look into the state of maternity and paternity policies in the UK's digital marketing industry.
Somewhat fittingly for #IWD2021 but I find it very interesting that workplaces are very keen to publicise their perks like unlimited holiday days or MacBooks, but it's very rare (I've never seen it) for agencies to share what their maternity package is.

— Louise (@louisevparker) March 8, 2021
The basics:
So, before we begin, let's get everyone up to speed with the statutory entitlement of maternity and paternity policies in the UK. Ready for some numbers? Let's go…
In the UK, all employed pregnant women are legally entitled to 52 weeks of maternity leave (the first 26 weeks is known as 'Ordinary Maternity Leave', the last 26 weeks as 'Additional Maternity Leave'), no matter how long they've worked for their employer. Usually, the earliest you can start your leave is 11 weeks before the expected week of childbirth, if the baby is early, leave will start the day after the birth. Statutory Maternity Pay is paid for up to 39 weeks. You get 90% of your average weekly earnings (before tax) for the first 6 weeks, then £151.20 or 90% of your average weekly earnings (whichever is lower) for the next 33 weeks.
Paternity Leave is different: employees can choose to take either 1 or 2 consecutive weeks' leave. The amount of time is the same even if they have more than one child (for example twins). Leave cannot start before the birth and must finish within 56 days of the birth (or due date if the baby is early). Statutory Paternity Pay is either £151.20 a week or 90% of their average weekly earnings (whichever is lower).
It's up to individual employers to decide if they want to enhance these policies for their staff or leave them as they are. But why would you want to enhance your policy? Well, you could solve these key problems employees face when expecting a baby:
Statutory pay can run out before the date when mums must return to work which puts pressure on women who want to financially contribute to the household
Premature babies – finance kicks in early and may run out well before the baby/mum are ready to return to work
There's simply not enough paternity leave or pay
There are countless reasons why an enhanced maternity/paternity policy could benefit a business. Not only can it boost staff retention but it also contributes to their overall wellbeing. It's a tangible benefit that employees recognise as being highly valuable. It's a lot more meaningful than the 'free food or cinema nights' that many companies offer and the longer-term trade-off in loyalty and retention of experienced staff can far outweigh the financial cost of enhancing a policy!
So, what did clockworkTalent find out?

Our questionnaire had 8 times more employees respond from the digital marketing community than employers, which is interesting in itself. It's clearly a hot topic for Digital Marketers which employers should be listening to.

Of the respondents, 39% have previously used a maternity/paternity policy but 91% hadn't known what the policy was when they started their job. Only 3 of our respondents said their employer lists their maternity/paternity policy publicly.

44% of our respondents either didn't know or weren't sure what their employer offered specifically in regard to maternity and paternity policies. This wasn't surprising to us as we know from speaking to candidates every day, no one asks about it…ever!

People are scared to ask when interviewing for a new job because it might seem like they're planning to 'use the policy' soon. Yet, we all freely ask about other benefits and company policies.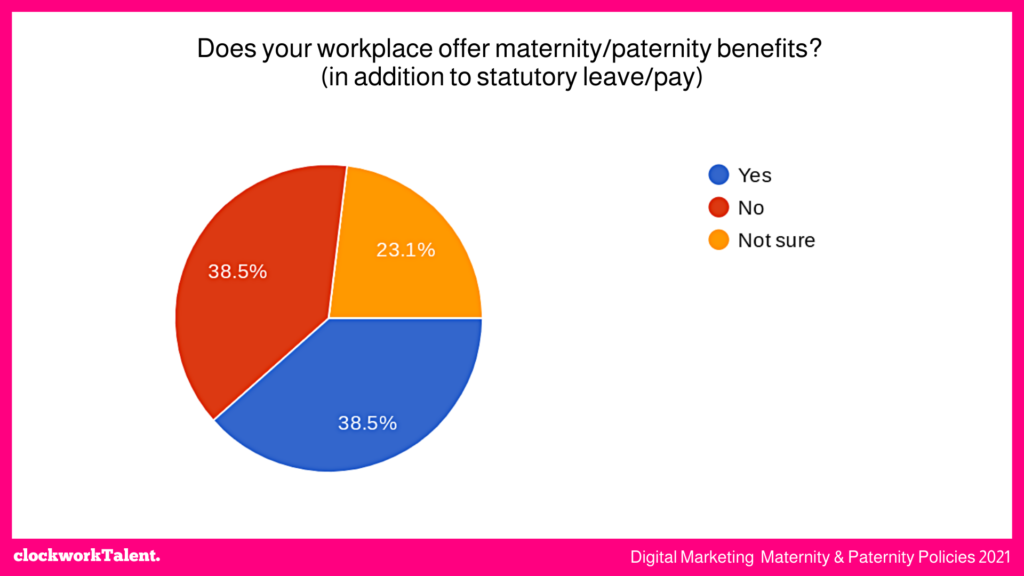 We found in many cases if the employer does offer an enhanced package, their employees aren't entitled to it as soon as they start anyway. 37% of our respondents confirmed this, with many being offered it after passing probation – which can be up to a year. The longest any of our respondents had to wait after joining a company was 3 years(!).
From an employer's perspective, listing maternity/paternity information publicly would attract new talent: 93% said they'd like to see maternity/paternity policies in job adverts, with the remaining 7% saying they didn't mind it being listed. 88% of them said an enhanced policy would make them want to stay at a company longer. So why not list it publicly? Transparency is a highly desirable trait for any business and in the digital marketing industry we've seen vast improvements in other areas, but discussions around maternity and paternity policies still feel taboo.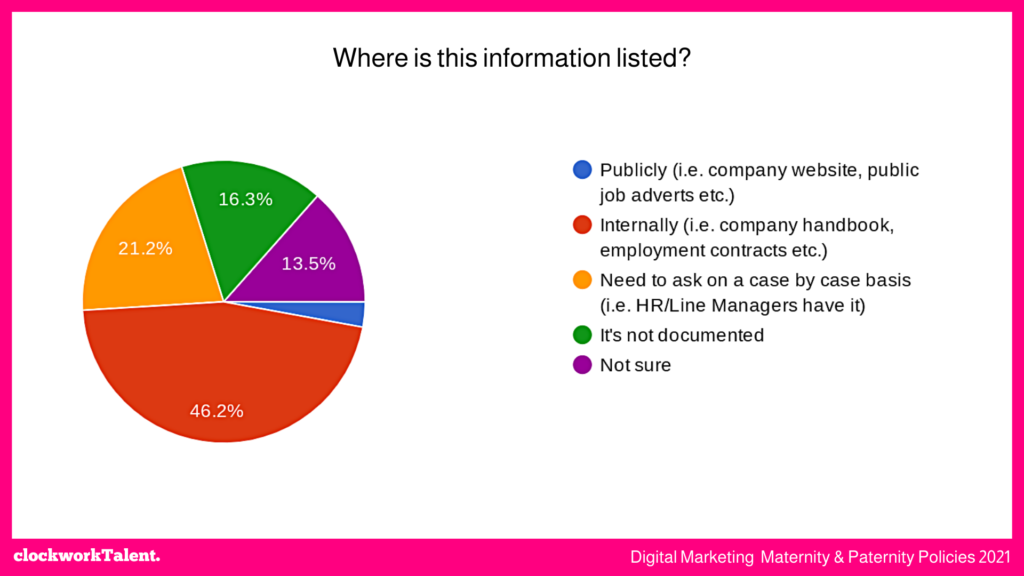 What do people want to see in maternity/paternity policies?

So, you want to offer an enhanced maternity/paternity policy -but what do people actually want and need? And is it even possible to offer such things? Most of the suggestions we received included a desire for more flexibility, better pay, clear plans for a return to work and transferable leave between parents. Here are some of the responses we got when we asked 'what would you LOVE to see in a maternity/paternity policy?':

'Maternity package in place from the moment you start a role!'

'More transparency and a greater emphasis in job descriptions of what maternity packages are at companies.'

'More shared and transferable parental leave'

'I would love to see paternity leave to be increased and paid more so Dad's can have extra time off without worrying'

'A policy that is inclusive of LGBTQ+ parents'

'Flexible working hours including the ability to work outside normal operations so that I could work more on full pay'

'Help with daycare in the initial return to work period'

'Absolute and complete support and return plan for when the mum comes back to prove the business is behind the unchanged conditions and benefits should the person wish to return'

Shoutouts to companies already offering generous packages:

The good news is, we've heard about some incredibly generous maternity/paternity packages being offered by UK employers while carrying out this research! Here are some of the employers we spoke to who were happy to publicly shout about their maternity and paternity benefits:

Gisele Navarro, CEO of the content marketing agency, NeoMam Studios:
'We ask parents how long they want to go on leave for and we cover their salary in full throughout, including pension. Once the baby is born, the individual health insurance plan becomes a family plan.
My first time going on maternity, I planned for the 3 months we had as the length at the time but ended up coming back sooner because my mental health needed that. At that time, I brought it up to the other directors that we should let parents choose as they know better than we do how much time they actually need/want to take away from work.
We've had cases of someone thinking she'd be back in 2 weeks, who then ended up extending her leave up to 6 weeks if I remember correctly. We just kept in touch, checking in with her and making adjustments on our end as she added more weeks to her leave.'

Dave Child, Founder of incredible readability tool, Readable:
'Sixteen weeks leave at full pay following birth or adoption (same for maternity and paternity), statutory after that.'

Sinead Hall, Head of People at the content and SEO agency, Evolved Search:
'Maternity and Adoption – Allowance at 1 years LOS. 16 weeks full and 12 weeks half pay. Paternity – Allowance at 26 weeks (following 15th week of gestation) in line with government guidance, 6 week's pay – 4 at DOB additional 2 weeks within the first year of the child's life.'

In our questionnaire for employees, we asked 'are you aware of any generous maternity/paternity policies being offered in the industry?' Whilst unsubstantiated, these are some of the examples quoted to us:
'My friend was on maternity leave with full pay then got a bonus when she returned to work'
'[company name] offer at least 6 months on full pay'
'[company name] give 1 year paid paternity leave (unsure of maternity package)'
'My previous employer (I'd rather not name them) had 6 months full pay followed by 3 months half pay (after 1-year service). That was the most generous maternity policy I've come across'
When you look at all these examples of what industry expectations can be, it's important for employers to recognise what's possible. Offering enhanced policies, whether they improve on flexibility, time or uplift on the finances, are all valuable to an employee and contribute to better staff wellbeing as well as attraction and retention of talent.

How do I ask about the maternity/paternity policy?

This conversation needs to go both ways though, a huge 92% of our respondents did not ask about the maternity/paternity policy when they started at their current job! Yes, it might not be on your radar, but it's helpful to know what you're entitled to because you never know when you might need to use the policy. On top of this, it can also help you gauge what kind of company you're joining, i.e do they go above and beyond in looking after and retaining their staff?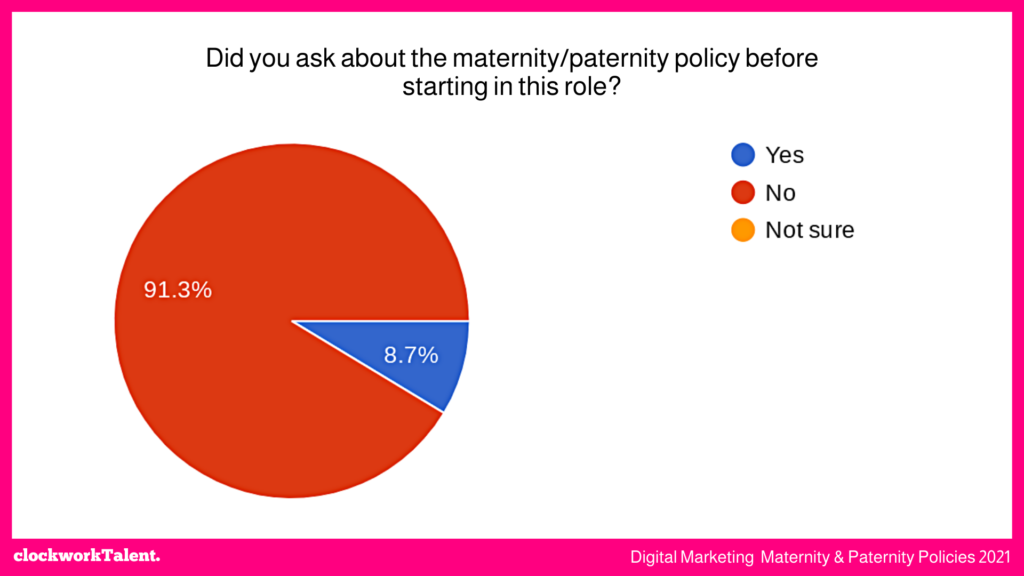 The best way to bring up this topic is to listen for the opportunity during the course of the interview. If it's not yet been mentioned and you're now getting to an offer stage, it's acceptable to ask what additional benefits an employee is entitled to. You could ask: 'in addition to salary is there a performance-related bonus? Pension? Healthcare? Maternity/Paternity? Holiday etc.' Our experience tells us if you ask about maternity or paternity exclusively, you could prompt suspicion and it's not always easy to bring up. So it's better to ask once you're at the offer stage and to dress it up as 'I'm thinking about my career 5+ years down the path…'
Since starting this project…
In order to keep this discussion going, our MD and Head of Recruitment, Natasha Woodford has committed to asking employers about their maternity/paternity policies, repeatedly bringing them to the forefront of decision-makers minds. We also aim to list enhanced maternity and paternity benefits in our job adverts.

At the start of this project, it was proposed that agencies struggled to attract and retain talent to their team and having better employee benefits might contribute to better staff retention & candidate attraction. There is insufficient data to support this hypothesis at this time although it was encouraging to see several agencies founded by parents have significantly enhanced paternity and maternity benefits in place. Having discussed it with the Founders, it was said that they felt it was an important time in people's lives where the employers needed to show support and commitment to their team.

Since the beginning of this project, two of clockworkTalent's employer partners have already requested their maternity/paternity benefits policies are reviewed by their boards. That's what we like to see!

Thank you to everyone that took part in this research and to Lousie Parker for highlighting the issue to us initially and coming along with the ride of producing this research.

---
If you're looking for experienced recruiters to support you in hiring great digital marketing talent, feel free to get in touch by emailing hiring@clockworkTalent.com. Likewise, if you're looking for a new digital marketing job, check out our current job board or register your CV by emailing jobs@clockworkTalent.com to be registered and considered for new jobs as they come in.