Maybe you've already discovered your craft…
With the aim of inspiring digital marketing jobs seekers, aspiring freelancers and the trailblazing entrepreneurs amongst you, we've tracked down accomplished industry professionals from a range of sectors to talk us through their own marketing career journeys in this new series of blog posts.
This time we were lucky enough to interview Mark Rofe! Mark has worked both clientside and for a number of agencies as well as doing his own thing. In fact, this is how I first met Mark. We were at brightonSEO and he introduced himself as the Founder of one of first initiatives, he even brought the sock with him to show me!
Unless you've been living in an alternate universe, you'll have heard of or bought from one of Mark's websites! In fact, he's behind the sustainable Christmas trees that you can get delivered to your door, as well as RealSantaLetters.co.uk, EditMyEx.com to a certain…*cough* sock website, Mark has a talent for bringing his unique ideas to life!
But where did it all begin for this marketer?
---
What did you want to be when you grew up?
I don't think I ever really knew, probably a professional footballer, I also remember vaguely wanting to be a landscape gardener for some reason.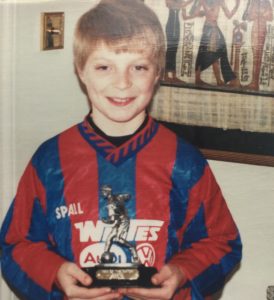 What & where was your very first job?
My first job was a paper round for my local town's free newspaper, I also worked as a Kitchen Porter and a Retail Assistant in Woolworths (RIP).
When & how did you first discover digital marketing / your specific industry sector?
When I was at school, I used to visit a website called Hot UK deals which shared deals and discount codes for many retailers. I noticed they didn't have any adverts on their site, so I became curious as to how they made money. That's when I discovered affiliate marketing, where you can make money every time someone bought something through a link you shared.
I then decided to make my own voucher code site using blogger. I would post new voucher codes I found each day with my referral links and then sit back and wait for the money to roll in. That's when I discovered my first problem, getting traffic to a website.
Things evolved from there, I made more affiliate websites and due to this experience, I got my first job after university as an Affiliate Marketing Executive working for a credit reporting company.
Share a mistake you made or an event you most regret from your career
I don't have any regrets. I've made so many mistakes and I still do, it's part of the learning process. One that sticks out in my mind is that I was working in-house as part of a team that managed the marketing for 4 English-speaking countries outside of the UK. We accidentally sent a marketing email intended for people in Ireland to people in New Zealand and vice versa. Hundreds of thousands of people got an incorrect email – oops.
I would also say working in industries or sectors I have no interest in, it's not necessarily a mistake, sometimes you have to experience things to realise it is not for you. I now make sure to focus on sectors I enjoy like aesthetics, eCommerce and gift websites.
Jumping in a time machine, what pearls of wisdom would you give your 18-year-old self?
I would say definitely prioritise learning over earning, in the long term it will help you to become a better marketer. If you're in a role where you aren't learning it can be a sign that you should move on to avoid becoming stagnant. Have some self-belief, be positive and be persistent. If you are negative and don't believe in yourself then you are less likely to try and accomplish something (whatever that may be) and it's, therefore, less likely to happen.
Also, ALWAYS get things in writing. I was a bit naïve earlier on in my career and thought if a colleague, client or agency said something then that would suffice, but always get it in writing in email too – it has helped me to hold people accountable and saved me many times too.
What industry skill do you wish you'd learned sooner, and why?
For me working predominantly in SEO it would be link building. As I often work with smaller websites which are either my own or on behalf of SMEs, they often need links a lot more than big brands do to appear highly in Google.
If you were to publish your autobiography in 20 years' time, what would it be titled?
I quite like 'My Shit Life So Far'.
What is the one thing you want to be remembered for from your career, and why?
I think some people already know me as the creator of a certain sock website, and if that's what I'm remembered for then that's just fine by me.
---
Big thanks to Mark for taking part in our blog series! I find it so interesting to find out where digital marketers first discovered their craft and for Mark, it happened when he was at school! If you're reading this as an aspiring marketing professional, you might have already found what you love and just need to push yourself into turning it into a career. My advice would be… go for it!
Keep an eye out for more in our 'Making Of A Marketer' series as we'll be continuing to publish new editions on a regular basis from equally inspiring digital marketing experts. Other editions you might be interested in are:
💡Will Nye- The Making Of A Marketer
💡Miracle Inameti-Archibong– The Making Of A Marketer
💡Mordy Oberstein- The Making Of A Marketer
Could your career story encourage others to further their digital marketing careers? Or do you know someone whose story needs to be told? Get in touch with me, Emma, via emma@clockworktalent.com. If you're looking to explore your career in digital marketing, visit our contact page.