During our MOAM blog series, we reach out to inspiring Digital Marketers. We talk with them to share their career journey with you. I'm personally particularly proud of this Marketer as many, many years ago I helped him make the career move that may have contributed to making him the Marketer he is today. In this article, we're celebrating the career of Will Nye!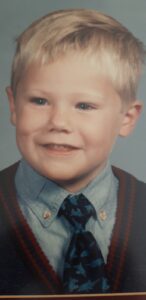 Will is the Technical Director of the organic marketing agency, Builtvisible. Will's passion for technical SEO and now 10+ years of agency experience has led to multiple internal promotions to where he now leads Builtvisible's SEO proposition.
Will champions product efficiency and innovation throughout the agency and is the driving force behind a dedicated team of consultants in this area, constantly looking out and ahead for clients.
When not at work, you can find Will hiking in the great outdoors, pottering in the garden, reading and watching the occasional game of rugby.
Let's learn more about Will!
What did you want to be when you grew up?
An archaeologist – I absolutely loved history. This started with a dinosaur obsession when I was very young, and evolved to cover everything from classical antiquity to medieval castles
What was your very first job?
I flipped burgers at McDonald's part-time for a couple of years whilst I was studying, pre-university. I can't say that this had much of an impact on my future career trajectory, but it has left me with an undying respect for people in retail and hospitality jobs. They work incredibly hard, often for minimal pay, and deserve a lot more patience and gratitude from all of us.
How did you first discover digital marketing / your specific industry sector?
Like most people I know in the industry, I stumbled upon SEO purely by chance. After my second year of university, I decided I wanted to pursue advertising as a career in some capacity, preferably copywriting. Looking to get some broader marketing work experience, I spoke to my dad, who's a database developer, to see whether any of his clients would be interested. So I could properly pitch myself, I began looking into Digital Marketing more broadly and came across SEO for the first time. As soon as I started implementing some very basic changes and saw the impact this had on their rankings and traffic, I was hooked.
Share a mistake you made or an event you regret from your career.
As strange as it sounds, treating clients like clients. When I first started working, my expectations were that client-agency relationships would be very formal affairs. I was picturing Mad Men-esque pitches, where we put forward our proposals for the client to yay or nay, with a gladiatorial turn of the thumb. Consequently, when I think back to my early client interactions, many of them feel overly rigid and far too passive. For me, the biggest shift came when I stopped treating clients like clients, and started treating them like colleagues.
Practically, this meant:
1. Having the confidence to be less formal and show more of my authentic self during meetings and calls.
2. Spending more time on-site getting to know how a specific business functions.
3. Not being afraid to ask questions, rather than feeling the need to come up with all the answers.
4. Taking the time to get to know the various stakeholders as individuals, over a lunch or post-work drink.
5. Being willing to constructively push back when I disagreed with a decision, and proactively highlighting parts of the relationship dynamic that weren't functioning effectively.
Fundamentally, trust and empathy are massive parts of any successful relationship. As important as it is to demonstrate your 'technical' competency, this will only get you so far.
Jumping in a time machine, what advice would you give your 18-year-old self?
To stop worrying about the future and enjoy the present! Early adulthood is full of so many major transitions, and it can be easy to spend all of your time fretting about exam results, university applications and future job prospects. But it's also an incredibly special time, offering endless opportunities to learn new things.
What industry skill do you wish you'd learned sooner and why?
Statistics and Data Science. Increasingly, I'm looking at Machine Learning to help automate time-consuming tasks and a lot of the maths involved goes over my head. While it's still feasible to deploy ML solutions without fully understanding the theory, it can be difficult to comprehend how to best apply them to your specific use case, and to see all of the possibilities that exist.
Who are you inspired by in the digital marketing industry?
I have huge admiration for Aleyda Solis. Between her public speaking, blogging, resources and newsletter, she contributes a massive amount and has done so for at least a decade. More so than this, she's always helping to shine a light on the good work that others are doing, expecting nothing in return.
I also found Hamlet Batista incredibly inspiring. He was an endless source of positivity for the whole community and is very much missed. Without his influence, I doubt I – and many other SEOs – would have persisted in learning to code.
Lastly, over the past few years, I've been thoroughly impressed by Lee Foot and his journey from coding novice to someone who consistently puts out phenomenally useful scripts. He's really pushing the boundaries of SEO automation.
If you were to publish an autobiography in 20 years time, what would it be titled?
Average chat, limited wisdom.
What's the one thing you want to be remembered for from your career, and why?
Integrity. Working in marketing, it's so easy to overpromise and under-deliver.
So I hope people remember me as someone who did what he said he'd do, was honest about what was possible, didn't shy away from difficult conversations, and owned his own mistakes.
What subjects were you best at in school?
English, History, Politics and Law.
I loved anything that was essay based, where you needed to construct a compelling argument and compare different viewpoints.
Thank you for sharing, Will! It's so great to have you take part in our series!
Keep an eye out for more of the MOAM series as I regularly publish new editions from other inspiring digital experts.
Could your career story inspire others to further their digital marketing careers? Or, do you know someone whose story needs to be told? Feel free to get in touch with me directly via digital@clockworktalent.com. Alternatively, if you're looking to explore your career options in digital marketing, visit our job board or upload your CV.
Did you enjoy reading about Will's SEO career? If so, you'll find these MOAMs interesting too!
💡Dan Taylor- The Making Of A Marketer
💡Roxana Stingu- The Making Of A Marketer