We finally got to recruit for Aira!
It's always exciting when a new employer approaches us to start a recruitment partnership, especially when it's a company well known to me, one with Founders whose reputation I've always admired and whose business has grown from strength to strength!
This is what happened with the integrated agency, Aira. I've known Aira for years but had not recruited for them (we can't recruit for everyone, unfortunately!). But with Aira, I'd met a few of their team at conferences, see them online, their office dog Rolo had won the Best Office Dog category at the 2018 Penguin Awards which we sponsored. Their Co-Founder Paddy Moogan had also shared his top 10 digital tools with us a while back. Not to mention their great industry reputation with an abundance of campaign and company award wins.
Seemingly, Aira had been watching clockworkTalent too, because in 2020 they were spurred on to revise and enhance their maternity and paternity policies having seen our industry report.
Needless to say, I was chuffed to bits when Paddy suggested I speak with his Head of Digital about recruitment. To see if clockworkTalent's expertise could help continue the expansion of Aira's team of experts in all channels. They'd had mixed experiences of recruiters in the past and were now looking for an injection of hiring support as they add a number of positions to the team.
Our first win was in the Paid Media team. We helped Aira to recruit a superb Paid Media Consultant, Mohak. He brings with him hands-on performance marketing experience but had also just completed his Master's degree in Digital Marketing. It was evident from the get-go that Mohak would bring huge potential. Even his response to the interview brief was more than I could have hoped for. This sentiment was echoed by the Aira team too as they were really impressed with his knowledge, experience and clear desire to be better.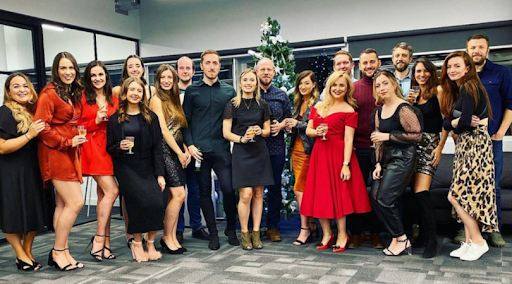 Interestingly, it was clear to me Mohak wasn't accustomed to navigating a job search in the UK. Which was understandable, it can be a minefield. He even said to me without my introduction he'd never have found the job at Aira himself. Thank goodness I did, because it's such a great fit for what he was looking for!
This is another reason to find yourself a recruiter who is an expert in your chosen field especially if you're looking for a specialist job. It's not just employers who gain from using specialist recruiters, job seekers can too! Here's what Mohak said about working with us:
"Post our first call, [Natasha] combed through my CV and recommended changes to make it top industry standard. I was able to sign my full-time job within a month of getting in touch with clockworkTalent and would advocate candidates and companies to find jobs/talent with them. It was a fantastic experience!" -Mohak, Paid Media Consultant @ Aira
As I understood it, the Aira team had listed the vacancy themselves for a while but the applications that had come in weren't quite what they were hoping for. This was why Paddy had chosen to engage us to help with their recruitment. Our reputation for being able to introduce qualified candidates for specialist jobs by using our deep digital marketing industry network had preceded us once again.
We asked Chris who leads the Paid Media team what he thought of working with clockworkTalent and he said:
"Working with Natasha has been great, she was very keen to find the best fit for our team. She was realistic with expectations, but delivered very quickly." -Chris, Paid Media Lead @ Aira
When I asked Harry, the Head of Digital for his thoughts on working with us, he said:
"Recruiting is difficult at the best of times, but in the Covid/post-Covid market it has been one of our biggest challenges as a business. Natasha was reassuring from the first call and her confidence gave me confidence that we would find the right people.
We asked for people out of the box. We got that with the first CV. Two weeks later we made the hire into a position we had been trying to fill for months. We'll be continuing to work with clockworkTalent moving forward." -Harry, Head of Digital @ Aira
I'm really proud that Chris only received one CV from clockworkTalent for this particular job. But what they probably don't know is behind the scenes, myself and the team screen LOADS of CV's, proactively contacting paid media people, looking for the 'right' hire for Aira. Yes, a lot of it is about the specialist technical skills and experience but it's also about attitude. About how someone expresses themselves and their ambitions.
As a recruiter, I'm proud to take away that hassle of recruitment from HR or a hiring manager, screening out those who aren't suitable and proposing on the select few who REALLY hit the brief. Then the hiring manager's interviews are tailored to identify who do they really want on their team. Who will ultimately be successful in receiving the job offer!
I hope you like hearing about the recruitment projects we get involved in. It's so rewarding to write about each one, especially when it's a new employer with whom we're already making great inroads to a superb partnership as we expand their team further. Whilst writing this article, another clockworkTalent candidate has been offered a job with Aira, this time to join their Digital PR team. I look forward to writing many more success stories about this awesome team.
---
If you're looking for digital marketing jobs suitable for your ambitions or want a career move that plays to your strengths in any aspect of digital marketing; get in touch with our expert recruiters by sending in your CV to jobs@clockworktalent.com. You can also have a peek at our job board for specific jobs.