When you're a Marketing student at University, you don't expect a recruiter to come knocking on your door with your perfect first marketing job before you've even graduated. That's exactly what happened to 2nd year marketing student Daisy!
I reached out to Daisy because as an experienced recruiter I believed she'd bring a lot of the experience and qualities I wanted to recruit for a new part-time Marketing Executive job I was hiring. The employer is the local charity Wave Leisure Trust. We'd recruited for Wave long before the pandemic, not once but twice over the years. They'd got back in touch to ask for our recruitment support in hiring this marketing job.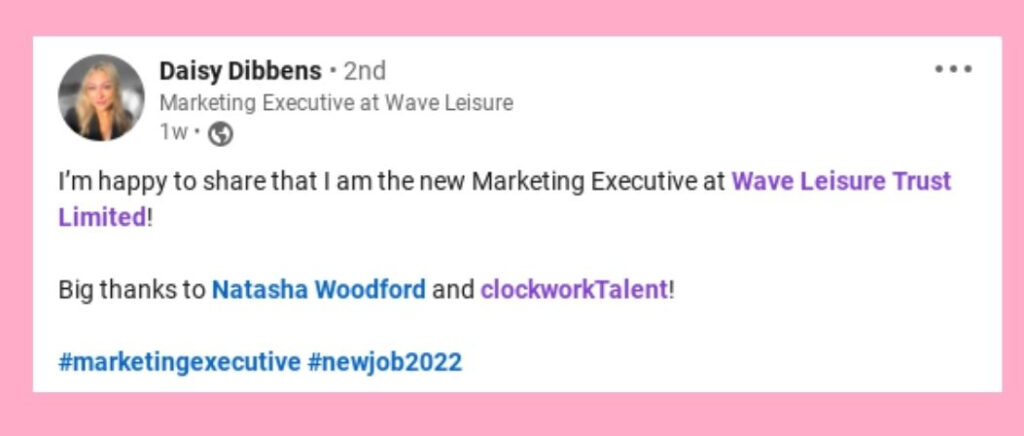 Life has been challenging for Wave since the arrival of Covid19. The pandemic forced all doors shut at all their leisure and sports facilities, losing them many great people whilst they remained closed through the lockdowns. Now, with the "work from home" mandate lifted it's a much better story. Wave has been able to reopen all its doors in East Grinstead, Lewes, Newhaven, Seaford, and Eastbourne. There's a new energy in the air and heaps of social media and marketing activity to champion all the new class timetables, opening hours, new memberships and so much more for this charity's community.
I had spotted Daisy was already into the second year of her Marketing Management degree. And her CV told me whilst being a student she was also holding down a paid job at a local children's nursery as well as offering freelance marketing on the side of her studies! I love it when people show their energy and ambition by juggling multiple things. Her Instagram page also shared evidence of great creativity and potential for her marketing career. This is all superb experience but it's how it's written that will grab the attention of the employer and get her the invite to interview. Showcasing all these elements in her CV makes it a great window into her potential. We shared how you can write an equally great CV , just make sure you follow the guide step by step!
And once I reached out to her, Daisy oozed enthusiasm and energy in our discussions. This is how Daisy raised her visibility so I found her for this entry-level part-time Marketing Executive job:
Had an upto date, detailed and professional looking Linkedin profile
Both her CV, Instagram and Linkedin profiles showcased her side hustle / freelance work
Replied to my message on Linkedin in a professional and timely manner
Explored the opportunity with intelligent questions to understand the job better including timing, location, pay and employer expectations
Handled my initial screening interview well. Demonstrating evidence of a good work ethic, intelligence, creative mindset, passion for marketing and social media specifically.
Took onboard constructive CV suggestions from our CV critique, elevating how she represented herself in a document for the hiring manager to consider
Regularly kept in touch during the process. We were able to schedule around her timetable and personal meetings
Because she's been transparent, I was able to manage expectations with her future manager so they adapted around her
Was also flexible in working around her university timetable, keen to take on relevant paid work to further leverage her future career!
When I asked Daisy what it was like finding a job through clockworkTalent, she shared…..
"Natasha reached out to me on LinkedIn about the role and within an hour we were on the phone chatting away – I was amazed at the opportunity she presented me with! I've never been recruited for a job before yet Natasha made the process so easy for me, liaising and organising things on my behalf and offering the best prep advice. She went through an audit of my CV with me and suggested the most helpful improvements.
My interview went so well and then before I knew it I was hired and working! It was the perfect match and Natasha has been wonderful, always checking up on me even after starting the job. I'm so pleased with the entire experience and so grateful for this opportunity coming my way. Thank you clockworkTalent!" Daisy, p/t Marketing Management degree student, p/t Marketing Exec at Wave Leisure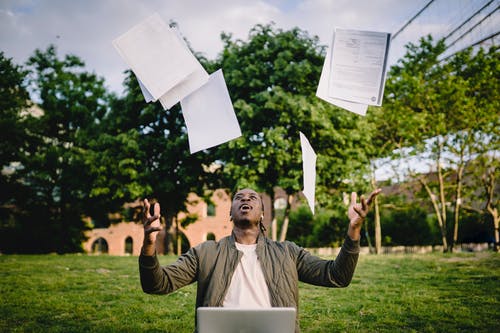 It was evident HR and the hiring manager were pleased with our work too. They'd spent the last 8 weeks advertising this vacancy with no success. They'd reached a point of wondering how on earth they'd find the right person for this role. They got in touch because we'd helped them years ago with several more senior hires. This prior experience probably helped us because within 2 weeks we'd found Daisy, had her interviewed, a job offer accepted and she'd started her new marketing job.
We did this by turning the problem on its head. Instead of thinking how we'd convince someone part-time could work for them. We considered who'd love a part-time job, specifically a marketing job. Also as this role needs to be based at their venues as much as possible we had to take into account the logistics of getting there. Public transport wasn't reasonable. We took this into account when we did our research. Our headhunting skills came into play, refining what you're looking for and targeting in on who might be appropriate. This is how we found Daisy. Living locally, studying a marketing degree, running her own marketing freelance work and ultimately coming across as a really credible, nice human with bundles of enthusiasm and potential!
When we asked the hiring manager what she thought of recruiting with us she said:
"Working with Natasha, from Clockwork Talent, has been an absolute joy. Having tried, unsuccessfully, to recruit the right person for the role through traditional advertising, Natasha made the whole process a lot easier and has found us the ideal candidate. The advice and guidance provided also helped us shape the role that we needed to support the business." Liz, Head of Community & Health Improvement at Wave Leisure
Having checked in with both Liz and Daisy, onboarding has gone well and both parties are really pleased with the match. Daisy has adapted her university timetable to accommodate her new part-time marketing job. Whilst I've wished her well at work, I've reminded her she's got to focus at University, graduate and I'll be looking forward to watching her marketing career flourish.
This is exactly what I like to see and look forward to watching Daisy's marketing career grow, something I don't normally get to say before they've even graduated!
If you've not yet landed your first job in digital marketing and are still wondering how you're going to do it, our articles below will share some great advice for you.
If you're looking to hire digital marketing talent (part-time or full-time) into your team, don't hesitate to get in touch. You can reach me directly by emailing me at natasha@clockworktalent.com. Or, if you work in digital marketing and want your awesome career as Daisy got hers, clockworkTalent is always hiring new digital marketing jobs on our job board. If you don't see one for you, it's worth registering your CV so we can keep you in mind for other jobs as they come in.