Finding the gems…
I run specialist recruiters, clockworkTalent. We only recruit digital marketing jobs. As MD, it's ultimately my choice whom I want clockworkTalent to recruit for. With so many companies hiring, it can often be hard for job seekers to find the best digital marketing jobs. If it's hard for me to spot which is a good job, it must be near impossible for a job seeker! That's why it's important for me to do as much screening as possible prior to becoming a recruitment partner for a company.
It's often easier to spot why you wouldn't want to work at a specific company. The reasons I might get put off from recruiting for a company are:
❌Discrimination or toxic culture
❌Unrealistic expectations
❌Lack of investment in the team (training, budgets)
❌Poor internal structure (lack of reviews and career progression)
❌Industry reputation
❌Personal beliefs (I don't recruit for payday loans or gambling)
❌Poor ethics
You might think I'm searching for some kind of imaginary utopia. Not quite. It's more about finding a great career move for people, not just a job. I like to be able to meet someone at a conference like BrightonSEO and them come bounding up to me raving about their new job, their promotion or what they've been doing most recently. There are so many digital marketing job opportunities out there, no one has to "suffer" in a job right now. If you're experiencing any of the bad checklist above, dip your toes into the market and start looking outside your current company. You don't have to suffer toxic cultures or rubbish work-life balance. There are so many companies hiring that you can relatively easily make a positive change in your career.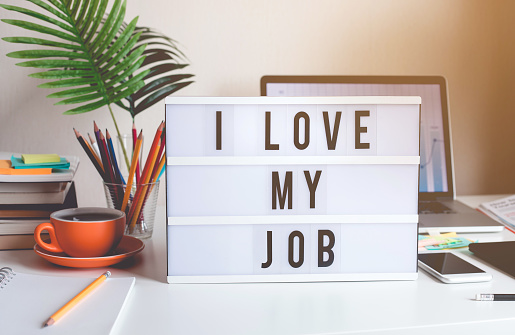 When choosing which brands or agencies to recruit for it's often a combination of many elements, not just one factor. Once clockworkTalent and an employer are in agreement, it's a partnership. I expect the employer to support their new employee, nurturing their career and helping them grow inexperience. We develop long-standing partnerships with employers, hiring for them not just once but again and again as their team expands. These partners will continue to offer many traits I'd hope to see in a good employer. Everyone's aspirational list will be different but I've listed my top 10 below (in no particular order):
✅Inspirational leadership
✅Exceptional product or service (maybe you personally connect with the brand?)
✅Rock solid, positive ethics
✅Friendly, collaborative and healthy culture
✅Company invests in the team through resources, personal benefits etc
✅Culture of learning – dedicated training budgets/time (encouraging conference attendance, giving the employee's company time to prepare and speak), structured program
✅Industry reputation (not just awards but individual, team and company reputations)
✅Job opportunity of a lifetime
✅Commitment to environmental sustainability
✅Work-Life Balance – flexible/remote working
✅Diversity – good practices ruling out unconscious bias
You may have more, you may also not think some of these are important to you. This is, however, my list of what I'm looking for in a good employer. Companies who will offer great career moves to clockworkTalent's job seekers.
If you find yourself employed in a job with too many from the first list and too few from the second, don't hesitate to reach out to me or my team more generally. We'll be pleased to have a discreet conversation, get to understand your experience and ambitions; and help you find a dream digital marketing job.
If you're looking for more job-seeking tips, we've got you covered:
---
If you're looking for help to find yourself the best digital marketing jobs, email your CV to our recruiters at jobs@clockworktalent.com. We can then arrange a discreet call, so we can discuss your experience, skills and ambitions; along with details of the jobs, we're hiring.