'Hey yo, found a new job through TikTok check'
Lockdown gave us a lot of things: excessive amounts of banana bread, DIY projects and for many of us, hours and hours spent scrolling through TikTok. I have my fingers crossed, hoping that despite his threat, President Trump isn't going to ban TikTok in the US and with that wishful thinking in place, let's talk 2020 job-seeking…

What is TikTok?
TikTok was originally launched in China specifically designed and marketed towards teenage users. The app has a focus on lip-syncing and offers editing tools like filters, visual effects, split screens and music. Users can share sounds and hashtags that encourage others to take part in challenges or topical trends which have helped in the app's incredible growth in popularity.

Who's using it?
While 60% of users are Gen Z, the user base is ageing up. Between January and April 2020, the number of 25-34-year-olds rose from 22.4% to 27.4% and the 35-44 demographic grew from 13.9% to 17.1%. Since the Coronavirus outbreak, we've also seen families and the 25+ demographic trying out TikTok to keep them entertained through lockdown.
You can even follow us on TikTok!
Using TikTok to build a personal brand
TikTok has given us the next generation of CV's. If you think video CV's are the latest thing, you haven't seen anything yet! People are jumping onto TikTok and flipping traditional CV's on their heads by producing uber-creative clips showing off their skills, experience and industry knowledge. Gone are the long-form video clips of a job seeker explaining what they did as an SEO Manager. Now, we're seeing quickfire explainer videos and funny introduction clips from job seekers instead.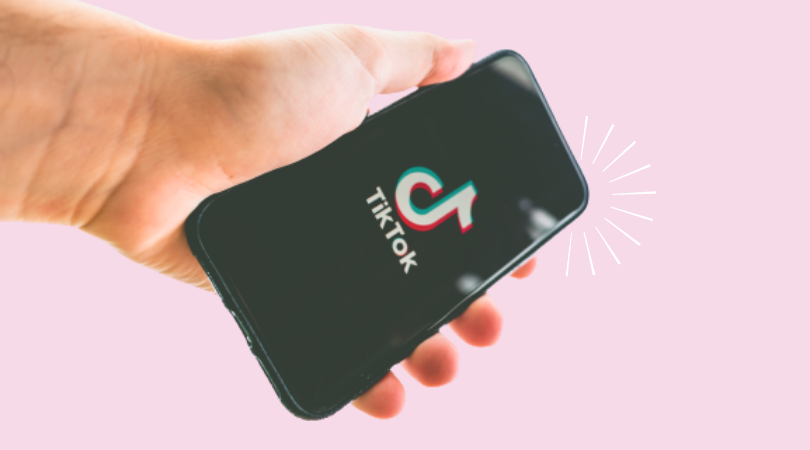 It doesn't all have to be job search focused though. Instead, you could focus on building your personal brand by sharing your industry knowledge and experience through tutorial-style TikTok videos. This could help a future job search or grow your networking pool and boost your career in other ways.

One of the first people I noticed creating great TikTok content in the digital marketing world was Louise Parker. In her videos, she shows some of the relatable things 'PR people' go through in their line of work. Her quick, witty humour and use of existing sounds enhance these anecdotal clips and turn them into funny, sharable content!

3 TikTok success stories
Here are 3 real-life examples of how TikTok has been used to help end a job search…

Alyshea tweeted about how her work contract had ended and she was now looking for a new opportunity in social media and/or journalism. To help spread the word about her search, she created a TikTok video and shared it on Twitter. A couple of weeks later, she posted an update stating she'd landed a new Freelance Digital Producer role with Channel 5 News 'all thanks to that TikTok!'
my contract ended a few weeks ago which wasn't ideal lol so i'm currently looking for work in digital journalism or social media!

made a tiktok for easier viewing 👇🏽

linkedin: https://t.co/V561t09vAd

😊 https://t.co/Q0YcakVh9h pic.twitter.com/suJ5BmHi1J

— alyshea (@alysheac) June 8, 2020
When Lucy Appleton spotted a creative role being hired at Rise at Seven she couldn't resist using her TikTok skills to make a big impact. Rise at Seven are well known for their creative, attention-grabbing PR and the team's personalities also reflect this. It goes without saying that Lucy's application was the perfect tone and highlighted not only her social media skills but also her personality!
When I asked her why she chose to use TikTok when applying for the role, she said: 'I was applying for a creative role within Rise at Seven so I wanted to give them something that showed I was creative. TikTok was my perfect niche to do this as it's a passion of mine having grown my following.

I love it because it really showcases your personality and you can be free with it. I like that TikTok is judgment-free and can allow you to be fully yourself therefore, I really wanted to show Rise my personality. A traditional CV is you trying to show your personality on paper anyway, so I brought myself to life through TikTok.'
Finally, Julian Bass, a 20-year-old special effects artist, short film writer and producer caught the attention of Disney, one of the world's leading talent agencies, ICM and many more after his special effects TikTok went viral on Twitter.
if y'all can retweet this enough times that Disney calls, that'd be greatly appreciated pic.twitter.com/GrKlIRxg3J

— Julian Bass (@thejulianbass) July 2, 2020
The outcome of his viral sensation is yet to be announced but he told TIME 'I've gotten plenty of offers for representation and from Casting Directors. I'm not entirely sure what I'm allowed to spill so for now let's just say there's a lot of stuff in the works!'
Other ways TikTok could help land you a job
If you really don't want to be in front of the camera, you could utilise existing sounds and share recordings of your projects/work. Or, explore TikTok hashtags like #cvtips, #interviewtips & #jobsearch for useful tips and advice from around the world.

Working at clockworkTalent, it's always exciting when we receive a non-traditional application alongside a well-written CV and I'm very much looking forward to opening an email with our first TikTok job application! Subject to the app not being banned in the US, I think it will continue to grow in popularity, globally. So, now really is the time to get creating!
---
Looking for more job seeking tips? We've got you covered:
💡 How to Find a New Job Without Your Boss Finding Out
💡 Think you're under-qualified? So what!
💡 How To List Achievements On Your CV
If you're looking for your next digital marketing career move, feel free to send your CV or TikTok video to jobs@clockworktalent.com! You can find more job seeking tips on our blog and our latest, live jobs over on our job board.