How do you break into digital marketing?
The digital landscape is changing all the time and new jobs are created every day. So if you want to embark on a new digital career, where do you start? As part of this year's Brighton Digital Festival, Brighton Digital Women (BDW) held an evening discussing just that.
Our MD, Natasha joined Lana, Rachel, Allegra & Kayleigh on the expert panel to answer questions from both Graduates and more experienced Digital Marketers.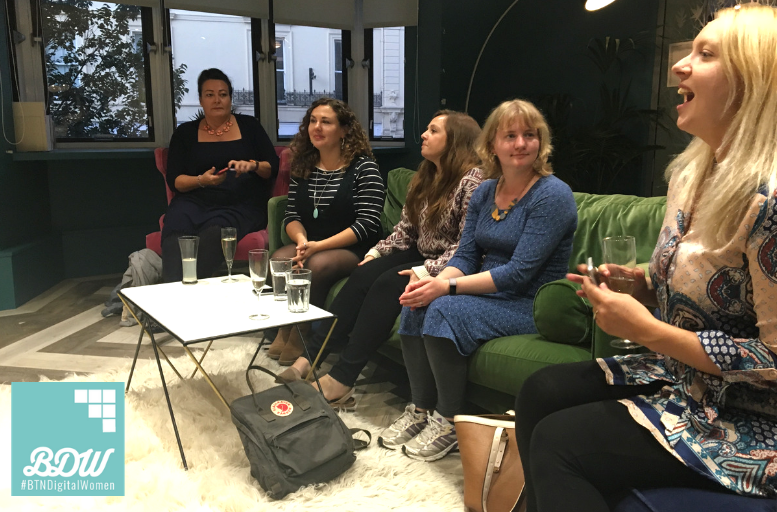 The top 10 quotes from the night:
Always study what you enjoy
As Natasha put it: 'don't suffer through university studying a subject Mum and Dad chose' you'll always achieve more if you love your subject.
Job titles can be very different in digital
The word 'Executive' can be a confusing one. Many other industries use it to describe a senior position but of course, in digital it's the other way round. You'll find Executives in this industry are usually the most junior. To avoid confusion, make sure you read the job advert in full.
Don't know it? Teach yourself!
The best Digital Marketers are curious and constantly learning. If you're looking to progress in your career, why not spend some time researching new skills? This leads on nicely to my next point…
Google is your friend!
"Fake it till you make it" comes to mind here but when you're about to start or are already in a new role, Google really should be your best friend!
Don't hide what you can do, your CV is your place to show off
No one else will brag for you, so this is your chance! If you've achieved something that will make you stand out i.e learning a second language, passing your Google AdWords certification or being Captain of your university netball team, get it on your CV!
Go to industry events
Events like BrightonSEO, Brighton Digital Women, Optimisey, SMX London and She Does Digital are all amazing places to learn and meet people. Three of our BDW panel had previously found clients or their next employer at conferences. Look around locally and you'll definitely find an event in your niche.
Don't be afraid of stepping back to step forward
If you're looking to change the direction of your career and get into digital marketing, you may feel it necessary to take a side or backstep enabling you to build on your existing skills and develop new ones. Digital Marketing is a young and fast-paced industry. We've got 27-year-olds running digital agencies. It's true you may find you're older than your colleagues or even your boss but stick with it. As well as being a young industry this is a rapidly-growing one, you'll soon see your skills developing and your position advancing.
What other skills do I need?
If you're brand new to the industry or don't have relevant skills to put on your CV, what should you put instead? Hiring managers will always be looking for transferable skills including project management, strong work ethics, excellent communication skills etc. It's always worth looking on the job advert, if there's one available, for specific traits the hiring manager is looking for. It won't hurt to include evidence of these on your CV.
Find the common thread
Do you feel like you've moved around a lot in your career, whether it's different sectors, roles or industries? To stop this from being off-putting to hiring managers, you should try and find your common thread to focus on. This is something that has been common in each of your previous roles/work. Allegra told us, after moving around in different digital sectors she sold herself to a hiring manager for having the common thread of 'communication' running through all of her previous roles. If they are looking for communication skills, evidence of using these in multiple environments will be seen as a good thing!
You don't need a degree in digital
This has always been up for debate within the digital marketing industry. So many brilliant marketers are self-taught, finding success in their careers without going to university. But, on the flip side, many will argue that university was where they fell in love with digital. Words of wisdom from our panel – if you want to go to university and study something you love, go for it! But, not having a degree shouldn't harm your chances of getting a job providing you do give yourself the opportunity to self learn and advance your skills.
Looking for more top tips for starting out in digital? check out our guide: how to start a digital marketing career.
---
Thank you to Brighton Digital Women and to everyone that made this event so successful. If you're looking for some more help with your career, job search or CV please don't hesitate to get in touch. We offer a free CV critique to all digital marketers and have a wide range of digital opportunities from around the UK on our job board.