You've seen him talk at conferences and watched his videos on social media…
But do you know what Omi Sido uses to get his awesome Tech SEO work done?
Omi Sido is an SEO and Web Development professional with more than 7 years of experience in both web and traditional advertising, promotions, events and campaigns.
Omi is currently Senior Technical SEO at Canon Europe and has worked on integrated campaigns for major clients such as Vectone Mobile, Delight Mobile, The Global Real Estate Institute and Daily Mail.
As an SEO professional, Omi Sido explains how he breaks down his essential role as search engine optimizer into 3 essential parts:
To deliver the most useful content for any user performing a particular search, analysing and segmenting intent to buy vs. general information gathering
Having the most visibility for a client's content via hyperlinks and mentions from relevant external web pages
Analysing long-term user behaviour signals, such as attracting the most clicks on a search result and continuously reducing bounce rates.
Omi prides himself on providing lasting results that extend beyond a quick, temporary boost in rankings for his clients.
Over to you, Omi Sido…
---
Ten Digital tools?… Only ten (smiling)?
As a digital marketer who specialises in technical SEO, I use lots of tools! But if I have to choose, here are my top 10 (in no particular order).
Screaming Frog's SEO spider is an auditing tool that allows me to quickly scan large numbers of web pages for potential SEO issues.
I love technical SEO audits and Screaming Frog can be very efficient in tracking down errors and then allowing me to quickly extract a full report and get down to fixing those errors in minutes.
An online app based crawling software allowing me to access my account from anywhere, even from my smartphone thus I am able to notice problems wherever I go -and I travel a lot.
With DeepCrawl, I can better understand the architecture of my clients' website (priceless) and advise them on areas for improvement.
Similar to the previous two crawlers I can talk about OnCrawl for days but the thing I really like about this tool is that it gives me the ability to analyze my log files and consequently the ability to understand the relation between my most crawled page groups and the page groups that drive the more SEO visits.
In short, pages that are often crawled by Google but do not generate any SEO visits are a waste of crawl budget.
SEMRush is by far one of my top tools for keyword research. The thing I really like about this tool is that it allows me to analyse not only how my website is doing in organic search, but also how my competitors are doing as well. Enough said!
Page load speed can negatively impact not just SEO but also UX. I use GTMetrix to examine the load speed of pages and identify opportunities for improvement. There are many page speed tools out there but GTMetrix is probably the most user-friendly one out of all of them.
I don't know what I'd do without this tool when it comes to tracking the results of any link-building campaign, and in my experience, Ahrefs has the best signal to noise ratio.
Every single business that wants to be found in search engines needs to be tracking and analyzing their rankings. I believe that AWR is the best tool to that at the moment. If you have a question about the rankings you or your competitors have, you'll be able to find it within AWR.
You simply can't improve your Digital Marketing effectiveness if you don't understand how people are arriving and using your website. Saying that Google Analytics doesn't just give you website insights, it is also incredibly valuable to the commercial success of your business.
Now add to this historical data – which is incredibly useful for flagging change – and you've got the complete picture of how your business is performing online. Google Analytics is the tool I use absolutely every single day.
This tool is simple, quick and reliable. All you have to do is plug in a keyword and get hundreds of long and short tail keywords.
Keyword Tool will also run searches for popular YouTube keywords – great for coming up with ideas for the content or topic of my next video. Of course, I am talking about The Sunday Talk.
Every time I want to know what questions my target audience type into Google, I just pop the keyword into Answer The Public and I get a hefty list.
As machine learning begins to take precedence online this tool helps me tap into the power of semantic search (finding my target audience and creating content that connects). Very often I use this tool to generate search engine infographics on the fly. Then I can download the images and use them for reporting or presentations.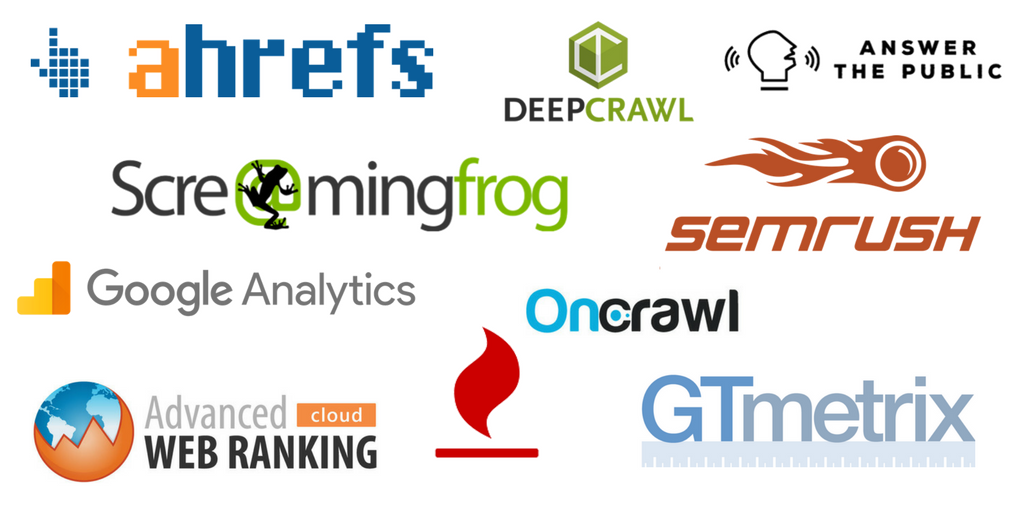 ---
A big thank you to Omi Sido for this brilliant list of digital tools!
Please do look out for future '10 Digital Tools … Couldn't Live Without' blog posts from additional digital marketing industry experts as we'll be publishing more of this series soon!
If you're looking to advance your career, did you know we offer a Free CV Critique? Start a conversation by sending your current CV to jobs@clockworkTalent.com and our specialist Digital Marketing Recruiters will get in touch with you for a discreet conversation.
On our job board, you can apply for specific digital roles and you can subscribe to our new YouTube Channel for extra information about our latest Digital Jobs. We also post all our jobs and news through our social media channels including Twitter, Facebook, LinkedIn & Instagram!