Another brightonSEO has whizzed past us…
Here is our round-up of the training day, the conference and the clockworkTalent team's highlights
We have taken part and exhibited at the bi-annual, search marketing conference brightonSEO since its beginnings, and every time we find new passionate Digital Marketers and are reunited with old industry friends.
Our co-founder, Kelvin Newman, is the brains behind the conference, making us the preferred Digital Marketing Recruiter, and the only Recruiter to exhibit at the show. This gives us the unique opportunity of working with our extensive pool of industry contacts as well as the 3,500 Digital Marketers that attend the conference.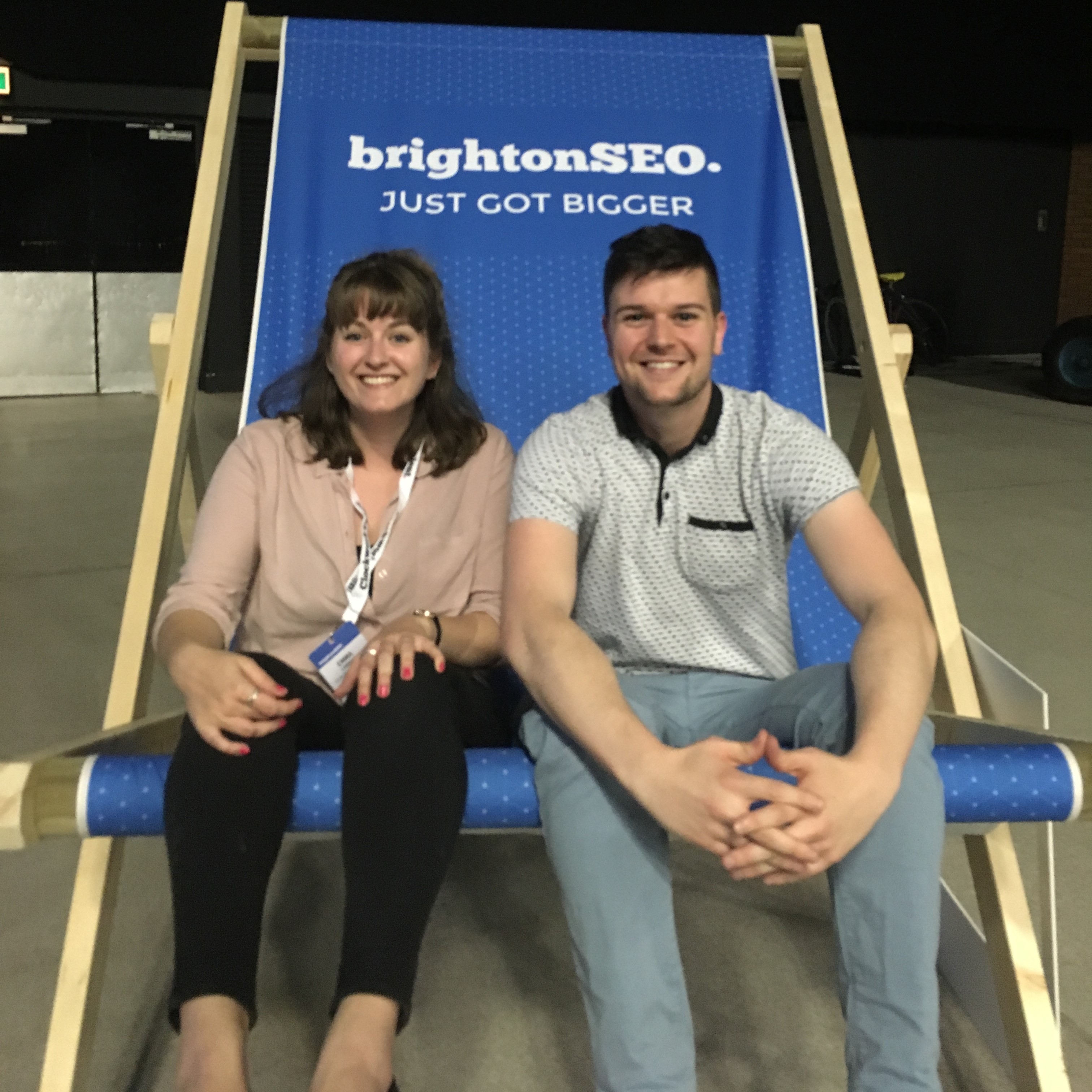 Training Day!
Our Digital team, CJ & Emma, got the opportunity to take part in the brightonSEO training sessions the day before the main event.
CJ had his mind blown in "Video SEO" with Carla Marshall from Tubular Insights and Emma attended "Programmatic Marketing" run by Grace Kaye and Rachel Harpole from Brainlabs. Both sessions were insightful and offered tips and skills that can be utilised in our day to day work.
Emma's favourite takeaway from Programmatic Marketing: Grace explained the process of using interactive creatives in advertising and discussed the micro details that can be added to a programmatic campaign, even down to changing the images automatically if the weather reaches above a certain temperature in your targeted location! You might want to see our list of the top 10 DSPs on the market
CJ's top tip from Video SEO: Facebook Live videos that are over 25 minutes in duration are the most successful at driving engagement and views.
The training sessions last all day and are brilliant for Digital Marketing newbies to gain practical industry knowledge but are also great for established Digital folk to keep up with new techniques and technologies within their sectors. We would definitely recommend attending a session if you are heading to the conference.
---
The Conference!
At every brightonSEO we have hosted a competition, whether it is competing to win an evening with the Beefeaters at the Tower of London, a physical challenge or a fairground shooting competition; the natural competitiveness within us usually gets triggered pretty quickly amongst our Digital Marketing crowd.
This time, we decided to take our competition to Twitter, asking attendees to follow us and tweet us a smiling selfie from the day! Whilst some competitors took their photos there and then at our stand, others, we later found out, strategically secured less obvious backdrops to take their selfie shots.
The outcome was fantastic! You outdid yourselves with creativity and some even tracked down our digital pink balloons for their selfies!
Our overall winner, selected at random from the 30+ entries, was Autumn Sharkey who had absolutely no idea she had won! Like so many of us, she never thought she'd win… and having been swept up in the final round of talks had missed our winner announcement! Luckily Natasha spotted her walking past our stand and got her attention with the Magnum of Pink Champagne prize!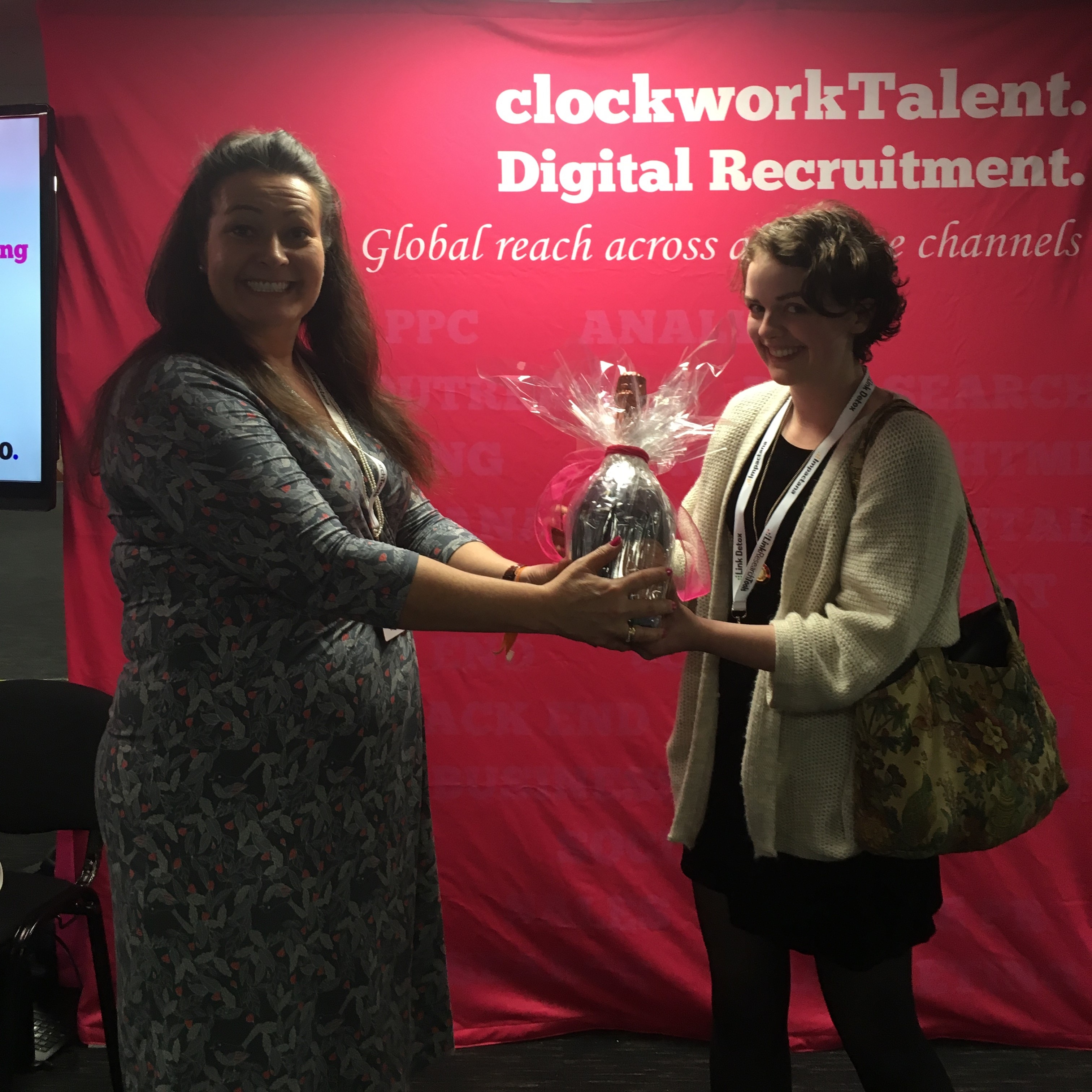 You may have seen our article in the conference programme (see page 4), where we spoke with some of the brightonSEO speakers about their memorable interview moments and favourite 'killer questions' they ask when interviewing. This is a great way to gain an understanding of what can be expected of you in different digital sectors.
You can find LOADS more of the speakers' interview secrets in our blog series!
---
clockworkTalent's personal highlights of brightonSEO!
I found myself shaking hands, getting hugs and air kisses left, right and centre. The greetings came thick and fast from a former member of our own team to the wide range of practitioners whom we have helped move jobs in their digital careers (one is even a guest speaker at the event!). As well as these, we were also greeted by some former hiring managers who've set up on their own and are now beginning to see fruits of success from their digital marketing activities beginning to flourish.
It is such a great event, everyone loves to be there – either learning, sharing or having their world rocked by another Digital Marketer who has happy to share their latest tactics to produce success. By the end of the day, my face ached from smiling and talking with all our friends!
Natasha, clockworkTalent Director
Given this was my 4th time attending brightonSEO, my highlight had to be something new. I was one of the lucky few who were invited to SiteVisibility's lunch! Joining around 80 others at Smokeys along the Brighton seafront, the talk of the day was obviously Digital Marketing, but also the impressive size of the portions! Enough food to fuel us all through the rest of the day (and then some). A wonderful experience to break up the day, and due thanks to the SiteVisibility team for including me on behalf of clockworkTalent.
CJ, Digital Marketing Manager
My highlight was putting all the names to all the faces!
This was my first ever brightonSEO so the clockworkTalent team armed me with a pink notebook and carried out hundreds of 'this is Emma…' introductions throughout the day. I have been working with clockworkTalent for almost 6 months and, in that time, I have learnt about so many industry greats, agencies and brands. It was brilliant to finally meet the people whose names fly around our office on a daily basis.
Emma, Digital Marketing Apprentice
---
Finally, we would like to say a huge thank you to Kelvin and the other organisers for another dazzling show that enables us to stay in touch with our contacts and create new relationships with digital talent across the world!
See you newt time brightonSEO'ers!