When did you join Facebook?
If you're like me, you joined Facebook at around the age of 13 and Twitter a few years later. Since then you've joined countless platforms including Instagram, Snapchat, LinkedIn and YouTube. Is it time for a social media clean up?
I've posted photos on Facebook of house parties when I was 17, tweeted while struggling through university coursework. I've moaned about online shopping that hasn't arrived. Raged about characters being killed off in TV programs. I've shared countless boomerangs of my friends popping bottles of prosecco on Instagram… and who knows what else.
That is one hefty digital footprint.
So, here are my 5 steps to cleaning up your social media presence in time for a job search:
---
Step 1. Do I need a separate professional profile?
You may want to start brand new 'professional' accounts that are separate from your original profiles. This is a good way of separating work and play. But bear in mind, employers will most likely still be able to find your personal profiles with a bit of digging. If you choose to do this, ensure anytime you've mentioned work, you've given honest and relevant information across both profiles.
Step 2. Picture perfect
Remove any offensive or distasteful photos from all of your social media profiles. Duh!
Remember on most platforms, your profile photo can be seen even if your profile is set to private. You don't have to have a fancy-pants professional headshot. You just need to look like a reasonably responsible adult. So, avoid using that photo of you after a few wines at that wedding last year, or the one of you and your mate dressed as Mario & Luigi on a night out.
A great way to impress an employer is to have consistent profile photos. If you chose to do this, pick one that shows your personality but is professional enough to work across LinkedIn, Instagram and everything in between.
Step 3. Twitter
Twitter's privacy settings are super simple compared to Facebook's. You have the choice of either protecting your tweets meaning only the accounts you accept can see your tweets. Or sticking with the default public account.
If you choose to stay public, which many of us do, it's worth doing a little bit of housekeeping. This is your chance to avoid any of your embarrassing or inappropriate tweets from when you were 15 resurfacing.
Search your Twitter handle and a choice keyword to find any of your old tweets that include said keyword.
Maybe start with a phrase you used as a teenager and wouldn't want to use now? People change and so do their opinions but, opinions tweeted out years ago don't. Any alarm bells ringing?
Step 4. Facebook
For me, Facebook is the hardest network to tidy. I've got thousands of tagged photos and hundreds of statuses spanning over 10 years. I know!
Looking back at my Facebook statuses (yep, back then people actually wrote statuses!) makes me cringe so much I wish I could delete everything pre-2018.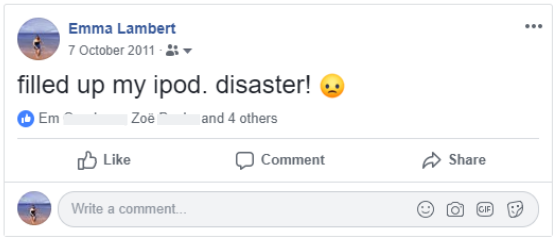 An easy way of stopping employers seeing your profile is to just make sure it's set completely to private.
If that isn't enough, or if you'd like to add your employer as a friend one day- call Mrs Hinch because it's cleaning time!
Do you have a friend that you'd never open a Snapchat from in public? Why not check what that friend has tagged you in on Facebook and click un-tag asap. Luckily, Facebook has updated their policy, meaning users can now see and manage all of their posts making it easier than ever before to delete posts and un-tag yourself from photos.
You can now even limit all past posts from being seen publicly with the click of a button!
Step 5. Google yourself
A quick Google of your name can bring up some interesting info about you. If you search my name, you'll find my social media profile photos on Google images and the team page of my employer, clockworkTalent. All pretty tame, but what if Google picked up some not so flattering information or photos of you? It's definitely worth a browse.
Bonus clean up tool
During the research for this post, I found and fell in love with Scrubber.Social. Scrubber is a tool in which you can connect all of your social media profiles and receive a report of all your posts that include profanity, innuendo, mentions of drugs or alcohol and custom keywords.
The custom keywords feature could be used to search for the name of an ex, your old boss, a family member, or co-worker which would definitely come in handy if you're cleaning for a job search!
---
Employers can find out a lot about you from your social media presence, which is great! In order to get an idea of whether or not you'll fit in with their company culture. They'll be interested in your hobbies if you're social, what you spend your weekends doing and so on.
An easy way to gauge if something is social media appropriate is: Before clicking 'post', ask yourself 'would I say/show this to my Nan?' -If the answer is no, don't post it!
Follow us on social media for more tips and tricks!
---
Looking for more job-seeking tips? We've got you covered:
💡 Using Social Media to Boost Your Job Search
💡 Is it Time for a Social Media Detox?
💡 How To Find A New Job on TikTok
If you have any other social media tips or questions, get in touch with me, Emma via emma@clockworkTalent.com.