The best of the best…
Milosz Krasiński is the Founder and Digital Consultant at Chilli Fruit Web Consulting. Milosz has been consulting and devising growth tactics for small and start-up businesses within financial services throughout his career. His core specialties being search, link building, page speed and overall digital strategies.
After hearing him talk at the latest Digital Olympus conference in Poland, we knew we had to learn more about Milosz's favorite digital tools! Here are his top 10…
---
This is the perfect tool for researching new topics, keywords, and titles. I use it quite a lot when I am planning a new article! The keyword research is a really handy aspect because it can be difficult to pinpoint the most effective ones when you try to do it manually. It also gives your site an SEO check to make sure that everything is as good as it could and should be; plus, some great analytics.
I like to use this tool for generating leads quickly and efficiently while keeping that personal touch. I don't like the term cold emailing, but that's essentially what this tool helps with. It promotes my content and helps me to build meaningful relationships with the people I email, not to mention the amazing templates that help me to stand out and be more professional.
I need to harvest links, and that's what this tool does best. I enjoy how easy and customisable it is, and it makes many aspects of my work a lot easier; especially in relation to social media and email. There are loads of nifty little add-ons as well, which can be a massive help.
This is all about crawling website URLs to analyse and audit the SEO within them. It sounds complex, but it's not as tricky as you might think, and I have always found it really useful in my work. It's especially good at finding broken links; something that no website should have, and it saves me a lot of time in the process.
A lot of this tool is tailored to YouTube, as well as pitching clients in a new and unique way. Instead of writing to them, I like to record and report my ideas so that they can get to know me in a different manner. As I work remotely, it is also perfect for sending out detailed instructions to my team members because of the visual aid.
I often use this for link building, checking out my competition to see how I am doing compared to them, and benchmarking the influencers that I love. It's good for research on affiliate product users as well because I can see which one of us is doing the best, and the ways in which I can up my game.
I like a good analysis of my social media and business, which is exactly what Surfer SEO offers me. The dashboard is easy to use, but all of the information is so detailed that I always know where I am going right, and where things need to be improved. It's a fast and easy service that I can't function without.
This ensures that my emails are actually going to get to their intended location, protecting me from bounced emails. It really is just as simple as that, but when you are trying to make a lot of connections, the protection is well worth it to avoid pointless communications.
I like this tool because it really helps me to boost my Twitter account in all the right ways. I can gain new followers, monitor things easily, and build a good reputation online. It gives me a hand with my email outreach as well because I am able to respond quickly and make meaningful connections.
This tool is mainly for using my Python scripts and API's. It makes the processes much easier and faster; two things I need when I already have so much to do. It's an excellent GUI, and definitely an underrated piece of software.
I use the Google Sheets and Docs for everything; all of my articles, costs, and processes are laid out neatly in a series of perfectly organised sheets. The Google Data Studio really helps me to visualise all of the data I have input into the system, and it's just such a great way to remain organised and in control when things start to get a bit chaotic.
Email tracking is important to me because of my lead generation and the masses of communications I receive each day. It shows me when the email was opened, how often it happens and sends me the notifications in real-time. I can keep track of leads easily, and also assess whether or not they are interested in communicating with me.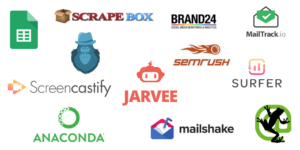 ---
Thank you Milosz, for sharing this brilliant list of your favorite digital tools! During this series, we hear a lot about SEO tools but it's always great to hear about email and development tools that we don't always get learn about.
Do keep an eye out for more of our series of  '10 Digital Tools … Couldn't Live Without' as we'll be continuing to publish new additions on a regular basis from equally inspiring digital marketing experts.
Considering your career options? Before you start sending your CV out, did you know we offer a Free CV Critique? Get yourself a confidential 1-to-1 discussion to help make CV improvements by sending your most current version to jobs@clockworkTalent.com. Our specialist Digital Marketing Recruiters will book a mutually convenient time to speak with you.
On our job board, you can apply for specific digital roles and you can subscribe to our YouTube channel for extra information about our latest digital jobs. We also post our new jobs and news on our social media channels including Twitter, Facebook, LinkedIn & Instagram!