Like many of you, we know Greg Gifford for his international conference talks…
…and live tweets. He was even mentioned on our list of the 25 best digital marketers to follow on Twitter! Despite being based in Dallas, we've met Greg a couple of times and of course, caught him at a number of conferences and online webinars. As well as all of this, Greg is the Vice President of Search at DealerOn, a software company that provides websites and online marketing to new car dealers all over the US.
He's got over 16 years of online marketing and web design experience and speaks internationally at both automotive and SEO conferences, teaching thousands of small business owners and marketers how to get their sites to show up higher in local search rankings. He graduated from Southern Methodist University with a BA in Cinema and Communications and has an obscure movie quote for just about any situation.
Over to you, Greg…
---
I wanted to take this in a slightly different direction – clockworkTalent asked for the top 10 digital tools I couldn't live without or couldn't do my job without. Everyone in this series so far has been amazing, but it seems like the same tools keep getting mentioned. Sure, they're all amazing, and I use most of them all the time, but I wanted to share something different.
So instead of looking at the SEO side of my job, I looked at the speaking side of my job. I'm on the road all the time and speak at a ton of conferences every year, so I thought I'd talk about the digital tools that Greg the conference speaker couldn't live without…
PowerPoint – obviously, PowerPoint is a necessity for anyone who's speaking at conferences. Sure, we all know that Keynote is better, but you've gotta go with the lowest common denominator because most conference computers are… how should I put it gently… completely outdated and crappy.
Photoshop – If you've seen my slides, you know I'm all about movies, and cool visuals. I don't actually have any live text in PowerPoint – every slide is a jpb image that was created in Photoshop. It takes a bit longer this way, but with no live text, there's never any worry that you'll have font problems or wonky alignment.
Excel – Sure, it's a vital tool for the SEO side of things, but it's just as important for my presentation creation process. I have to create an exact outline of every single slide before I jump into Photoshop – otherwise, I won't know how many movies I'll need to use. Once the outline is created, I have to go in on a second column and match up the movies to the slides and be able to easily shift things around if I make changes later.
TweetDeck – As most of you know, I live tweet conferences. I've got to be able to tweet quickly and monitor both the conference stream and any personal mentions or DMs. TweetDeck makes this incredibly simple – I absolutely couldn't tweet as well without it.
If This Then That – There are tons of cool uses for IFTTT (if you have Google Home, it's super fun to program crazy replies to odd questions, especially if you have kids) – but it's a really important tool for my conference tweeting. Since I'm so busy trying to share info and share funny animated gifs during sessions, I'm not able to take any notes. I set up an IFFT recipe for each conference that monitors my Twitter stream and drops anything with the conference hashtag into a Google Doc for that conference, and BOOM! I've got a full list of everything I tweeted from that conference.
Google Drive – Like I just mentioned, connection IFTTT to Google Docs is huge. I also keep tons of files on my Google Drive, including all the files for my freelance clients.
Evernote – I'm a list maker, and Evernote is where I keep my lists. Since it's synced between devices, I've always got access.
So those are my can't-live-withouts for conference speaking… And I have a few others I wanted to be sure to mention that relate more to the SEO job side of things…
Places Scout – By far, the most robust toolset for Local SEO. We absolutely couldn't live without it. It does pretty much everything except implement your strategies for you, and it has the best review monitoring system in existence.
Whitespark – If you do Local SEO, you simply MUST use Whitespark for your citation research. Their detection algorithm is far superior to any other citation tool out there.
And a new addition to my list – Power BI. I heard so many people singing its praises, I had to check it out… and it's flat-out amazing. I haven't been this excited to play with something since I got my first Xbox… It's going to make presenting detailed data to our C-level execs SO MUCH EASIER!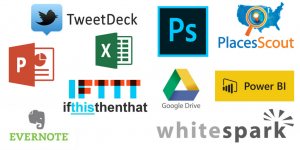 I'd like to thank Greg for taking the brief for this blog post and putting his own spin on things! This industry is full of amazing SEO professionals, but we often forget how important learning can be for our careers and Greg has enhanced the learning process for thousands of digital marketers!
Thank you for your awesome conference talks and for a brilliant, honest list of digital tools you couldn't live without!
---
Please do look out for future '10 Digital Tools … Couldn't Live Without' blog posts from additional digital marketing industry experts as we'll be publishing more of this series soon!
If you're looking to advance your career, did you know we offer a Free CV Critique? Start a conversation by sending your current CV to jobs@clockworkTalent.com and our specialist Digital Marketing Recruiters will get in touch with you for a discreet conversation.
On our job board, you can apply for specific digital roles and you can subscribe to our new YouTube Channel for extra information about our latest Digital Jobs. We also post all our jobs and news through our social media channels including Twitter, Facebook, LinkedIn & Instagram!