As a Scotsman obsessed with productivity, Ross makes the perfect SEO Professional…
Ross Tavendale 'grew-up' working in big digital agencies and is now the Managing Director at Type A Media. He is a regular on the SEO conference scene and most recently spoke at brightonSEO. With all of this SEO experience, we thought Ross would be the perfect addition to this series on digital tools… and we were right, he even snuck in 2 extras!
Over to you, Ross…
---
SEMrush powers our entire agency and is the Swiss army knife of the SEO tools world. In particular, we use the API in order to run keyword research at scale, pull on-page recommendations, run technical audits and reporting for clients, run competitor analysis at scale. It's really a phenomenal piece of kit and their staff and account managers are a real shining example of how a software company should be run – from amazing events to high levels of community participation – they get it right every time. I especially like the fact that they take the top 50 SEOs from around the world each year and get them into a room to strategise about how to make their toolset better. A real class act.
This is an absolute powerhouse when it comes to outreach and PR. We managed to build 1054 links from top-shelf publications last year using this tool. It has some amazing features including automated follow-ups, that saves us a ton of time with our campaigns. In particular, it really comes into its own when you need to carry out industrial-scale link building using a technique such as link reclamation.
I also love the fact that they have client reporting nailed so our clients don't ever feel like we are working in isolation to them. We get analytics about how far our link negotiations are as well as insights into the top performers in our team and intelligence on what techniques are working and what techniques are not. If you are a link builder, you're not taking it seriously unless you are using this tool.
This app has saved our bacon soooooo many times. It works by crawling the clients' site continuously and gives you change reports so you can see if anything is being updated….or breaking, as is so often the case. Last month a clients brand team decided to change their URL structure from /brand/brand-name to /brands/brand-name which 404'd every single product on their site.
Thankfully ContentKing alerted us and we changed it back before they wiped out their entire site's traffic.
Such a simple little application but an amazing resource. Their tagline is "automating the tedious" and they REALLY do. this makes sure that no major changes happen to your SSL certification, DNS, robots file and a whole host of annoying technical things that will massively break your site if they don't get fixed.
As we work 4 day work weeks, our project management needs to be very strict and on point so we can squeeze as much quality hours out of the work we are doing and give our clients maximum value. We use a custom setup in Asana along with the PPP methodology to get as much work out the door as humanly possible. 3 PPP methodology is :
Progress: the items we are going to progress that week
Plan: the items that are going to get completed that month
Problem: any blockers that are stopping us from completing the work
Parked: items that are further down the line for month 2 and beyond
A lot of our work requires auditing backlink profiles to find outreach opportunities. There is no better link data feed than the one provided by the guys at Majestic.
As we make a lot of our own custom tools inhouse – we need reliable data feeds provided at an affordable price point and Majestic perfectly fits the bill for us. Not to mention their use of custom metrics such as trust flow and citation flow – they really help us to make top-level decisions about link quality and how to diagnose the right mix of link building for a site.
Their customer care is fantastic and very accommodating and if you can corner Dixon Jones with a glass of wine, you will be entertained for hours with amazing SEO stories from one of the O.Gs of the SEO world.
Totally ubiquitous. The recent updates with visualisations, scheduling and ability to program via command line is a total game-changer. I still can believe it's only £150 a year. It's an absolute steal.
Chrome Extensions
Tag Assistant: diagnose problems with tags – instantly
FB Pixel Helper – same thing but for Facebook Pixels
Keywords Everywhere – a really nice tool that lets you get keyword data on the fly
Redirect Path – shows you the redirect chains a URL is going through
Link Clump
This is a killer reporting tool that plugs into Google sheets so you can pull reporting data from search console, AdWords, google analytics, SEMrush and a million other data connectors. As we work with big datasets, we need something that allows us to query multiple datasets and mashup the data from multiple sources. Supermetrics lets us do this and automate a lot of our workflows.
Learning the ins and outs of Chrome Dev tools and what each section actually means and what it does is a goldmine of technical SEO information. Spending a day getting to grips with each of the sections from Lighthouse reports to the console to the DOM breakpoints really help when you are diagnosing technical SEO issues with a site…..especially for those brutal javascript only websites.
We do a lot of video production and tutorials for the team internally. Using soapbox allows me to broadcast a slideshow with picture in picture to make videos more interactive and personal. They also let you do some basic editing so you can get a really professional polished video created quickly.
---
2 Bonus Extras!
Although it's not an SEO tool – it's totally invaluable to the running of our operation. Being able to zone into the work you are doing and block out any outside distraction is totally essential to the day to day operations at Type A.
Alfred is an apple scripts app that lets you program useful shortcuts from any starting point on your computer. My favourite is header responses. I can literally just press: "Command + Space hedr https://typeamedia.net" and it will return all the header information for the site. Really useful when you are bug checking something from a technical audit.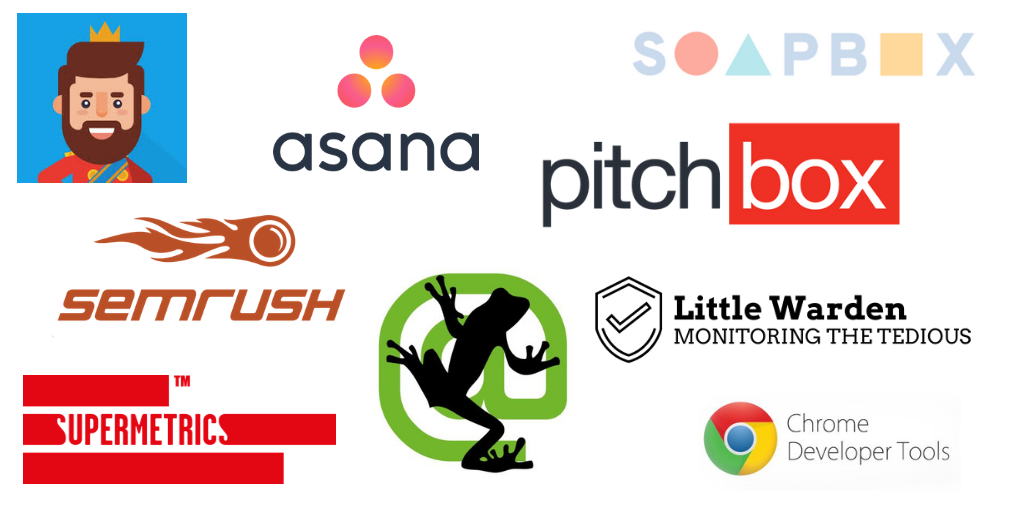 ---
Thank you, Ross, for sharing such in-depth knowledge about the tools that make your life easier!
Do keep an eye out for more in this series of '10 Digital Tools I Couldn't Live Without' as we'll be continuing to publish new editions on a regular basis from equally inspiring digital marketing experts.
Considering your career options? Before you start sending your CV out, did you know we offer a free CV critique? Get yourself a confidential 1-to-1 discussion to help make CV improvements by sending your most current version to jobs@clockworkTalent.com. Our specialist Digital Marketing Recruiters will book a mutually convenient time to speak with you.