We promise this isn't a #ad for Google!

Helen is the Managing Director of SEO and Digital Training consultancy Arrows Up. She has over a decade's experience in digital marketing and can regularly be found on the stage of industry events including Women In Tech SEO, Search Leeds, SMZ London and brightonSEO. By offering her clients hands-on training and SEO expertise, Helen has helped businesses expand their digital marketing teams and successes!    

But which 10 SEO tools have helped her most in her career? 
Over to you, Helen…

---
I'm an SEO at heart which means the tools I rely on every day are those that help me collect, analyse and report on my websites' and markets' performance. These ten, are some of the tools I find helpful in doing just that. SEO tools can come with an eyebrow-raising price tag so I've tried to include those that don't.
Google Analytics is an obvious choice for most websites when it comes to tracking. Its easy integration with other Google tools like Google Search Console, Google Data Studio and Google Tag Manager make it an effective analytics program. Also, unless you need to go for the Analytics 360 option, it's free.
Coupled with Google Tag Manager you can use Google Analytics to report on user interactions with your site. The customisation options for reports is also immense. It really is a comprehensive SEO tool for understanding how visitors are using your website.  
Google Search Console should make this list for several reasons, but one often underappreciated use is understanding your keyword rankings. Fancy keyword monitoring tools are very attractive, and indeed I favour their use myself (as you're about to see). They are, however, just estimates whereas Google Search Console is reporting on Google's own data about organic traffic from its search engine to your site.
Another reason this tool is so powerful is its diagnostic capabilities. It's one of the first places I will look when organic traffic is dropping. The ability to segment performance data by impressions, query and country means identifying the cause of traffic drops is more precise than using Google Analytics alone.
3. Ahrefs 
You might need to be in charge of the marketing budget to get sign off for this tool but it is definitely worth it. The variety of reports you can pull through Ahrefs is staggering. You can upload the keywords you want to track, look into competitors' ranking performance and benefit from their extensive index of backlinks. It is well-rounded software that often gets raised as a contender in the "one tool to rule them all" SEO community conversations.
The keyword research capabilities are immense, with volumes for Google, YouTube, Amazon and other popular platforms. It is a great piece of kit.
4. Rank Tracker
If Ahrefs is a little out of your budget, and you're after a pure rank monitoring tool then Rank Tracker is a good alternative. If you only need sufficient tracking for a single brand or a personal website, then this is more than adequate. It is a much more accessible price point for freelancers or in-house marketers who have a limited budget.
5. Google Structured Data Testing Tool 
Another Google product that is invaluable is the Structured Data Testing Tool. When writing structured data mark-up it is easy to make a mistake that can render it useless. This handy tool checks your mark-up and highlights any issues.
It also allows you to reverse-engineer other site's mark-up to see what they are using. For instance, if you see a website that is utilising structured mark-up for a cool new Google SERP feature you can run the page through the tool to identify the schema used.
Conveying data in an accessible way can be a challenge. Data Studio helps with this. You can use the huge library of free templates to design reports on common data points. Or you can just start from a fresh report and select the charts and graphs yourself.
There are so many connectors available to pull data through from other programs, but essentially, as long as you can export your data to a Google Sheet, you can get it into Google Data Studio.
My favourite tool. Mainly because despite the power and functionality it boasts, it's still fairly cheap to buy. The fact that it is so customisable is a huge bonus. I also like that each version it brings out contains another piece of functionality that you didn't realise you need but now can't live without.
Also worth checking out their log file analyser too!
I'm possibly coming across as receiving commission from Google but I can assure you, I'm just a fan of the free tools they provide. Google Lighthouse reports are useful for a number of reasons. They present results about usability that goes beyond just optimising for search bots. Reports cover code performance, accessibility for users, web best practice, SEO and progressive web app metrics.
Reports can be run from Chrome Dev Tools, the command line or as a Node module which means it fits easily into your existing auditing processes.
I tend to use it most for picking up on accessibility issues and also hints for optimising speed more.
9. Majestic  
Majestic is another option for backlink checking if Ahrefs is out of your means. Although it does not have the same keyword monitoring functionality, and there are always arguments online about the size of its index compared to Ahrefs', you are getting a powerful backlink analyser at an accessible price.
There are some handy functions such as the anchor text visualiser that make it quick to spot if there is some imbalance in your backlink profile. The support and tutorials available for the product is also a huge tick in its favour.
If you want an in-depth understanding of why your page is slow either of these tools are a great place to start. You might choose to ignore the scoring system they offer and go straight to the breakdowns of recommendations. It's the sort of report that as an SEO you can give to a developer and they will know what needs to be done with it. Very handy if technical SEO isn't your strength.
Bonus tool! 11. Keyword Surfer 
If you are mourning the loss of Keywords Everywhere from your toolkit now you need to pay for credits to use it, you'll be glad to hear about Keyword Surfer. A free plugin that enables you to see the search volume of keywords straight in the SERPs. It's so useful when you want to get a quick idea of how popular a search term is. It even (currently) claims it will be free forever so you hopefully won't risk your heartbreaking again.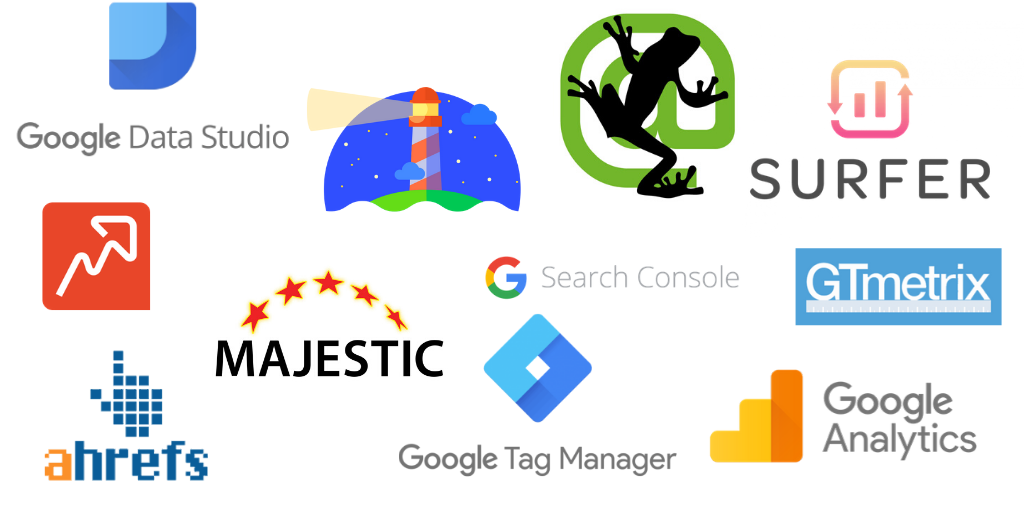 A huge thank you to Helen for sharing this list of tools! It's very helpful to learn about the free SEO tools on offer before deciding on which one is going to use up your budget! 

Missed some of this series? Don't panic you can catch up on all of our 'Top 10 Digital Tools' posts including lists from Omi Sido, Arianne Donoghue, Steven van Vessum, Alexandra Tachalova, Paddy Moogan and so many more.

If you're looking for your next digital marketing career move, please don't hesitate to get in touch with our expert recruiters to discuss digital jobs by emailing your CV to jobs@clockworktalent.com.