Can you answer these interview questions?
We found loads of these headscratcher interview questions from real candidates on Glass Door after they attended interviews at global brands!
How many of our favourite 6 can you answer?
1. How would you describe AdWords to a seven-year-old?
Asked by Google's hiring team during an interview for an Associate Account Strategist role. Don't get thrown off, this is not specifically questioning your knowledge of Google Ads but instead, is giving you a platform to demonstrate your communications skills.
An applicant with an ability to clearly explain complex ideas to non-technical clients is potentially extremely valuable to an employer!
2. You've shrunk to the height of a 2p coin and thrown into a blender. Your mass is reduced so that your density is the same as usual. The blades start moving in 60 seconds. What do you do?
Another headscratcher from Google but fear not! We've done our research and found the answer….
All you need to do is jump!
The key detail is 'your density is the same as usual' meaning you will have the same muscle power as a full-sized human! This means you'd still be able to jump high enough to clear the blades, even when you're the size of a 2p coin.
3. Use a programming language to describe a chicken
Got to confess, this one stumped us.
Aimed at developers and engineers hoping to join Facebook, the question aims to find out how deep an interviewee's understanding of code and problem solving goes.
It's thought that the Interviewers usually intend for the candidate to describe an individual chicken so that it might be distinguished from other members of its species. Would you have got this answer…?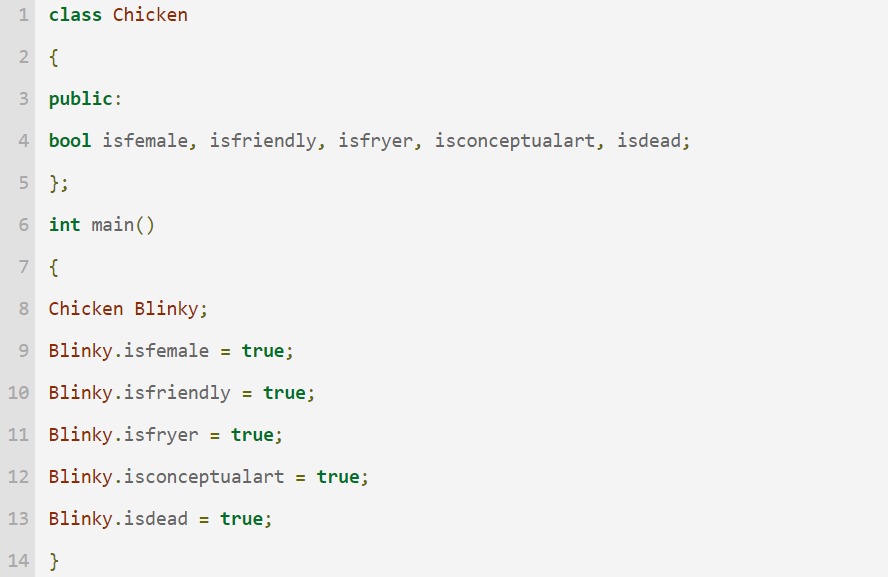 4. If you woke up and had 2,000 unread emails and could only answer 300 of them how would you choose which ones to answer?
This question was asked by hiring managers at Dropbox. They were looking for answers where interviewees suggested using filters to prioritise and sort their emails, distinguishing those sent by their manager/boss, before other priority emails and avoiding those that were spam.
5. How do you think the digital advertising world will change in the next 3 years?
This was asked during an interview for a Creative Director position at Google in 2016. A chance for you to show off your extensive knowledge of the digital industry and trends, but don't shy away from getting creative. Who knows what new technology could bring us in the next 3 years!
6. Jeff Bezos walks into your office and says you can have a million dollars to launch your best entrepreneurial idea. What is it?
Asked by Amazon, this question aims to test your creativity and ambition!
That being said, a clever answer such as this one suggested by a reader on Glass Door could charm them into giving you the job: "I cannot tell you right now, I am in an interview, once I get hired we can talk about it".
---
If you dream of working for your favourite, globally recognised business, you're in luck!
Looking for more interview tips? We've got you covered:
⭐ Real Digital Marketing Job Interview Questions
⭐ 10 Questions To Ask In A Job Interview
⭐ 34 'Don'ts of Job Interviewing
Our client list spans across the globe, featuring employers which range from exceptional household name brands as well as exciting lesser-known companies. These include, but are not limited to Adidas, NHS Professionals, TUI, Hillarys Blinds, The Telegraph, Screaming Frog & more!
We always have new exciting job opportunities for digital experts like you! Get in touch with our Recruitment team via jobs@clockworkTalent.com to discover what they can do for you and your career!