There isn't any proof that social media has a direct effect on a site's SEO, but it doesn't hurt…
Follow the Links below to find our top 6 tricks for improving your business pages on Social Media:
---
Keep Business Details Up To Date
More and more people are searching for local business information on social media, especially Facebook. Ensure your company info is up to date including:
Opening times
Email addresses
Phone numbers
Postal address
Having this information correct and consistent across networks will avoid confusion amongst potential customers. Don't forget to claim your business (if you haven't already) on Google My Business, Maps & Bing.
When it comes to LinkedIn, you might manage both a personal and brand profile. Make sure each identity is kept separate. Your brand profile should be squeaky clean in terms of business info including who the current staff members are.
If you use a personal LinkedIn page, it should be up to date with your most recent career info, projects and contact details.
Track Your Competitors
Facebook business pages come with an 'insights' tab. This is where you will find your Facebook analytics. But the most exciting feature…
Within FB insights, there is a 'pages to watch' tool where you can add your competitor pages and track their FB activity alongside your own!
You can track your competitors Twitter activity by creating lists and watching what they publish or track their branded hashtags using tools such as keyhole.co/hashtag-analytics/, Hashtagify & RiteTag.
Ask For Customer Reviews
A brilliant way to optimise your social media accounts is to encourage your existing customers to leave you a review. Adding authority to your page, Facebook & Google+ reviews can sometimes even be found in SERPs which adds to your PR fuel.
Engage With Real People
Engaging in real time with your community is a great way to build relationships and develop trust with potential customers.
Twitter is home to hundreds of Twitter Chats which are effectively open conversations that anyone can join.
We are a huge fan of #SEMrushchat which takes place at 4 pm on Wednesdays. All you have to do is follow the hashtag and give some input to the discussion, you never know what it might lead to!
Google+ communities are another place to get yourself noticed! By starting your own community or joining another, you will find people from every industry. Many Google+ communities have active discussion boards and, contrary to popular belief, vast amounts of engaged users ready to become your customer!  Somewhat underestimated by many, we've been surprised just how valuable this platform can be.
On LinkedIn, the best way to engage with your audience is to post what you know.
Write posts about your specialist subject, pose questions about what interests you the most and what problems you have recently resolved in your professional work.
These types of posts will encourage a reaction from the LinkedIn community and increase your influence on the site.
Upload Videos & Other Media
We've been telling you all year that 2017 is the year of social media video, if you aren't using it yet you are missing out! Facebook users alone watch more than 8 billion videos per day!
If you don't have the budget for video, GIFs are a nice alternative! They're mobile friendly, more engaging than images and help you to participate in internet culture.
Use Consistent Profile Photos Across ALL Social Media
You've heard this one before, but it's so important!
Whether you are a business or an individual, having consistent social media photos will help people recognise you across all platforms, allowing you to build trust with your audience.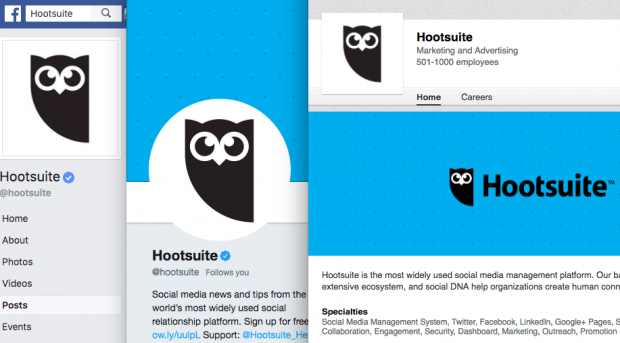 Final Thoughts…
Finally, to ensure you have strong social media profiles, you must learn to understand your audience, their needs and their agendas. Answer their questions and give them what they want to better understand you and your business product or service.
If you're looking for a Social Media Expert to join your business, or need an outlet for your SM skills to shine, get in touch with our specialist Digital Marketing Recruiters by sending your CV to jobs@clockworkTalent.com or calling 0203 7514108. You can also find us on Twitter, Facebook, Google+, LinkedIn, Instagram & Pinterest!