Find a new job, smarter…
Whilst clockworkTalent work specifically in the digital marketing industry, these top 10 job seeking hacks will enhance a job search in any industry…
Optimise your LinkedIn Profile
Ascertain what's next
Consistent Personal Branding
Beat The Bots
Project Management
Aim For Utopia
Prep your Referees
Do Your Research
Practice & Prep Makes Perfect
Arrive Armed With Questions
Optimise your LinkedIn profile
To take your job search to the next level, it's worth stating that you are open to new job opportunities. This can be done on LinkedIn by editing the headline on your profile! For example, it could read: '5 years of agency experience, Technical SEO Manager seeking new opportunity'.
If you wanted to go a more subtle route, LinkedIn has settings where you can make your profile 'open for new opportunities'. This will increase your chances of appearing in searches and get you noticed as being an active job seeker without you having to shout about it in front of your colleagues.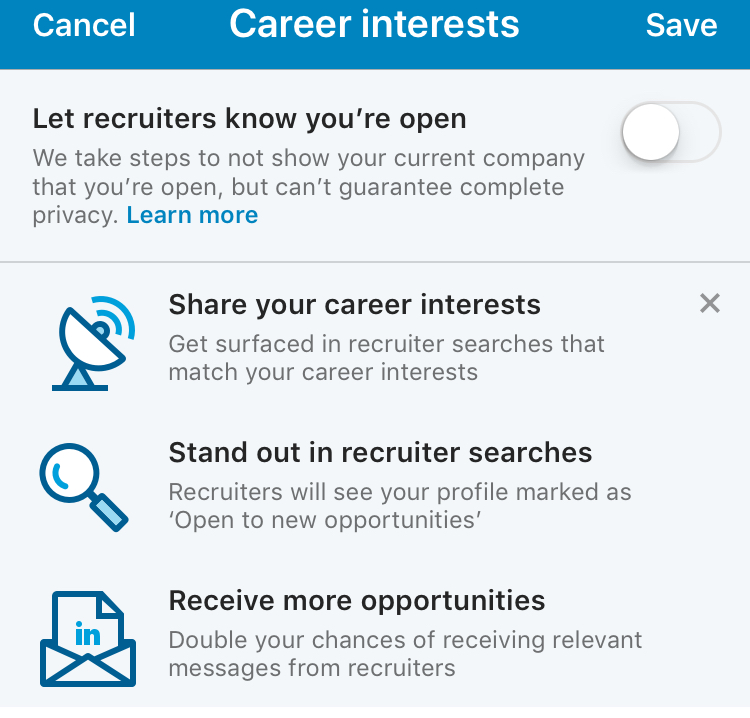 Ascertain what's next
Take a moment to think about what you really want to do next. Think about your strengths and your weaknesses, what you enjoy and what you don't. Look around your peers and the industry as a whole. Consider what is possible. Discuss with your friends or specialist recruiters as to what is realistic. If you're feeling creative you could turn this into a mood board using Milanote, this way you can easily return to your notes and remind yourself of your overall goals.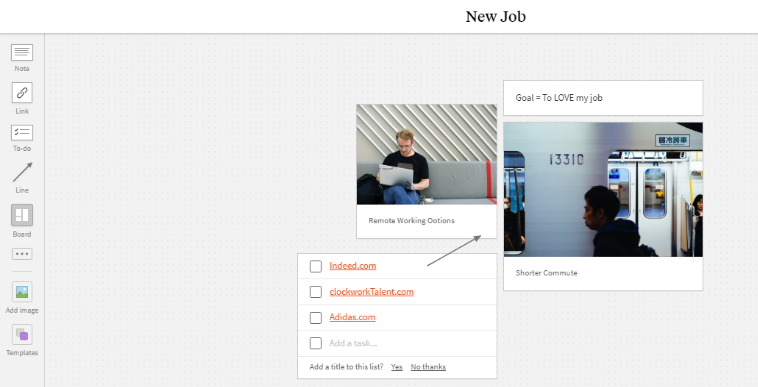 Consistent Personal Branding
Ensure your CV and all of your social media profiles represents you and avoid conflicting messages. This is especially important when it comes to current employment listings on social media. You might not have updated your Facebook 'about me' page since school but it's worth doing to make sure each of your social profiles match what it says on your CV- you don't want to confuse a hiring manager!
Beat The Bots
Many companies now use Applicant Tracking Software (ATS) in their hiring process and AI is also becoming more common which is why keywords in a CV are so important.
If you are working with a specialist recruiter like clockworkTalent, the application process can be much simpler as the recruiter will represent you for each role. However, when you make applications directly to companies you need to ensure your CV hits the top of the hiring manager's shortlist by including keywords, not just your existing skills and experience but also those of jobs you are applying for. For example, it is unlikely your CV will get selected for a Project Manager job if that title is not included in the CV document. It can be stuffed full of Prince II qualifications, Programme Management and experience but unless the actual phrase "Project Manager" is featured, your CV may not be chosen.
You can check out our ultimate CV writing guide to make sure yours is the best it can be.
Project Management
You need to treat your job search as a project. Employers hate to receive the same CV from 10 different recruiters so track who has your CV and who you/they have sent it to. Then you can track where you got to with each application i.e. whether you've been called for interview or been offered or rejected. Also, if applying to a specific job, it's a great idea to keep the details of the advert and any additional details it gives you. To find your 'perfect job' you might have a number of interviews and it can become a little complex if you've not got it documented to prompt your memory!
Keeping track of each application can feel like a laborious task but it will be so helpful when you get invited to an interview for a job you can't remember applying for. Use Trello, Excel, GANT charts or emails, to keep track easily.

Aim for Utopia
It'd be awful to start a new job where you're bored or find yourself under a glass ceiling with no sign of career progression. Why not aim for utopia and work backwards from there? Consider what you really want to improve from your current job (the challenge, budgets, team size, regional remit, breadth of responsibility, industry, team culture, location or pay). It can help to create a mind map using Canva, include all the things important to your search, and work outwards from your dream job.
Prep your Referees
Don't just provide the details of any old manager for your dream job. Make sure you choose wisely and tell them they are listed as one of your references! By sharing with them how important this is for you they are more likely to give an excellent review to a potential employer.
Do Your Research
Best ways to research a company you're interviewing with: their own website, GlassDoor, checking LinkedIn's current employee list, their recent blog posts and social media. Researching the company's competitors and customers will also help you stand out in an interview. You can look at websites, social media interactions and check out what your friends or family know about them.
Practice & Prep Makes Perfect
Create a 'go-to' list of your strengths, weakness, achievements and ambitions that you are ready to use if needed during an interview. This way, you can memorise and prep the answers to some of the more common interview questions.
'Practice' warrants special mention here. You only get one chance to make that first impression, so practice answering standard interview questions or giving a synopsis of your career so you're comfortable when it comes to the real thing. We all find this hard, so practise will get you over that fear of talking about yourself. Elaborating on your answers with stories and anecdotes about your previous experience will not only make you appear more personable during an interview but you will also feel more relaxed.
Arrive Armed With Questions
When that time comes at the end of an interview, instead of having a void of silence fill the room when your interviewer asks the inevitable "Do you have any questions". Make sure you've prepared a selection of relevant questions. These will amplify your application for the job!
In addition, you could also prepare a good closing statement or question. This could be along the lines of "What will the next steps be?" or "Is there anything else you'd like to know about me for this job opportunity?"
---
If you follow these 10 job seeking hacks, you'll be making your job search that little bit easier. To speed up the process even more and if you're in the digital marketing industry, get in touch with our specialist recruiters who will transform your CV and find employers perfect for you!