Tom Shurville is an old friend of clockworkTalent…
Having successfully supported the hiring process for Tom and the Distinctly team over the years, we're delighted to have watched the business flourish into the award-winning agency it is today.
Tom founded Distinctly in 2009 with a clear belief that the substantial shift in marketing from existing traditional spend to digital spend was a trend that would continue for the long term… and how right he was!
We asked Tom about the digital tools he uses every day to make his life running Hertfordshire's market-leading SEO & PPC Agency that little bit easier…
---
Writing this article made me appreciate just how many tools I rely on, on a daily basis. The best of which I've used for years, but at any one time there is something that I am testing/trialling to ensure my current toolset can't be bettered!
Here is a small selection of the tools I use on a daily basis:
We recently moved from Office 365 to GSuite and haven't looked back. I love the simplicity of it and its collaborative nature which makes it so easy for the teams here to work together, simultaneously. Never having to worry about deleting a doc or whether you have edited the most updated version makes life considerably less stressful.
Whilst on the subject of Google, I couldn't live without Google Analytics. Whilst it's one of the more basic tools, we use it to track and report on the success of almost all the campaigns we run. Despite its widespread use, most clients only scratch the service with what it can do.
I'm not sure if this is technically a 'tool', but WordPress is a fantastic product and one that we all use on a daily basis – whether it be on our own sites or client sites. I love the community that surrounds WordPress, constantly making it better for all those that use it.
Sistrix is really useful for quickly gauging the health of a website as well as possible algorithm updates that may be affecting this (for better or worse!). It is one of the first tools that I'll fire up when we start talking to a potential new client.
Assessing the quality of a website's link profile is as important as ever. I use two – Ahrefs and Majestic – although I'm more comfortable with the metrics within Majestic. I'm using Ahrefs more and more for keyword research and a range of other small tasks – it's the most improved tool over the last 12 months.
We've recently started working with SharpSpring on both client activity and our own marketing and I absolutely love it. So much functionality; the beauty of it is that it makes all of the campaigns we run so much more effective.
Moving away from SEO,  FreeAgent and Appogee HR are cloud software that takes away some of the hassle from more mundane, but also important, tasks involved in running a business allowing me to spend more time doing what I enjoy.
Screencast by TechSmith is something I use all day every day to share annotated captions that help explain a point I'm trying to get across. If an image is worth a thousand words, this must be saving me a huge amount of writing time!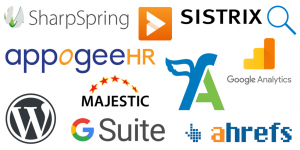 ---
Thank you, Tom, for sharing your Top 10 tools and for offering a bit of insight into which tools you find useful for running a business.
Look out for future '10 Digital Tools … Couldn't Live Without' blog posts from additional digital marketing industry experts as we'll be publishing more of this series soon!
If you're looking to advance your career, did you know we offer a Free CV Critique? Start a conversation by sending your current CV to jobs@clockworkTalent.com and our specialist Digital Marketing Recruiters will get in touch with you for a discreet conversation.
On our job board, you can apply for specific digital roles and you can subscribe to our YouTube Channel for extra information about our latest Digital Jobs. We also post all our jobs and news through our social media channels including Twitter, Facebook, LinkedIn & Instagram!