Content is King but what does the King say about digital tools?
Steven van Vessum is the co-founder and VP of Community at ContentKing. Back in 2006 Steven fell in love with digital marketing, particularly SEO. Now, over a decade later that passion is still very much alive. He's a huge industry contributor, a regular on the digital marketing conference scene and brings experience from all sides of the industry having worked in an agency, client side and as a SEO software provider. From all of this experience, he definitely knows a thing or two about finding the right digital tools for the job!
---
These are the tools I use most in my day to day work in my role as VP of Community at ContentKing:
ContentKing: this one probably doesn't come as a surprise as this is the platform we built ourselves. With ContentKing, we're monitoring all our sites in real-time for on-page SEO changes and issues, get alerted in case of high-impact issues and changes and to check new and updated content. Search engines never sleep, they're continuously crawling. Your SEO tooling should be doing the same thing.
Ahrefs: Ahrefs is my go-to tool to see what links we've gained and lost, perform keyword research, do backlink research, keep track of rankings and perform content gap analyses.
Google Analytics: like most digital marketers, I'm relying on Google Analytics to keep track of what's going on on sites.
Google Search Console: I mostly use the Search Analytics feature to keep track of the development of our organic growth, look for pages that can be optimized etc.
TweetDeck: I'm using TweetDeck to keep track of conversations on Twitter by using Twitter lists and specific keywords I've set up.
Mention: Mention is an app to keep track of mentions of keywords online (publicly accessible social media sites, websites and so on). It's like Google Alerts, but Mention actually works.
Chrome DevTools: Chrome DevTools is invaluable when manually performing checks on sites.
Trello: the easiest to use ToDo-management tool. It works great for managing small projects, building simple workflows and keeping track of ideas.
Slack: I'm using Slack both to communicate efficiently with my colleagues, but also to -inefficiently-  talk SEO with peers in other Slack workspaces (e.g. the BigSEO Slack which I started 2 years ago).
Google Spreadsheets: working together in Google Spreadsheets is very efficient. "It just works".
PPCProtect: not a lot of people know this tool yet, but it's saving us quite some money because it drives back click fraud. And click fraud is a pretty big deal with Google Ads.
Validators: I use the Twitter Cards validator and Open Graph Debugger quite often to make sure our titles, descriptions and images look good before we start promoting content. These really make a difference, that's why we also have checks for this in ContentKing.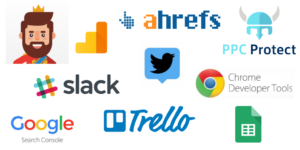 ---
Huge thanks to Steven for this list! Content is King but where would content be without great planning, SEO, analytics and research tools behind it? 
Do keep an eye out for more in this series of '10 Digital Tools I Couldn't Live Without' as we'll be continuing to publish new additions on a regular basis from equally inspiring digital marketing experts.
Considering your career options? Before you start sending your CV out, did you know we offer a Free CV Critique? Get yourself a confidential 1-to-1 discussion to help make CV improvements by sending your most current version to jobs@clockworkTalent.com.