We spoke to SiteVisibility's Marketing Manager about the digital tools he uses every day…
Sean Nichols is the Marketing Manager at our sister agency, SiteVisibility. We know him for his quick and clever skills in digital content and he runs a mean email marketing campaign! Without further ado, here are 10 digital tools Sean believes any Marketing Manager should be using…
Trello is a web-based project management application. It's essentially a visual way to organise projects and it makes my life much easier!
Our Head of Digital, Scott Colenutt and I share a marketing board where we map out our marketing plan through a number of cards that act as tasks. We've split the boards up into columns, To Be Done, In Progress & Completed and each has a number of cards (tasks) underneath.
The drag and drop system is simple to use and you can add attachments, deadlines, notes, checklists and different members of the team to the cards (tasks). This means it's easy for us to see exactly how we're progressing at any time. It makes managing our marketing plan and the tasks we need to undertake simple and easy.
Slack is an online communication tool/instant messenger that makes it easy to talk to colleagues about different projects. I use it every day to co-ordinate podcasts with our host, Andy White and to talk to other members of the SiteVisibility team working on our marketing efforts. You can create different channels for different projects and invite different team members to each, so if you need to stay up to date with a project, you can simply click into it, and see all the latest conversations. It has a great app as well, so I can also stay up to date when I'm on the move.
A relatively new digital tool for SiteVisibility, Intercom is a live chat tool that allows us to talk to visitors to our site whilst they are on it. Essentially, it's great for engagement with visitors who you might not otherwise have heard from whilst it's also helped us to generates qualified leads.
I've recently written a blog post on the benefits and what we've learned over the last 3 months.
Forced upon me by our Head of Digital, Scott, Dashlane is now a tool that I can't live without! Dashlane is a password management tool that securely remembers each of your passwords and logs you into your digital tools, programmes etc. automatically. All you need to do is log in using your master password when you turn on your computer and the rest is done for you. You can also generate unique and secure passwords when signing up for accounts and Dashlane will save them automatically. It saves me a lot of time, and means I don't have to remember every single one of my passwords!
Hootsuite is great as it lets me schedule social media posts. You can connect Twitter, Facebook, LinkedIn and other profiles and schedule in posts for when you aren't there. It saves time as you don't need to log in to each account and post there and then.
I'm able to log in once or twice a week and set up a number of posts to go out throughout the week and over the weekend and at any point I can monitor our social streams and any mentions of our business. Best of all, it's free!
HARO or Help A Reporter Out is a free service that we use to find PR opportunities for SiteVisibility as well as our clients. We get emails through 2/3 times a day with journalists and bloggers looking for sources and quotes for upcoming stories. When we find a journalist or blogger request that's relevant to us or one of our clients, we'll respond.
It's used by some of the biggest news outlets across the world and so can be a great way of gaining publicity for your brand as well as a source of gaining valuable backlinks.
Canva makes design simple! It's a relatively cheap tool (free or the Pro version is $12.95 per month) that allows you to create designs and images for a range of purposes. It's easy to use and the tutorials are really helpful. It means you can create professional-looking designs easily, without having to be an expert.
I mainly use the tool to create social media images for Twitter and LinkedIn, but I've also used it to create case study images and button images across our site. You can set up your companies' colour pallets, fonts, logos and images to make sure that your designs stay on brand. It's great!
I use MailChimp for our email marketing and I love it. It's simple to use and there is a load of support info available should you need it. We're able to send emails to segments of our email list at ease and A/B testing allows us to review what works well and what doesn't.
The automation emails are also really useful. Depending on the action someone takes on our site and where they've signed up for the newsletter, they'll then receive a series of automated emails that we've set up, with other relevant and useful content. It means we can stay in touch with the people that matter to us.
Quite simply, I couldn't live without Google Analytics. I use it on an almost daily basis to monitor our website's performance. There are so many things you can do with analytics but typically I'll look at our sites organic traffic to see which pages are performing well, those that aren't and use it to inform my marketing strategy.
The Moz Pro package is one that every good SEO agency should own. For me, I find Fresh Web Explorer useful to monitor mentions of "SiteVisibility" and associated keywords across the web on a weekly basis and I find the Keyword Explorer tool extremely useful for keyword research and making sure that we're targeting the right keywords when creating content/optimising our site. Open Site Explorer is also a great tool to monitor backlinks and find new link building opportunities. When it comes to SEO, it's a tool I simply can't live without.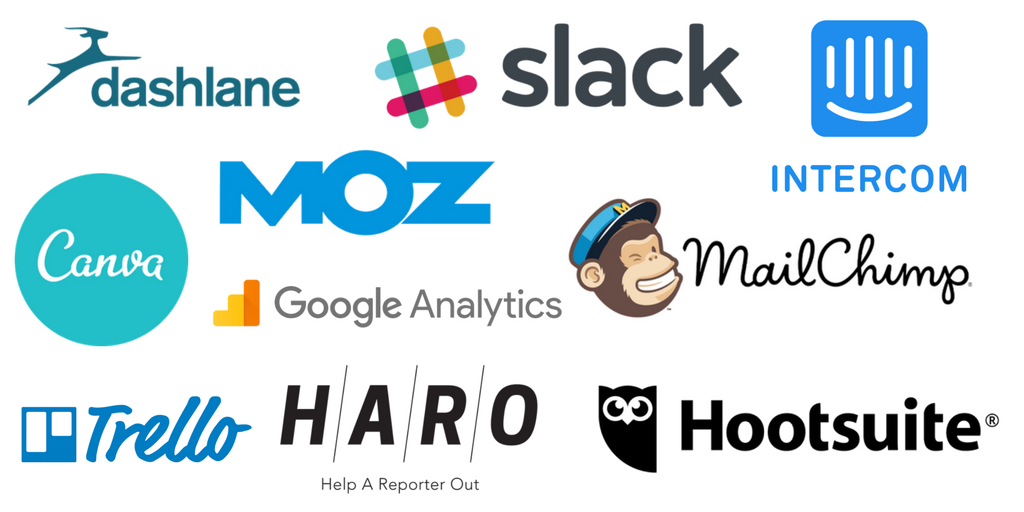 ---
A big thank you to Sean for this brilliant list of digital tools!
Please do look out for future '10 Digital Tools' blog posts from additional digital marketing industry experts as we'll be publishing more of this series soon!
If you're looking to advance your career, did you know we offer a Free CV Critique? Start a conversation by sending your current CV to jobs@clockworkTalent.com and our specialist Digital Marketing Recruiters will get in touch with you for a discreet conversation.