You can't spell 'Search Marketing' without Google…
Well, you know what I mean… So, which of Google's tools could really benefit your productivity at work? Sam Vandermark offers insight into her top 10 digital tools (including 4 from Google!) that help get her work done…
Sam Vandermark has worked in digital marketing for over 8 years, specialising in search but also developing integrated performance strategies across all biddable channels including paid social, display and digital video.
Previously she has helped many UK eCommerce businesses deliver sales growth through digital campaign execution, working for independent media agencies such as The Specialist Works, but more recently moved to Toronto to support Scotiabank's digital acquisition team.
---
Google Keyword Planner is a staple resource for building out a new keyword portfolio based on real commercial search queries – just don't forget to select your location before you get any estimates. I've also found that if you input a website URL that you'll often get more results than leaving it blank. Take the bid suggestions with a pinch of salt and use these in conjunction with the competition "score" to get an idea of how aggressive the SERP is before you deploy.
SEMRush has lots of benefits including enabling you to really drill into what search keywords are driving volume for your competitors and the ad copy they're using. Performing a keyword gap analysis by simply downloading yours and your competitors' keyword lists, then using Excel Vlookup formulas to find the missing opportunities for your own keyword portfolio is where this tool delivers quick and easy impact.
Google Analytics won't be a surprise to anyone but is absolutely essential. Take full advantage of your ability to create remarketing audiences for use in AdWords based on custom combinations of traffic behaviour, e.g. user visited a particular product page and completed a specific event (if you've identified these users as valuable to your end goal). You should also develop custom segments to delve deeper into the behaviours of more valuable visitors e.g. average number of visits before a conversion = 4, so what pages do these users typically visit in their journey?
SimilarWeb – Competitive intelligence is never perfect, but this is as close as you'll get in terms of a premium solution at a decent price. Panel data comprises the bulk of the data collection here (their standard is at least 1% of the country population) but comparing it to internal site numbers, it's not too far off. And anyway, it's about gaining insight into your own traffic relative to your core competition, as well as understanding their traffic sources in more depth to unlock opportunities.
Google Trends is an everyday must because sometimes you need to look beyond your own data to contextualize performance. Understanding at a glance the market demand around my biggest volume generic keywords and being able to get a clear visualisation of this makes it easy for me to communicate volume trends and forecast future demand to the business/client. I would recommend downloading the (normalized) monthly trend data for the previous year and aligning your own historical data to help inform your predicted volume and spend for the coming months.
For detailed reporting, Tableau is a best-in-class data visualisation tool that can make big data accessible. Especially in large organizations (let's say, a bank!) it's essential that an intimidating amount of performance data is crunched in a way that makes sense to the business. Disclaimer: I have the luxury of working with data analytics specialists to help bring this to life. If you're not quite there yet in terms of scale or want something a bit more widely accessible, try using Microsoft's Power BI – a free tool that enables you to connect your Google Analytics account amongst others and get cracking with fancy dashboards.
AdWords scripts enable automation of aggregated reporting and extra valuable insights into your AdWords performance, and in my experience are one of the most under-used tools at an SEM professional's disposal. Look at the Google developer suite for out-of-the-box scripts that can help gather actionable insights at scale.
Google Tag Assistant has been invaluable for me in terms of effectively troubleshooting tag firing issues. It's a free Chrome extension that allows you to see exactly which tags are firing on which pages (even providing the AdWords conversion IDs) so you can identify any gaps in tagging and ensure that specific events are being properly tracked.
If you're running any Universal App campaigns to drive app installs and engagements, I've found Firebase to be the most essential and intuitive SDK for running these campaigns and tracking to in-app actions. It's so easy to link with AdWords and start tracking your iOS events – gone are the days of using a messy postback URL!
Extra honourable mention goes to Slack, an indispensable tool for communicating across large teams and sharing knowledge, which is so important in this game.
Fully appreciate there's a lot of Google products in here, and it's important to always be on the lookout for other tools that can deliver aggregated insight across engines, but the truth is that we can't do search marketing without Google. Their seamless integration between products makes for the most reliable sources of performance data, and with more products like Ads Data Hub looking to uncover the relationship between digital touchpoints in greater depth, it's an exciting time to be a search marketer.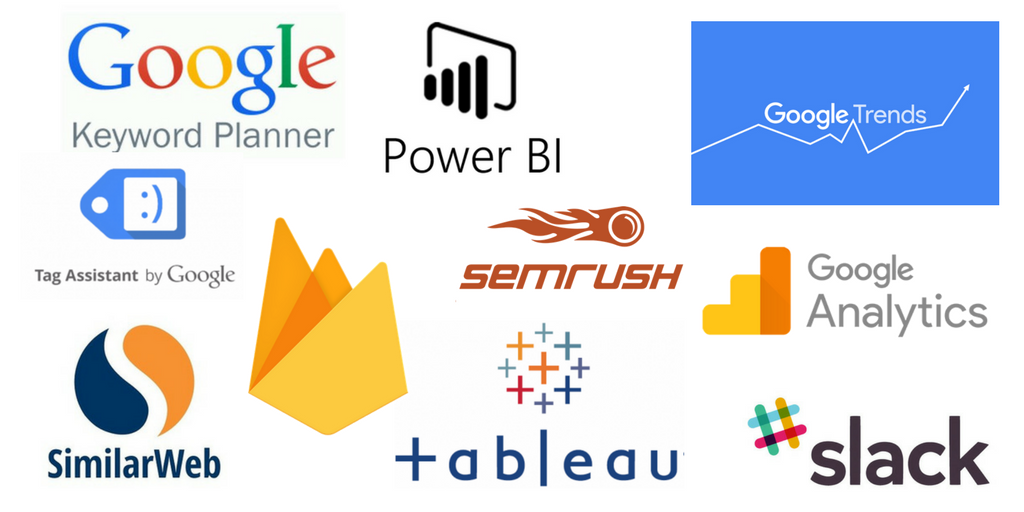 ---
A huge thank you to Sam for her insightful list of tools! If you would like more information or wish to share new digital tools you've discovered, get in touch with us via digital@clockworkTalent.com. Also, do keep an eye out for more in this series of '10 Digital Tools … Couldn't Live Without' as we're publishing on a regular basis from equally inspiring digital marketing experts.
If you're looking to advance your career, did you know we offer a Free CV Critique? Start a conversation by sending your current CV to jobs@clockworkTalent.com and our specialist Digital Marketing Recruiters will get in touch with you for a discreet conversation.
On our job board, you can apply for specific digital roles and you can subscribe to our new YouTube Channel for extra information about our latest Digital Jobs. We also post all our jobs and news through our social media channels including Twitter, Facebook, LinkedIn & Instagram!