If you're looking to improve your SEO productivity, check out this list of the tools from Marcos Martín…
---
Marcos Martín is a Spanish speaking, SEO whiz with multilingual skills. He is currently the SEO Analyst at Brighton based agency, SiteVisibility where we have a unique partnership which you can read more about here.
Fun fact! –Marcos won our 2017 Halloween pumpkin carving competition!
---
One of the basics tools for any SEO. Google Analytics allows us to track our campaigns progress and clients' success and it's very easy to use (most of the time).
With the new options coming with Google Data Studio, GA it's also great for reporting. At the end of the day, it doesn't matter how awesome are your campaigns because in many occasions clients will be looking at their traffic and revenue figures, and in those cases, GA is our best ally.
I wouldn't say it's one of my favourites but is certainly a useful one. Google Search Console is a key tool to maintain a website. It's the best way to communicate with Google, receiving messages about any problem with your site and checking everything is correct with crawls and indexation.
Despite the changes Google has made to the Keyword Planner, it's still one of the best tools for Keyword Research, giving us search volume and competitiveness data for different countries and cities.
The only problem is that you need an AdWords account to use it and sometimes Google will group similar results, so it could be difficult to choose the best keywords.
Another great tool for Keyword Research. SEM Rush will show us the keywords we currently rank for, to find those that need an extra push to appear even higher in search engines result pages. And if that's not enough, we can also use it to discover which keywords are working for our competitors and identify gaps in our keyword strategy.
And once we have identified our favourite keywords, we need to track them! That's what I use Stat for, a great tool for keyword tracking with a lot of different reports that you can run to discover things like featured snippets, cannibalisation or even related searches that could be useful for you or your clients.
They also offer a great support with a dedicated team that goes back to you very quickly.
It's difficult being up to date in the SEO industry. With so many players, niche areas and ever-changing trends, going through the weekly news without missing anything important could be a daunting chore. However, thanks to Feedly, I can choose my favourite blogs and news sites and keep them all in one place.
An essential tool for any SEO. Many technical audits start with Screaming Frog. It's fast, it's reliable and it provides many insights into the technical structure of any website, including status codes, duplication, canonical tags, etc.
This is one of the newest tools I have tried and so far I love it. It's great for discovering lost links and analysing certain sections of a website separately, comparing the visibility of some categories with others and identifying gaps in your strategy.
It's also great for comparing yourself to competitors and discovering new opportunities in terms of missing keywords.
One of the best tools to find and review backlinks. Super quick and with the option to review links for specific subdomains or URLs.
I love Moz! And I use so many of their tools: the keyword explorer, the on-page grader, the Moz bar, Moz local… so many things! I think is one of the most useful tools we've got and the Moz Blog offers some of the most interesting articles out there, I'm particularly addicted to Rand Fishkin's Whiteboard Friday. It's just great!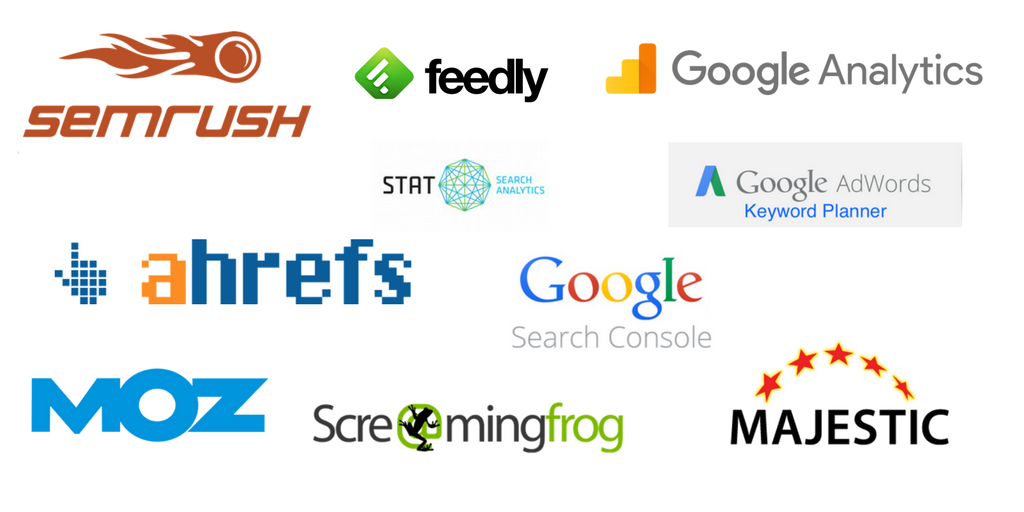 A huge thank you to Marcos for this great insight into his SEO work! If you would like more information, or to offer your own list of digital tools, get in touch with us via
digital@clockworkTalent.com.
Please do look out for future '10 Digital Tools … Couldn't Live Without' blog posts from additional digital marketing industry experts as we'll be publishing more of this series soon!
---
If you're looking to advance your career, did you know we offer a Free CV Critique? Start a conversation by sending your current CV to jobs@clockworkTalent.com and our specialist Digital Marketing Recruiters will get in touch with you for a discreet conversation.
On our job board, you can apply for specific digital roles and you can subscribe to our new YouTube Channel for extra information about our latest Digital Jobs. We also post all our jobs and news through our social media channels including Twitter, Facebook, LinkedIn & Instagram!