'Turns out there's a lot of tools I couldn't do my job without…'
Laura Crimmons is the Founder of Silverthorn Agency, a regular conference speaker and was named in The Drum's 50 Women in Digital Under 30. In the world of Digital PR she is a force to be reckoned with and we've been lucky enough to speak with her about tools that have been helping her stay at the forefront of the industry.
Over to you, Laura…
---
Ok, so I found this *really* hard I literally kept thinking of more tools and having to switch them out of my list like I was choosing my favourite child! It turns out there's a lot of tools I couldn't do my job without.
I think I found it difficult because the tools change depending on which 'hat' I'm putting on – if I'm actually doing PR it's a different set of tools to if I'm preparing for a conference talk or training session, so covering all the tools was pretty tough!
These aren't in any particular order but here goes…
I've always been obsessed with to-do lists in my work life and personal life as otherwise, I forget everything and then stress over what I've forgotten. I love Trello because it means I can view and edit it wherever I am with the desktop version and app on my phone so when I remember something on the tube home I can just add it and it'll sync when I get signal again. Its also really helpful for being able to share boards with teams to see everything everyone is getting on with and the plugins are great.
I have TweetDeck as a pinned tab on Chrome so its basically on all the time, I have all my lists on there, for example, #journorequest so that I can see anything we can jump on for a client. Its also great for keeping on top of multiple accounts.
Buzzsumo is the tool I recommend the most in any of my training sessions because I use it in so many different ways.
Projects – I use to store all client coverage online and it means we can easily export all of it at any time with up to date social metrics and link numbers.
Content Research – The 'most shared' helps us really easily find out what type of content is most popular on a subject when researching PR campaigns. The 'trending now' section helps us to find stories we can newsjack for clients. The 'question analyzer' helps us to come up with content ideas for clients.
Monitoring – Buzzsumo's alerts seem to be the quickest at picking up mentions I've ever found and also the best at finding the relevant ones.
Vuelio is our choice of media database (I've previously used Gorkana) and we wouldn't really be able to run our PR campaigns without it. It has all the contacts we need and costs a fraction of what Gorkana did.
Pulsar is our choice of social listening tool, again I've tried a number before (Brandwatch and Crimson Hexagon) but this time we settled on Pulsar. We use it to do research for new business pitches and for campaign idea generation we can plug in any topic or brand to find out who, where, how and when people are talking about it.
We wouldn't win much repeat business if we weren't able to report on how our campaigns actually perform, so Google Analytics is crucial for us. We use it to look at how our campaign pages and content perform, as well as the links we've generated for clients in terms of traffic, assisted conversions and more.
I always used to use Canva but I've started using Crello more recently and they do very similar things hence why I've included them together. I use these to easily edit and resize images for client presentations, social media, conference presentations etc. These are great because I can't use Photoshop or any other advanced photo editing software! The stored formats for social media channels etc are really useful.
Sourcing imagery for presentations and content used to be the bane of my life but Unsplash is my saviour. Its basically the antidote to boring stock photography and some of the photos are really stunning. Plus, even better, they're all free to use.
Microsoft suite
Is it cheating to include the whole Microsoft Suite in one?! I wouldn't be able to do my job without Word, PowerPoint or Excel and they're all probably equally as important. I never thought my job would involve as much Excel as it does and I'm really lucky that when I first started in the SEO industry I had excellent colleagues in Alan Ng and Emma Barnes in particular at Branded3 that had incredible patience with teaching me how to actually use it properly! I am also a big fan of the Google Suite which I use a lot but I think I still use Microsoft more.
Dropbox is my file sharing tool of choice (as well as Google Drive) but I use Dropbox most for sending large files to clients, conference organisers and training attendees.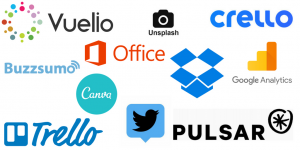 ---
Thank you Laura, for this insight into how you get your work done and run a successful agency at the same time!
Look out for future '10 Digital Tools … Couldn't Live Without' blog posts from additional digital marketing industry experts as we'll be publishing more of this series soon!
If you're looking to advance your career, did you know we offer a Free CV Critique? Start a conversation by sending your current CV to jobs@clockworkTalent.com and our specialist Digital Marketing Recruiters will get in touch with you for a discreet conversation. On our job board, you can apply for specific digital roles and you can subscribe to our YouTube Channel for extra information about our latest Digital Jobs. We also post all our jobs and news through our social media channels including Twitter, Facebook, LinkedIn & Instagram!