Often found at UK digital events…
iEva is Head of Marketing at AccuRanker and has experience in driving and implementing digital marketing strategies in various industries across 5 countries and 2 continents. She is based in Aarhus, Denmark, but can often be found in the UK at digital marketing and SEO events such as BrightonSEO and UnGagged.
Over to you, iEva…
---
When I was asked what are the 10 digital tools I could not live without, I thought it will be hard to make a list of 10… But it turns out there are a lot more than 10 digital tools that I use every day, so I chose the tools I had used most in the past few days. It is impossible to compare digital tools that are meant for different purposes so here they are in alphabetical order:
Yes, it is not a secret that I work at AccuRanker but this truly is the fastest and most accurate tool if you want to do keyword rank tracking. AccuRanker is really easy to use and gives you a great overview of your organic rankings. We are present in many markets so I can have a good overview of how our SEO strategy is performing in each market/location.
Buffer is a social media management platform we use. It saves time to manage all our social media in one place. We usually schedule posts a week ahead so it is easy to have an overview of all posts especially when there are several team members working on posts.
Buzzsumo is a content marketing tool which I use in many ways. It is an amazing help to keep track of brand mentions as well as monitoring backlinks. Buzzsumo is great for content research – it allows me to see what content works best and what's trending for any topic. I also use BuzzSumo for finding influencers for specific topics and keywords.
This is a very handy Chrome extension to find people's emails and phone numbers. I use LinkedIn a lot but when a person is not my connection on LinkedIn and I want to get in touch with them via email, Contact out is very useful to find the email addresses in one click.
Google Grump is a free tool to keep track of unrest in Google's algorithm. I have set up to get an email update each morning to see what is the ´mood´ of Google Grump each day. If the mood is Furious, it means that there are a lot of fluctuations in rankings. For example, I was able to see the latest Google Core Algorithm update in August before Google announced it.
Google Drive is another simple but helpful digital tool to keep me and my team organized and aligned as we all have access to all necessary notes, presentations, plans and so on. We keep a lot of files on Google Drive, it is so useful that I can access all files at any time also on my phone when I am on the go.
I use Google Hangouts for online meetings both on desktop and mobile. Since a lot of our partners and connections are based in different locations, it is an easy way to have an online meeting with several people in different countries.
Having tried overly complicated and outdated CRM systems before, I really appreciate HubSpot. It is easy to use and keep track on which contacts my colleague have made agreements with so we don't do double work and are aligned. HubSpot has a lot of helpful features, for example, we recently attended an event and made neat signup forms in HubSpot to gather and qualify leads. On top of that, HubSpot blog is a great resource of inspiration and content tips.
I think that most digital marketers have used MailChimp at some point so it does not need an introduction. MailChimp email marketing service has been around for a while and it is still relevant. MailChimp is a good time-saver especially in the era of marketing automation. I create automated emails that are sent out when triggered by a subscriber's activity.
Slack is a great messaging system where I can have chat with one or several colleagues or with the whole team. Using chat instead of emails makes internal communications faster and more productive. We can quickly share files and keep the communication light using emojis and gifs. I also use it to send notes and useful links for myself so I don´t forget anything.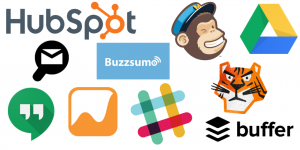 ---
A huge thank you to iEva for this list of tools! Do keep an eye out for more in this series of '10 Digital Tools … Couldn't Live Without' as we'll be continuing to publish new editions on a regular basis from equally inspiring digital marketing experts.
Considering your career options? Before you start sending your CV out, did you know we offer a Free CV Critique? Get yourself a confidential 1-to-1 discussion to help make CV improvements by sending your most current version to jobs@clockworkTalent.com. Our specialist Digital Marketing Recruiters will book a mutually convenient time to speak with you.
On our job board, you can apply for specific digital roles and you can subscribe to our YouTube channel for extra information about our latest digital jobs. We also post our new jobs and news on our social media channels including Twitter, Facebook, LinkedIn & Instagram!