Looking to improve your Digital Marketing skills?
Gerry White is a Sussex based SEO expert currently working as the SEO Lead at Just Eat. Gerry also runs the TakeItOffline conference with Tom Bourlet and Andy Veal and is an occasional conference speaker and UK Search Awards judge…
The list of his favourite digital tools might help you improve your overall digital marketing skills, so without further ado… over to you, Gerry…
My toolkit is always evolving, I have been in digital for 20 years and every so often there is another tool added, but over the past couple of years, I have found myself turning back to the same ones again and again.
Chrome might not seem like much of a tool, but hidden away is so much power and depth – from Mobile emulators to a CSS editor, you can live edit a webpage for screenshots and test it at the same time, check how it will look across a range of mobile devices & emulate different connection speeds. Hidden underneath is something called lighthouse which is probably the ultimate site speed diagnosis tool. I feel like right now I barely scratch the surface of what Chrome alone can do, but you can expand with plugins and bookmarklets for extra power.
Website services – the 3 I can't work without at the moment are…
Sistrix – the best value, most powerful suite around – based on an organic visibility tool, the depth and exploration it gives you on any domain is absolutely worth the budget price. If you take a look at their blog, you can see the insights that Juan has managed to do with it.
AWR Cloud, which allows me to do huge amounts of research giving me raw data at its best. Exportable, on-demand analysis and you can investigate awesome amounts to show you where you are, and more importantly where you aren't. I'm currently investigating SEO Monitor for more day to day data to compliment Sistrix.
Another tool with incredible hidden features is Screaming Frog. I tend to use it 2 to 3 times a day from checking redirects, metadata, ensuring a site has the right code, right down to quick audits, I've yet to find a good technical SEO guy who hasn't got it (usually running). To keep track of everything and provide details and analysis to the developers DeepCrawl is currently my go-to cloud crawler.
One thing that I think most people don't appreciate enough is the Google Testing tool – it isn't perfect, but it's great if you want to check your markup before going live. Of course, to quickly implement something on the site – Google Tag Manager is more than just an analytics tool, it gives you the ability to fix, test and optimise pages with just a bit of JavaScript – the more you know, the more you can do and a number of times I have tested a theory, a bit of code before passing it to developers to complete properly.
I have also been playing with ContentKing which does feel like the future of cloud crawlers, the always crawling, always reporting is where we will be moving to soon and I have recommended it to a few clients in the past.
Talking of reporting, DataStudio is buggy and has a few frustrating limitations, but if you are reporting in anything else, give it a try, I pull in Sistrix information, Google Analytics and of course Google Search Console data, but I can't live without it now!
Finally, for project management – Trello is amazing! best in its class, APIs, usable, mobile and shareable, I can't fault it and can't live without it for team management!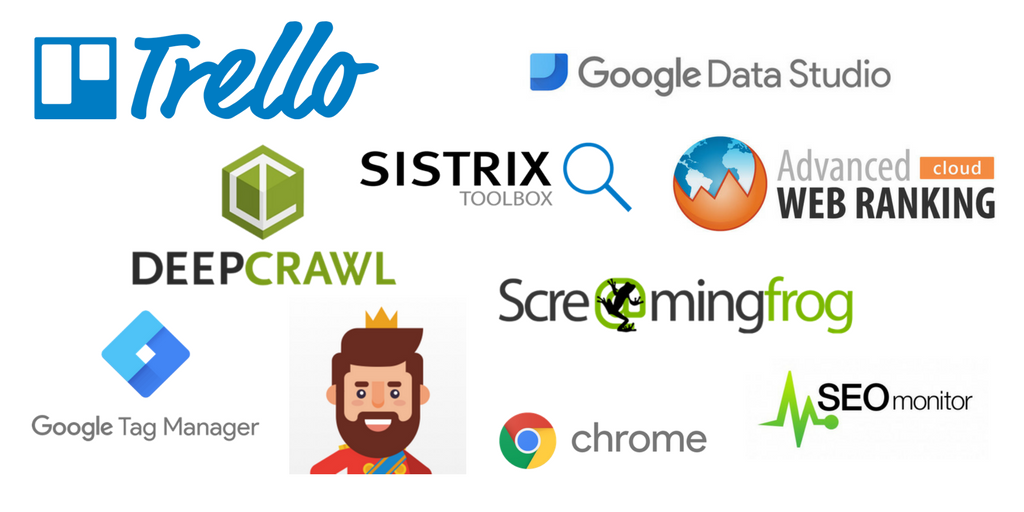 ---
A big thank you to Gerry for his brilliant insight and list of digital tools! If you would like more information or offer your own list of digital tools, get in touch with me via emma@clockworkTalent.com.
Please do look out for future '10 Digital Tools' blog posts from additional digital marketing industry experts as we'll be publishing more of this series soon!
If you're looking to showcase your digital marketing skills and advance your career, we offer a  Free CV Critique! Start a conversation by sending your current CV to jobs@clockworkTalent.com and our specialist Digital Marketing Recruiters will get in touch with you for a discreet conversation.