Before we get to the digital tools…
Before we talk about digital tools, I first met Dom at The Tech Off. Half an hour before he was expected on stage to battle it out with his rival speakers, Dom seemed calm. But, he explained he 'hadn't really practised' and 'wasn't really sure how it would go…'
What a lie that turned out to be!
Dom literally took the Concorde 2 by storm with his original track 'Add To Cart!' He consequently won the Tech Off Belt to standing ovations and calls for an encore.
Relive that legendary moment in the video below…
Since then, I've followed Dom on Twitter. Keeping up with the latest from not only his Disneyland adventures but also his Digital Marketing expertise and updates about his own digital tools.
Without further ado, here is Dom Hodgson's addition of '10 Digital Tools I Couldn't Live Without'
---
So, it's my turn. I've been invited to share my top 10 digital tools by the wonderful people at clockworkTalent and on the eve of BrightonSEO, I'm obviously after any free publi…. I mean I'd LOVE to help out the team with whatever I can write…
The issue with writing a top 10 digital tools list when you;
Build SEO tools for a living
Have been in the industry for more than a few years
Is that:
Most of your friends build tools (and you can't mention one without mentioning the other)
You spend your day building and designing tools rather than actually using them
You have to find a subtle way of promoting your tools in the article without it being a blatant advertisement
With all that in mind, the first 2 tools I'd like to recommend are Kerboo and Little Warden.
Kerboo is an award-winning backlink analysis tool that has scored over 10 billion links since its creation (and I hear they've got some brilliant updates in the pipeline!)
Little Warden is the sidekick to any client work you are doing. Always watching and giving you a heads up if it spots any problems with redirects, domain/SSL expirations, robots.txt changes and more.
Yoast SEO is a plugin that everyone should have when using WordPress. Frankly, I'm surprised to see that WordPress hasn't integrated the functionality into core yet.
SiteBulb is the new kid on the block when it comes to site auditing and crawling. Everyone loves the pretty site crawling graphs they create, and Patrick said he would buy me a beer at BrightonSEO if I mentioned him.
Screaming Frog has to have a mention for crawling. There have been many nights at my computer where I've just had a glass of whiskey and SF for company. Plus, they sent me some stickers a while back, so I owe them.
Majestic.com – I can feel Dixon Jones reading this article getting antsy at the fact that Majestic hasn't been mentioned already. But I can honestly say that I believe Majestic changed the game when it comes to SEO. I've been a massive supporter of them since the days before subscriptions (when you could download the Wikipedia backlinks for $115) #memories.
Sublime Text Editor has been my editor of choice for the last 7 years. I've been playing with Atom and Code, but I love the massive amount of extensions and integrations I have at the moment.
XTabulator Don't be put off by the name. I know this sounds like a superhero I created in my bedroom when I was 12 but when you are dealing with large CSV files (several gigabytes) there is no better-installed software program to use.
Is that 10 yet? 8? I've only done 8? Bloody hell.
Monosnap – I use this tool every day for small annotated screenshots to send to clients who don't know which button to press with a delightful yet sarcastic message.
Recordit.co – See above but for small videos (and with gif exporting!)
I'd love to talk about all the other SEO Software on the market but to be honest, I've either not used it or I consider them competitors AND WHY WOULD I MENTION MY COMPETITORS?
If you'd like me to use your software please get in touch or if you've enjoyed this blatant attempt to get a free link with my brand name in, I've just finished a series on the Little Warden blog about spending my entire marketing budget with people on Fiverr.
Thank you to the clockworkTalent team for the space on your blog and I'll see you all at BrightonSEO, I'll probably be wearing a stupid Disney Shirt and I'll be the one that looks like my avatar.
Toodles and have a magical day
Dom
*If it wasn't immediately obvious, the first two are my tools. #thatsthejoke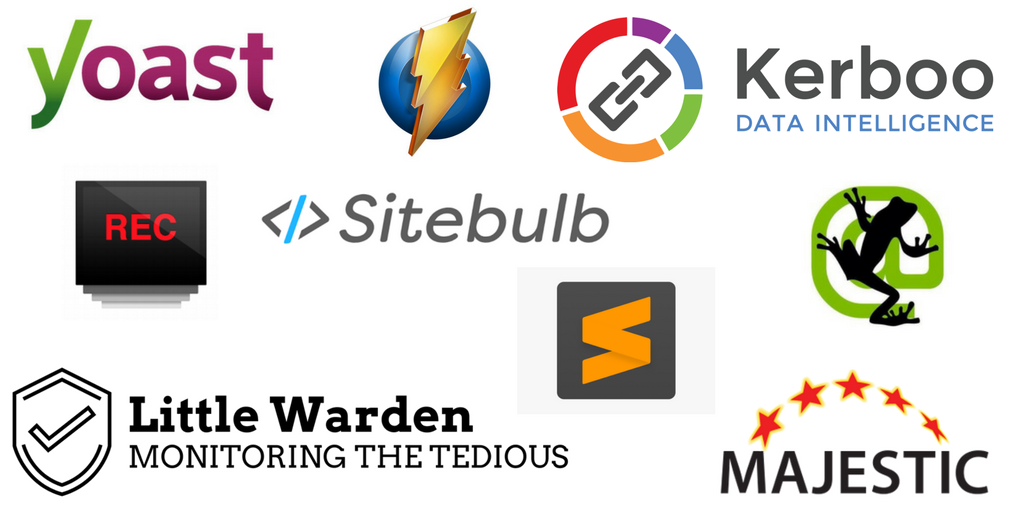 ---
Huge thanks to Dom for sharing a great list of and for including some lesser-known tools!
Missed some of the series? Don't panic you can catch up on all of our 'top 10 digital tools' posts here including lists from Omi Sido, Arianne Donoghue, Steven van Vessum, Alexandra Tachalova, Paddy Moogan and so many more!
If you're looking for your next digital marketing career move, please don't hesitate to get in touch with our expert recruiters to discuss digital jobs by emailing your CV to jobs@clockworktalent.com.