Looking for a way to increase your productivity…
David Iwanow has been involved in SEO for over 11 years now since he first got started running his own search agency The Lost Agency in Brisbane, Australia. He is also known as one of the co-founders of SEO Meetups a monthly SEO event that happens across 4 cities in Australia and occasionally in Europe with over 3,300 members. David is also a fairly active speaker and you can check out some of his many previous presentations over on SlideShare.
David is currently SEO Manager for Global Deployments for Schibsted Media Group, based in London. His previous roles include Director of Strategy for BlueGlass and almost 3 years with eBay classifieds group in Amsterdam looking after the Benelux region as SEO Product Manager. David is an avid traveller and has been working on his travel stories over on Travel Network over the past few years, but certainly needs to dedicate a bit more time to finishing several draft posts.
I do love to stick with a great tool once I've found it and it takes a fairly high level of innovation to convince me to swap across to a competitors tool. I find I don't have the time or energy to learn a new tool from scratch but always get offers to try a new tool but rarely end up swapping. I also find I focus on tools that do one thing really really well and additional features that are tacked on are often not as good as a dedicated product, so I'm not a fan of the generalist product suite that does a bit of everything.
Majestic – Disclosure I'm an ambassador for Majestic but I've been using their product long before I was an ambassador in my SEO audits. The platform has gone from strength to strength over the last several years and they have also invested a lot of time into rebuilding the interface to make the data easier to consume. Similar to Sistrix they have a good range of historical data that goes back to 2012 with 6.66 billion URLs in their historical index. Majestic uses its own proprietary metric TrustFlow (quality) and CitationFlow (quantity) that it uses to understand the authority of a website. The most common feature I use is Site Explorer but do love the Clique Hunter & Comparison tool but I often just use the advanced reports to export the data and do the analysis in Excel but if it's over 1 million rows then import the data into Tableau. If you want to keep an eye on what is happening their marketing and product team is busy producing some great content on their blog. I use Majestic for monitoring my own sites but also for competitive analysis which helps me understand how active they are in SEO, how advanced their SEO programs are and what are the opportunities. You can also some features of the Majestic features for free and if you verify your domain you get insights on your own domains for free.
SEOmonitor – Disclosure from 2017 I'm on their customer advisory board but swapped to using their product back in 2016 when I was working with Samuel Hurley who is now over at Made.com on some better SEO tools for tracking client results. One of the initial and favourite features was their SEO forecasting tool which took the time for traffic estimates 3 days in excel down to just 5 minutes. The integration with Google Analytics & Google Search Console allows insight on which keywords are driving conversions but also a split on brand/non-brand traffic. The fact that they allow you to track an unlimited amount of competitors also made it useful as SEO competitors might change during the life of a project. I love them because their support team and willingness to fix/resolve bugs is world class and they have a very active blog covering all the upcoming feature enhancements. I use SEOmonitor for SEO forecasting, tracking competitors and monitoring the performance of primary keywords.
Sistrix – While they support a smaller number of countries, they provide some fairly detailed insights on SEO, links, social signals, advertising and universal search results. They also have a reasonably large set of keywords tracked and a large range of historical data for most domains. One of my favourite insights is their top URL and top path report so you can see what are the pages or sections receiving organic traffic but also what keywords are driving that traffic similar to what you would see in Google Search Console. Their team is also very active in using their data and insights to produce some really great blog posts that are good to read. I use Sistrix a lot for competitive analysis but also useful for SEO audits.
ScreamingFrog – Still after all these years, ScreamingFrog remain the go-to SEO spider for most SEOs, being desktop based it is perfect if you work in a role that doesn't allow cloud-based tools to be used. They have two products a free version for up to 500 URLs but I would suggest the paid version that crawls as many URLs as you want in a year. I often use ScreamingFrog for initial audits up to 1 million URLs (need to adjust the memory settings) but for larger websites, you just need to use DeepCrawl. I use ScreamingFrog for SEO audits, in my daily SEO work but also to understand the structure to ensure I correctly setup my DeepCrawl crawls to get the best results.
DeepCrawl – This is one of the future platforms that SEOs will wonder how they did their SEO audits without. Again I love using their platform because it's far cheaper than similar products such as Botify and their support team go above and beyond to help you make sure you can do what you need. I've used their platform in the past to crawl 3.5 million pages for an SEO audit of a leading job site, and weekly crawls of a leading travel portal to track technical SEO changes. I use DeepCrawl for SEO audits but also tracking SEO changes to my websites.
Xenu – One of the original SEO crawlers and still an app I love as it's desktop-based but is the tool I goto when I need to crawl a huge website and just need very high-level numbers such as a number of URLs. I've used it to crawl websites with millions of pages in the past and it, just be aware it's a bit clunky and hasn't been updated since September 2010.
Zapier – I think Zapier is one of the most underutilized tools available, it's a perfect product if you are trying to automate a task. You can link to most web services quickly and easily, define rules/logic and then run the Zap (script). If you think about it you can most likely do it via Zapier, some of the potential tasks could be
Create Asana tasks via Google Forms/Sheets
Add rows in Google sheets as to do items in Basecamp 3
Create Google tasks or Zendesk tickets from Pingdom alerts
Post new WordPress posts to your FB page
Tweet new WordPress posts automatically
Post new Instagram photos to your WordPress blog
Buffer your Instagram photos
Add new Twitter followers to a Buffer queue for a thank you message
Backup files from Dropbox folder to Amazon S3 bucket
SEMRush – Their team run some great SEO Live audit webinars that you should certainly check out as they are run every week or so. I like their tool because it covers almost every possible country in the world, the data is better for larger markets but it's great that it has such a wide range of coverage without an additional cost. Their tool is also great for domain or keyword insights and has a nice interface that allows you to view organic and paid traffic channels so you can understand what are the primary keywords driving traffic. They also have a nice backlink insights report that is good for including top-level metrics in SEO audits or presentations. If you focus a lot on offsite tactics (link building/content marketing) their backlink audit can provide some good insights and can integrate with Majestic, Google Search Console and Google Analytics. I use SEMRush for SEO audits but have also set up their site audit tool, backlink audit and the brand monitoring feature.
LittleWarden – This has actually started to become my favourite little monitoring tool, they are aggressively building out new features to help SEOs and website owners keep on eye on the small things that can take up time and should be automated. I've looked into building some of these basic checks and it's far cheaper at £15/month and more efficient to just use their service. I use LittleWarden to run daily checks across my sites looking for simple things such as; Robots.txt has changed, Googlebot is not blocked, 404 page returns a 404 and SSL has not expired.
SanityCheck – This is certainly an interesting little tool, which I've started playing around with but something that I think I need to dedicate a bit more time into exploring. It's basically a way to get more insights out of your Google Search Console data for new content ideas and prioritize which pages to improve based on their click-thru-rate performance and average rank. Like several other tools, this is cheap enough for 1 site $20/month to be running in the background and setup ready to use. I have only started looking into this tool with my own site to see how actionable the insights are.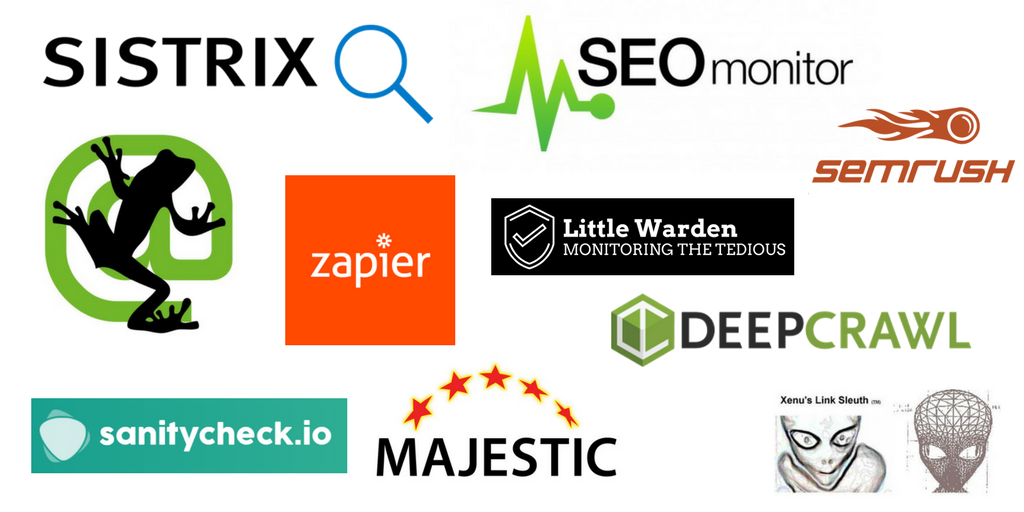 ---
Like David, I'm sure you've got your favourite tools and tend to stick with them but we hope you're enjoying the suggestions of new tools through our series of '10 Digital Tools … Couldn't Live Without' as we continue to publish from digital marketing industry experts across all channels, continents and specialisms!
If you're looking to advance your digital marketing career, did you know we offer a Free CV Critique? Start a conversation with us by sending your current CV to jobs@clockworkTalent.com and our specialist Recruiters will get in touch.
On our job board, you can apply for specific digital roles and you can subscribe to our new YouTube Channel for extra information about our latest Digital Jobs. We also post all our jobs and news through our social media channels including Twitter, Facebook, LinkedIn & Instagram!