Despite a hectic schedule of client work and back-to-back speaking engagements…
Barry Adams came back to us as the speediest of responses when asked if he'd like to feature in our series of "Top 10 Tools I Couldn't Live Without". Just goes to show Barry really does LOVE his tools
For those of you who don't know Barry, he is an award-winning SEO Consultant specialising in technical SEO for news publishers and eCommerce websites. We admire him for his readiness to share his expert knowledge with the wider search community through annual university lectures, being a regular speaker at industry events and more.
We've known of Barry for years having met him at numerous brightonSEO's. Most recently seeing him on webinars and Twitter chats, we thought it was about time we asked him to take part in our blog series '10 Digital Tools I Couldn't Live Without!'. Here's what Barry shared with us:
DeepCrawl

.Every SEO needs a crawling tool to analyse websites with. If I had to pick just one SEO crawler, it would be DeepCrawl. I have mad love for desktop crawlers like Screaming Frog and Sitebulb, but for me, the convenience of DeepCrawl edges it ahead of the rest. It's such a great tool with connections to multiple data sources, shareable reports, and excellent built-in analysis.
Chrome DevTools

. The tools that come built into the Chrome browser are now a cornerstone of my SEO auditing process, and I couldn't imagine doing my work without it. So many great features in DevTools that help with analysis on aspects like accessibility, load speed, and of course SEO.
MS Excel

. I've never really made the switch to Google Docs and still prefer to collect my data in Excel. It also helps me create shareable documents that I can send to clients to enable them to implement my recommendations.
Little Warden

. Since I started using this website monitoring tool I've been able to help clients avert potential disasters dozens of times. Little Warden monitors web pages for changes in SEO aspects like titles & meta tags, robots.txt, as well as domain name expiration dates – you'd be surprised at how often a client will forget to renew their domain name on time. Little Warden's notifications make sure that whenever things go sideways, we know about it straight away and can act immediately.
Sistrix

. For competitive analysis and keyword research, I've tried a lot of different tools and platforms but I keep coming back to Sistrix. Their visibility index is second to none and really paints a clear picture of where a website sits in their competitive landscape. Also, Sistrix's keyword tools help me find opportunities for clients to improve their search footprint.
Ayima Page Insights

. This is a Chrome extension that I use every single day. Ayima Page Insights makes manually checking web pages for SEO issues very easy and also allows me to check other technical aspects like HTTP headers. It's my favourite Chrome extension by far.
Slack

. While email is the default communication channel for most, I prefer Slack channels to keep in touch with clients. It prevents enormous email threads from clogging up my inbox and helps integrate my work with my clients' SEO and tech teams. Also, clients really appreciate the ability to ask me a quick question on Slack, as it feels much less formal than email and they tend to get a quicker response from me too.
Dropbox

. It's been my go-to cloud storage and syncing tool for years and it's made my life significantly easier.
RoboForm

. I've got so many accounts for so many different websites and tools, I couldn't begin to remember all of them. And because I care about security and use strong passwords, I rely on a password manager to store my logins across all platforms. Roboform is my tool of choice for this.
Google Search Console

. It would be amiss of me to leave out Google's biggest gift to webmasters. With GSC we know a lot about how Google sees our websites, and what we can do to improve our SEO. I don't start any SEO project without access to the website's Search Console data.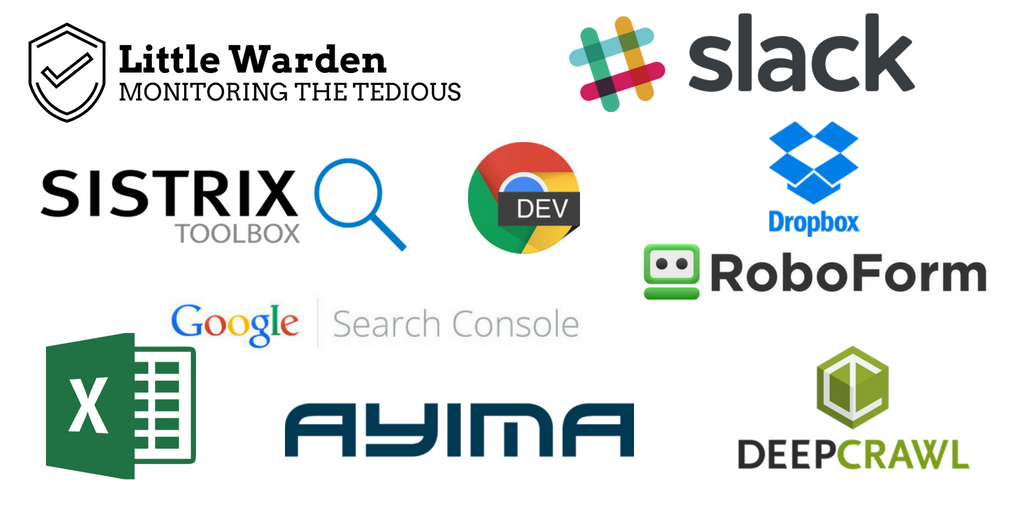 ---
Thank you very much to Barry for your list of digital tools. It's clear when it comes to SEO consultancy, simplicity is key and the tools you choose to use can make a big impact.
I hope this blog series can help you continue to find the right tools for you and improve your own work and skills. If you're looking for your next career move, please don't hesitate to get in touch with our expert recruiters to discuss digital jobs by emailing your CV to jobs@clockworktalent.com. You can keep up with clockworkTalent on our social media: Twitter, Facebook, LinkedIn, Google+, Instagram & Pinterest.