Anton Shulke is the livestream guy…
You may already know Anton Shulke from his impressive webinar hosting which has featured live video content with many well-known digital experts including Rand Fishkin, Bill Slawski, Larry Kim and more!
Already knowing Anton's super strong loyalty to SEMrush, we challenged him to offer a list of the 10 digital tools he couldn't live without, and he delivered!
Although we were unable to stop Anton from mentioning SEMrush completely…
Because it is one of the most loved industry tools, the most mentioned tool throughout this blog series and one of our own favourites, we didn't put up much of a fight against it!
You might not know how wide of a variety of tools SEMrush provides, so over to Anton to clue us up so we can learn about some of his favourite alternatives (if he HAD to choose, aha!)
Over to you, Anton…
As I work for SEMrush, I am in a bit difficult position here as I literally live my life on the SEMrush Dashboard!
1. SEMrush
So, my number 1 tool has to be SEMrush! It has brilliant features including the Social Media Tracker, Position Tracking, Site Audits, Brand Monitoring, Analytics Reporting, Backlink Audits, PPC Keyword Tools, Content Analysing and Link Building!
2. BuzzSumo
It is the best at what it does. You can analyse content performance for any topic and see how your competitors are doing.
3. Brand24
SEMrush has a similar tool, but I think it's still way behind, Brand24 is a social media listening tool that allows you to discover who is mentioning you / your brand across the internet. It's great for engaging with your community and managing your online reputation.
4. Buffer
My favourite social media scheduling tool, SEMrush has a similar one, but I got used to Buffer, yes I'm lazy…
5. Similarweb
SEMrush has it is own version of this type of tool but always underestimates the traffic, Similarweb always overestimates so I use both tools and take the median!
6. Canva
We have a huge army of Designers at SEMrush, but sometimes it's nice to just use a quick template and do everything by yourself, easily!
Allows group conversation through video and instant message, perfect for organising and even hosting webinars!
8, 9 & 10 Wave by Animatron, QuickTime & Adobe Premiere
Every day, I work with tons of promo videos and Wave's video & animation software makes my life very easy!
As well as Wave, I regularly use QuickTime & Adobe Premiere to edit videos.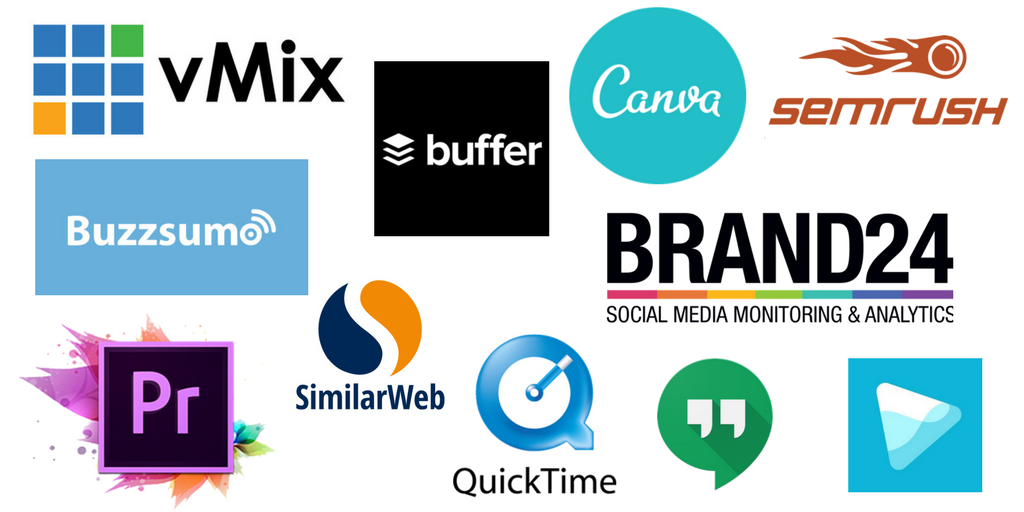 ---
Thank you to Anton for offering so many great tools, when you work for such a great company we know it can be hard to consider other tools. But we also appreciate the insight you've given us into lesser-known SEMrush features too!
Please do look out for future '10 Digital Tools' blog posts from additional digital marketing industry experts as we'll be publishing more of this series soon!
If you're looking to advance your career, did you know we offer a Free CV Critique? Start a conversation by sending your current CV to jobs@clockworkTalent.com and our specialist Digital Marketing Recruiters will get in touch with you for a discreet conversation.
On our job board, you can apply for specific digital roles and you can subscribe to our new YouTube Channel for extra information about our latest Digital Jobs.