Social technology has transformed recruitment…
Remember searching for a new job by trawling through newspaper ads or sending a CV in the post? –Me neither!
Technology changes and develops every day. While the principles of recruitment and job-seeking are the same, the tactics are constantly changing.
Way back when our founder, Natasha began her career as a headhunter, she was receiving and sending CV's by post until a marvellous piece of technology became common in offices which sped things up immensely – faxing!
Fast forward to 2017, Natasha is able to access millions of CV's online, focusing on a targeted search and instantly connecting with highly appropriate people from all over the world by using simple keyword searches.
But has our incredible technology now removed the humanness of job seeking and recruitment; replacing it with a mess of matchmaking robots and ill-fitting CV's?
This is, after all, why we set up clockworkTalent, to put the human element back into recruitment within the digital marketing industry. To ensure we weren't simply playing snap i.e matching jobs with people based on industry acronyms alone!
We wanted to harness and embrace technology to make us better Recruiters, rather than let technology dictate the process.
Social Media has been a huge game-changer for recruitment and job seeking, providing a breakdown of walls and giving everyone access to every job and every candidate across the globe.
Whether you are looking for a new role or to employ new talent, social media has become the place to gain the first impression and is a tool for connecting with people you might not have met offline.
Social Recruitment
Let's start with LinkedIn, the mother of all professional networking sites:
The USP of LinkedIn is to encourage professionals to connect, share business news and information. A dominant feature being the vacancies and searching for new jobs, but the site has become much more than that.
Recruiters can use the site to headhunt talent from across the world as well as get in contact with professionals whom they haven't previously worked with. Natasha, for instance, has 8,500+ connections, most of whom she's at least spoken with once, enabling her a very extensive personal network.
She doesn't just trawl LinkedIn like a database, spamming contacts with seemingly irrelevant advances, but uses it to support targeted headhunts, approaching very specific Digital Marketing individuals known to her for specialist job opportunities.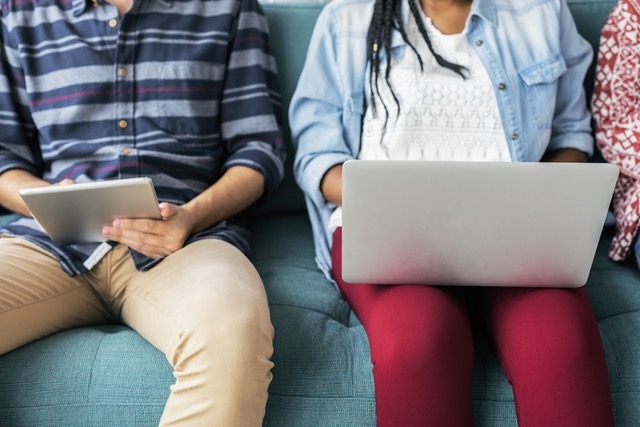 An outstanding Recruiter will use a blend of traditional techniques and new social technology.
For job seeking, LinkedIn has enabled users to add substance to their traditional CV. Its features include adding links to previous employer's pages and personal social media profiles, links to previous work and a way to display which companies they follow.
By doing this, job seekers can enhance their applications and prove they are very much submerged in their specific industry. A sad thing has been to see the demise of Linkedin. A dilution of the personal network and a "spamming" culture being introduced. However if used correctly, with strong security settings and only a close network of connections being introduced, you can retain a solid industry network of assistance with this platform.
If you need help with LinkedIn, read our blog which focuses on how to successfully optimise a LinkedIn profile.
In February 2017, Facebook announced they were going to offer business pages the option to publicly advertise job vacancies.
The feature, which has since rolled out in some areas of America and Canada, allows users to add and save their information and CV as to automatically apply for jobs with one click of the 'Apply Now' button.
This Facebook feature could become a successful and direct competitor to other job sites and LinkedIn's services, or it could attract job seekers that aren't completely right for the roles.
The Dreaded Auto-Apply Button
Because of the sheer ease of clicking the Apply Now! button, job seekers will have the ability to send their CV out multiple times to hundreds of businesses without tailoring their application to each role.
This is seen across many job sites and is a feature that can initially be viewed as a way to maximise a job search. When in reality, and especially within an industry like Digital Marketing, these apply now buttons can greatly hinder a job search by removing the human aspects of job applications.
Some sites have even used features inspired by social apps like Tinder. The 'swipe right to apply, swipe left to see next job' features have further eliminated the need for job seekers to learn about the companies they apply for and simply use keyword and location matches to place candidates.
This is where a specialist recruiter comes in handy!
At clockworkTalent, we have in-depth discussions with all parties involved from the job seekers to the hiring managers to the talent acquisition team. We spend time getting to know each employer and each individual job seeker, ensuring we know what they like/don't like, what their ambitions are, their motivations and the career prospects and more. Only through our subtle questioning do we get to understand the employers and what they're looking for as well as building a profile of the job seekers and what they're aiming to do next.
We make it our business to ensure our introductions match. We can only do this through traditional methods like meeting in person or having these conversations over the phone, but it enables us to ensure a 100% guarantee on our placements*. Meaning if we suggest a candidate for your business, we KNOW they are the right fit.
Other social networks that you may not automatically think belong to job seeking and recruitment include Pinterest and Instagram.
But in fact, these sites offer a platform for creatively displaying jobs and attracting suitable candidates. For example, we use Pinterest to advertise our current live jobs and explain how people can apply.
Overall, social technology has made the world more connected, so why let our humanness disappear?
Recruitment and job-seeking have the same process and goals as they did 20, 30, 40 years ago, but through social tech, the tactics have changed completely. To find success in your job search or recruitment it is essential to keep up with new tactics but also to blend them with traditional techniques so as not to lose your personality in the online spectrum.
---
Join the fight against evil auto-apply buttons by sending your CV to jobs@clockworkTalent.com or calling 0203 751 4108 to speak with our Digital Marketing Recruitment Specialists!
*Subject to signed Terms of Business